printer friendly version
PCIe 2.0 packet switches
29 January 2020
Telecoms, Datacoms, Wireless, IoT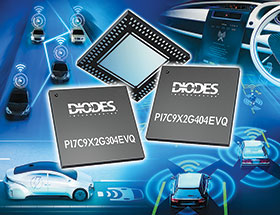 Diodes Incorporated announced the PI7C9X2G304EVQ and PI7C9X2G404EVQ PCIe 2.0 packet switches, offering 3-ports/4-lanes and 4-ports/4-lanes, respectively. The packet switches are automotive-compliant for use in telematics/ADAS, navigation systems, in-vehicle wireless routers, and emerging applications such as V2V and V2X communications.
The parts are designed to provide a simple solution to increase the fan-out of PCIe ports on SoCs, ASSPs, MPUs and FPGAs, supporting advanced features in the automotive industry. The devices are qualified to AEC-Q100 Grade 2, offer an operating temperature range of -40°C to +105°C, are PPAP capable, and are manufactured in IATF 16949 certified facilities.
Interoperability at the system level is guaranteed through compliance with the PCI-SIG PCIe Rev 2.1 standard. At the component level, pin-compatibility with existing Grade 3 solutions from Diodes Incorporated provides an easy migration path to higher performance for existing designs.
Advanced features include an integrated clock buffer and support for peer-to-peer traffic, delivering greater system performance. The low-power operation is complemented by link power management, including active-state power management L0 and L1, device-state power management D0, D3Hot and D3Cold. Power dissipation in L0 is 300 mW (typical), dropping to 35 mW in PCI-PM L1.1 D3Hot PM sub-state mode.
Latency for a packet running through the switch without blocking is 150 ns, and latency tolerance reporting improves platform power management. While the default mode is cut-through, store and forward modes are also supported. Peer-to-peer traffic is enabled through access control service support.
For more information contact Dirk Venter, Altron Arrow, +27 11 923 9600, dventer@arrow.altech.co.za, www.altronarrow.com
Credit(s)
Further reading:
Power delivery over USB Type-C will open up new applications
25 March 2020, Altron Arrow , Power Electronics / Power Management
The enablement of SuperSpeed is just one reason why we can expect the USB interface to dominate for many years to come, but power delivery must also be a major factor in that.
Read more...
---
STM32CubeMonitor for runtime variable monitoring
25 March 2020, Altron Arrow , Design Automation
The STM32CubeMonitor family of tools helps to fine-tune and diagnose STM32 applications at runtime by reading and visualising their variables in real time. In addition to specialised versions (power, 
...
Read more...
---
Bluetooth 5.0 Low Energy module
25 March 2020, Avnet South Africa , Telecoms, Datacoms, Wireless, IoT
An output power of up to +8 dBm and the high sensitivity of the nRF52840, in combination with the LE coded PHY, make the module very attractive for applications that require a long range. The Bluetooth 
...
Read more...
---
Looking beyond radar, the car's virtual eye
25 March 2020, Altron Arrow , News
Faster, higher-resolution radar sensors have enabled the next generation of driver assistance technologies through improvements in vehicle safety and comfort in view.
Read more...
---
Antenna switch with receive limiter
26 February 2020, RFiber Solutions , Telecoms, Datacoms, Wireless, IoT
The MASW-010370, made by Macom Technology Solutions, is a fully integrated 10 W PIN diode antenna switch assembled in a lead-free 3 mm 16-lead PQFN plastic package. This module is designed to handle 10 W 
...
Read more...
---
Wi-Fi 6 modules in automotive grade
25 March 2020, RF Design , Telecoms, Datacoms, Wireless, IoT
u-blox has announced the JODY W3 series, multiradio modules featuring Wi-Fi 6 with 2 x 2 MIMO and dual mode Bluetooth 5.1. Supporting the latest IEEE 802.11ax standard, also known as Wi-Fi 6, JODY W3 
...
Read more...
---
Steering diode/TVS array for display interfaces
25 March 2020, Altron Arrow , Circuit & System Protection
ProTek Devices has introduced a new steering diode transient voltage suppressor (TVS) array for circuit protection across popular consumer electronic display interfaces. The new PUSB403 device is ideal 
...
Read more...
---
Millimetre-wave waveguide antennas
25 March 2020, RF Design , Telecoms, Datacoms, Wireless, IoT
Pasternack has expanded its offering of mmWave (millimetre-wave) waveguide antennas to address the growing number of 5G and other high-frequency applications. The company's lineup has added 54 new models 
...
Read more...
---
LPWA modules gain security and positioning features
25 March 2020, RF Design , Telecoms, Datacoms, Wireless, IoT
u-blox has extended its SARA R4 family of LTE-M/NB-IoT and EGPRS cellular modules to include variants with the hardware and software features necessary to enable end-to-end security features and services 
...
Read more...
---
Wireless power receiver
25 March 2020, Altron Arrow , Telecoms, Datacoms, Wireless, IoT
The STWLC68 is an integrated wireless power receiver suitable for portable applications and capable of managing up to 5 W of output power. The chip has been designed to support Qi 1.2.4 specifications 
...
Read more...
---