printer friendly version
Unity gain operational amplifier
29 January 2020
Analogue, Mixed Signal, LSI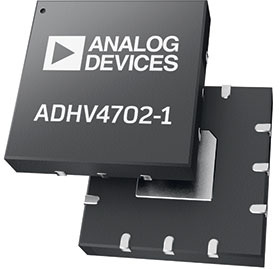 The ADHV4702-1 is a high-voltage (220 V), unity-gain, stable precision operational amplifier. The next generation of proprietary semiconductor processes and innovative architecture from Analog Devices enable it to operate from symmetrical dual supplies of ±110 V, asymmetrical dual supplies, or a single supply of 220 V.
The ADHV4702-1 has a 170 dB typical open-loop gain (AOL) and a 160 dB typical common-mode rejection ratio (CMRR). It also has a 2 µV/°C maximum input offset voltage drift and 8 nV/√Hz input voltage noise. The high DC precision of the ADHV4702-1 is complemented by its dynamic performance, with a small signal bandwidth of 10 MHz and a slew rate of 74 V/µs.
The device has an output current of 20 mA typical. In addition, its unique features such as adjustable supply current, slew boosting circuitry, and flexible exposed pad bias voltage make this part an ideal high-voltage solution for a wide range of applications.
It can be used in many different applications such as automated test equipment, life sciences, LIDAR, and healthcare. In automated test equipment applications, the device can be used for high-side current measurement and high-voltage precision supply generation. For life sciences, the ADHV4702-1 can be used to provide precision high voltage control for mass spectrometry systems. In LIDAR applications, it can be used to accurately control the APD bias voltage. In healthcare applications, the product can be used to tightly control the bias point of silicon photomultipliers.
The ADHV4702-1 is available in a 12-lead, 7 mm x 7 mm lead frame chip scale package (LFCSP) with an exposed pad compliant to IEC 61010-1 creepage and clearance standards. This package significantly reduces the solution size and simplifies system architectures by eliminating supporting components like DC-to-DC converters and floating supplies.
For more information contact Conrad Coetzee, Altron Arrow, +27 11 923 9600, ccoetzee@arrow.altech.co.za, www.arrow.altech.com
Credit(s)
Further reading:
Power delivery over USB Type-C will open up new applications
25 March 2020, Altron Arrow , Power Electronics / Power Management
The enablement of SuperSpeed is just one reason why we can expect the USB interface to dominate for many years to come, but power delivery must also be a major factor in that.
Read more...
---
MEMS-based environmental pressure sensors
25 March 2020, Avnet South Africa , Analogue, Mixed Signal, LSI
Bourns Sensors & Controls' product line is introducing four new series of environmental sensors based on microelectromechanical systems (MEMS) technology. These four new series are designed for the customer 
...
Read more...
---
STM32CubeMonitor for runtime variable monitoring
25 March 2020, Altron Arrow , Design Automation
The STM32CubeMonitor family of tools helps to fine-tune and diagnose STM32 applications at runtime by reading and visualising their variables in real time. In addition to specialised versions (power, 
...
Read more...
---
Looking beyond radar, the car's virtual eye
25 March 2020, Altron Arrow , News
Faster, higher-resolution radar sensors have enabled the next generation of driver assistance technologies through improvements in vehicle safety and comfort in view.
Read more...
---
Steering diode/TVS array for display interfaces
25 March 2020, Altron Arrow , Circuit & System Protection
ProTek Devices has introduced a new steering diode transient voltage suppressor (TVS) array for circuit protection across popular consumer electronic display interfaces. The new PUSB403 device is ideal 
...
Read more...
---
Wireless power receiver
25 March 2020, Altron Arrow , Telecoms, Datacoms, Wireless, IoT
The STWLC68 is an integrated wireless power receiver suitable for portable applications and capable of managing up to 5 W of output power. The chip has been designed to support Qi 1.2.4 specifications 
...
Read more...
---
Automotive-grade optocoupler
25 March 2020, Altron Arrow , Opto-Electronics
Vishay introduced a new automotive-grade phototransistor optocoupler that combines a high current transfer ratio (CTR) range from 50% to 600% with a low forward current of 1 mA in the compact SOP-4 mini-flat 
...
Read more...
---
Power over Ethernet – supply of Ethernet devices via data lines
25 March 2020, Altron Arrow , Power Electronics / Power Management
In process automation systems, important parameters such as temperature, pressure, flow rate, humidity and many others must be monitored and measured. In the era of Industry 4.0, Ethernet is a popular 
...
Read more...
---
Energy-saving sub-1 GHz transmitter chip
25 March 2020, Altron Arrow , Telecoms, Datacoms, Wireless, IoT
STMicroelectronics' S2-LPTX is a high-performance, ultra low-power RF transmitter, intended for RF wireless applications in the sub-1 GHz band. It is designed to operate in both the licence-free ISM and 
...
Read more...
---
NVIDIA-powered computing for AI at the edge
26 February 2020, Altron Arrow , Computer/Embedded Technology
The AI revolution is transforming industries, reaching products that are smaller and more affordable than ever before. Many companies have been constrained by the challenges of size, power, and AI compute 
...
Read more...
---