The movie Apollo 13 showed the world how NASA engineers used a 'terrestrial twin' of its stricken spacecraft to devise a way of bringing home the astronauts aboard.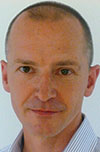 Mark Patrick.
Since then, the notion of pairing embodied in that miraculous rescue effort has developed and become more sophisticated. Its implementation is increasingly of a virtualised nature, and has ultimately evolved into the practice now referred to as digital twinning.
It was Dr Michael Grieves of the University of Michigan who first introduced the term 'digital twin' – with regard to product development work being undertaken at NASA – in his book Virtually Perfect: Driving Innovative & Lean Products through Product Lifecycle Management. Put simply, the digital twin is a dynamic virtual representation of a physical product.
The digital twin defined
Offering a starting point for creating the digital twin of a manufactured real-world product, rich 3D CAD data provides the basis for an accurate digital model and, indeed, is available long before any physical manifestation has been created. However, as recently as the early 2000s, mechanisms for directly capturing the information about individual units, at the point of manufacture, were relatively primitive. Only limited quantities of data were available, with which to characterise the digital model, often paper-based and collected manually.
More recently, increasing adoption of manufacturing execution systems (MES), collecting data from a wide variety of sensors, gauges, precision measuring instruments, inspection equipment, etc., has enabled a significant escalation in the quantity of the information captured from manufacturing processes. With automated collection, storage and organisation of the data, much more intricate models can now be constructed – allowing the digital representation to replicate the properties of the physical product with a far higher degree of accuracy.
And now democratised
The latest developments in information handling – namely the Internet of Things (IoT) and the advent of affordable high-performance cloud computing – are enabling digital twinning to be cost-effectively extended to cover the full product lifecycle, including day-to-day operation in the field.
Moreover, the practice has become more accessible to companies that are significantly smaller than the large OEMs and government-backed organisations that were among digital twinning's early adopters. Greater affordability could drive the emergence of more imaginative use cases to improve product design, time to market, management and maintenance, as well as the end-user experience.
Improving product creation
With exact models available, product manufacturers can study the digital twin to gain insights that can be fed back to improve numerous aspects involved in creating the physical product – such as design features, selected components, the supply chain and the manufacturing processes to be used.
It also becomes possible to streamline new product development, saving time and cost by constructing and testing successive product generations in a virtual environment; only committing to physical manufacture when the latest iteration of the digital model entirely meets the required specification and is fully operationally optimised. As Michael Grieves himself has observed, moving pixels around is much easier than moving atoms.
True predictive maintenance
Digital twinning has been effectively applied to low-volume products that contain large numbers of parts, or that require extensive configuration or adjustment. Prime examples include aircraft engines, or large gas or steam generator turbines used in fossil-fuel power plants.
The complexity of systems such as these, prevents operators from calculating the optimum time to take any one unit offline for maintenance based on mean-time between failure (MTBF) analysis. Because unplanned downtime is expensive in the case of power generation, and safety-critical in the case of an aircraft engine, conventional maintenance is done routinely, usually at over-frequent intervals, aiming to replace vulnerable parts well before their end of life. Despite its expense, however, this approach is unable to predict when any given component will fail, and hence carries the ever-present risk of an unexpected and costly outage.
In contrast, digital twinning, leveraging large quantities of sensor data from the physical twin in the field to drive accurate predictive software applications, enables more cost-effective condition-based maintenance that takes into account a large number of parameters relating to real-world operating conditions.
These may dictate that equipment exposed to heavy use or short-term overloads or environmental hazards – such as an aircraft engine exposed to large quantities of volcanic ash while flying along a specific route on a particular day – requires earlier maintenance than the standard schedule may recommend, thereby heightening safety and boosting cost-effectiveness by ­reducing unplanned downtime.
On the other hand, if the data indicates lower than typical wear (due to activity levels being less than expected, for example), replacement intervals can be extended – thus reducing routine downtime without compromising quality of service or increasing the risk of failure.
Sharper remote asset management
Cost-effective monitoring of remote assets is another key strength of digital twinning. Growing environmental pressure to rely more on renewable energy sources means that large numbers of wind farms are currently being introduced. Utility-grade wind farms are often remotely located, in coastal areas or offshore to take advantage of favourable wind conditions. Weather in such locations can be extreme, and if storm damage is suspected, for example, the expense (not to mention the delay) incurred to send a service crew to check the status of turbines or other equipment can be high.
Maintaining a digital twin of each asset in the wind farm, enriched with real-time data from large numbers of sensors installed on turbines and other physical infrastructure in the field, enables experts to assess status – such as any structural weakness or damage to electrical equipment – quickly and in detail in order to determine the best course of action.
It may be possible to remedy any problems remotely. Or, if a site visit is deemed to be required, the appropriate team can be briefed in advance and equipped properly to carry out the task, thereby avoiding the cost of making multiple visits.
Under normal operating conditions, digital twinning still has value too. Applying real-time performance and configuration data to the digital twin enables each physical turbine to be adjusted for optimum efficiency and reliability.
Better customer experiences
With the democratising effects of the IoT and cloud computing, digital twinning can be applied on a more commercial basis. Vendors of equipment, such as manufacturing automation for example, can use it to deliver improved customer experiences that surpass the benefits of standard usage-based maintenance.
A dedicated digital twin of each machine in a given customer's fleet can provide insights that the vendor can use not only internally to inform future product development, but also provides the opportunity to share individualised advice for users, such as how to modify operator behaviour to achieve improvements – like increasing yield, or minimising equipment wear or energy consumption.
The future of the digital twin
Historically, digital twins have been run on powerful industrial Internet platforms, such as GE's Predix. More recently, a move by GE and Microsoft to bring Predix to Microsoft's Azure Cloud, and the emergence of platforms such as SAP Predictive Engineering Insights software-as-a-service (SaaS), promise to greatly enhance accessibility and scalability when it comes to digital twin technology, with the further potential to harness artificial intelligence in the cloud to run numerous what-if scenarios.
With that roadmap, digital twinning has developed from (almost literally) a blue-sky concept pioneered in the space industry to an exciting tool that has broad commercial appeal. Industry analyst Gartner listed it among the top 10 strategic technology trends for 2018, and has forecast that billions of things will have digital twin equivalents by the start of the next decade.
A report by Research and Markets found that 75% of executives surveyed planned to incorporate digital twinning by 2020. IDC, for its part, predicts that on average companies will gain a 30% improvement in cycle times of critical processes by investing in digital twin technology.
As organisations strive for digital transformation, a digital twin can present a virtual model of a process, product or service, with numerous roles being covered – including assisting business planning, providing a testbed for digital experimentation, or a blueprint for future improvement.
With applications spanning the entire lifecycle, its reach will extend beyond manufacturing into a multitude of sectors, such as smart buildings, healthcare, environmental management, oil and gas exploration, and smart cities.
For more information contact TRX Electronics, authorised Mouser partner in South Africa, +27 12 997 0509, info@trxe.com, www.trxe.com