printer friendly version
LAN interfaces transformers
29 January 2020
Passive Components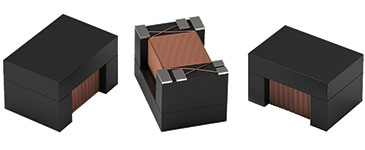 Würth Elektronik is expanding its extensive range of signal transformers. The new series of WE-STST (Super Tiny Signal Transformer) devices for LAN interfaces features a maximum component height of just 2,9 mm and can be used for up to 1000Base-T applications with at least 350 µH inductance.
The parts are suited for all applications in which small component size and desirable electronic parameters are paramount. In contrast to conventional transformers, which usually consist of toroidal ferrites in plastic housings, the WE-STST transformers are manufactured completely by machine. This enables the dimensions to be kept extremely small at only 4,7 x 3,22 x 2,9 mm and yet offers an insulation voltage of 1500 V/1 min.
WE-STST is available in four versions for different applications. The first version with 350 µH is suitable for LAN applications with data rates up to 1000 Mbps. The WE-STST with 120 µH features outstanding signal integrity at high frequencies and is therefore ideal for 10 Gigabit Ethernet applications or for the new single-pair Ethernet with data rates up to 1000 Mbps.
Further versions with 300 µH or 2,000 µH are suitable for ultrasonic sensor applications and as transformers for the new G.fast standard with a transmission ratio of 1:4,5.
For more information contact Jason Page, Würth Elektronik eiSos, +27 71 259 9381, jason.page@we-online.com, www.we-online.com
Credit(s)
Further reading:
Industrial power module
25 March 2020, Würth Elektronik eiSos , Power Electronics / Power Management
The components in a SIP-3 package represent cost-effective solutions to meet the requirements for the transient capability of a 24 V industrial voltage network. The new modules operate from 6 to 36 V 
...
Read more...
---
Thick film resistors with wide terminals
26 February 2020, TRX Electronics , Passive Components
High reliability and enhanced terminal strength are essential in power designs. KOA's wide-terminal resistors offer several advantages compared to standard footprints. The 0612 chip size allows a 6 times 
...
Read more...
---
Würth helps produce PCBs for ventilators
25 March 2020, Würth Elektronik eiSos , News
The worldwide spread of the coronavirus is not only increasing the demand for personal protective equipment, but also for medical ventilators. In order to ensure the supply in Germany, the German government 
...
Read more...
---
915 MHz radio module
26 February 2020, Würth Elektronik eiSos , Telecoms, Datacoms, Wireless, IoT
Würth Elektronik's new Themisto-I radio module features high output power and can attain ranges of up to 10 km. Proprietary network solutions for IIoT/M2M applications can be implemented in a short 
...
Read more...
---
Innovative power capacitor technologies for wide band-gap semiconductors
26 February 2020, Electrocomp , Passive Components
Conventional semiconductors based on silicon are being replaced by wide band-gap (WBG) technologies based on GaN (gallium nitride) and SiC (silicon carbide). These demand a great deal from the passive 
...
Read more...
---
Automotive-compliant power transformers
26 February 2020, Electrocomp , Passive Components
Bourns' inductive components product line is introducing the high clearance/creepage distance isolation power transformer Model HCT Series. These AEC-Q200 compliant high-voltage isolation push-pull transformers 
...
Read more...
---
Halo invests in high-speed data transformers
29 January 2020, ASIC Design Services , Passive Components
Halo Electronics, a leading supplier of Ethernet transformers, has invested in UWB X Limited, a UK based technology company focused on creating a new high-speed transformer technology. As part of Halo's 
...
Read more...
---
LAN transformers with automotive certification
29 January 2020 , Passive Components
Bourns' signal magnetics product line has introduced three new LAN transformers: Model SM91071AL, SM91072AL and SM91073AL. These new products are single-port LAN 10/100 Base-T/isolation transformer modules 
...
Read more...
---
Selection software for capacitors
29 January 2020, RFiber Solutions , Passive Components
Passive Plus Inc.'s (PPI) brand new Capacitor Application Program (CAP) helps engineers and designers select capacitors according to parameters such as capacitor value and frequency. CAP will provide 
...
Read more...
---
28 GHz bandpass filter for mm-Wave
29 January 2020, RF Design , Passive Components
The B274MB1S from Knowles is a bandpass filter with a passband from 26,5 to 29,5 GHz, ideally suited for 5G mm-Wave applications. It has an insertion loss of less than 3,5 dB and a rejection of 40 dB 
...
Read more...
---