Avnet South Africa held its semi-annual Avnet Insights technology seminar on 5 and 6 March at Blandford Manor in Northriding, Johannesburg.
The event gave delegates the opportunity to learn about some of the latest technologies available from Avnet and its suppliers, and to network with representatives of the company and with each other.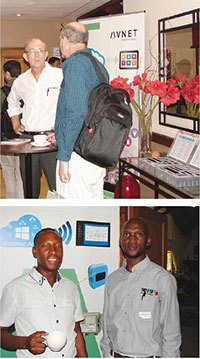 Divided into five sessions each day and split across four lecture rooms, a strong focus for this year's event was the Internet of Things (IoT), including not only the devices but also the broader ecosystem enabling the deployment of IoT projects.
This included presentations such as iSert on local and international certification requirements, Digi International with its XBee solution, a demonstration of Nordic Semiconductor's Bluetooth Low Energy stack implementation, Microsoft's Azure and IoT central cloud solution, a Sigfox overview from Sqwidnet and Sigfox implementation from STMicroelectronics, NB-IoT covered by Vodacom and Telit, and future-proofing a GSM design by Quectel.
Also presenting were Infineon Technologies on MOSFETs, Panasonic on MLCC replacement, Avnet Abacus on battery trends and technologies, Maxim Integrated Products on security and authentication, as well as several others.
According to Brandon Kuhn, Avnet South Africa's technical director and Cape Town branch manager, the seminar was a successful way of bringing the company's suppliers and customers together. "I would like to thank all the speakers, both local and from abroad, for giving their time to educate our customers on the latest products and technologies in their respective stables. To our customers, I would like to say thank you for making the event a success and we look forward to hosting you all again in two years' time," he said.