Things are tough out there. That's the general consensus when I speak to people in the electronics industry (usually off the record). There is no getting away from the fact that there are worrying signs for the industry, and the engineering/manufacturing sector in general, from top to bottom. By the bottom (no pun intended) I mean the foundational level, where the country's educational and social policies are letting down our youth, our economy and our future egregiously. At the top of the pile (again, no pun intended) we have the policy-makers: I have to hope that for the most part they have the best intentions, but with our news headlines increasingly dominated by revelations of corruption and state capture, it's hard to summon any faith that they do.
Before I continue, I want to thank the people who volunteered their frank insights for the article in this issue about the local electronics manufacturing supply chain. I must also state categorically that none of the comments or opinions expressed in this column are attributable to, or necessarily shared by, any of those individuals – they are mine alone, but were inspired and informed by those discussions.
South African electronics manufacturers often butt heads with the distributors who supply them with components, mostly when those components are not delivered on time and in full. In our previous issue, we explored that, and some of the other issues faced by said manufacturers, including how they had been affected by load shedding this year. There are two sides (at least) to every story, so for this issue we gave the distributors a chance to have their say, and I hope readers on all sides of the debate will find the article on page 4 informative as part of a broader, constructive discussion.
In my experience, engineers – whether by nature or by training – are a versatile bunch. You can find rehabilitated engineers in jobs spanning the technical and managerial hierarchy and in sectors from entertainment to banking, and everywhere in between – even, occasionally, in publishing.
And then there are the FAEs (field application engineers). Often disparaged by those in the business of actually manufacturing electronic products as nothing more than glorified salespeople or order-takers, their work mostly happens behind the scenes. But let us not forget that these are people with very valuable and rare skill sets, and they play an essential role in bridging the engineering world where things are designed and made, and the business world where big decisions are taken and money changes hands. Yes, their involvement is self-serving in the sense that they are incentivised to get their suppliers' products designed into their customers' products, but name one person who doesn't work to make money.
As we head into winter and dig our long-sleeve clothes out from the back of the cupboard, at least I have one less worry on my mind: public enterprises minister Pravin Gordhan has assured the nation that Eskom has no intentions of implementing load shedding this winter… or it will only be a maximum of 26 days of Stage 1… or maybe something else entirely. He can't quite be sure because generating power for more than 50 million people is, like, really hard and stuff, and is not widely believed to be achievable through well wishes or magic tricks. But he is "hopeful that there will be no load-shedding going forward. That's if our plans are successful." Mmmm, we'll see.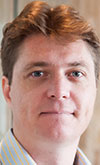 It's not clear why Gordhan and Eskom have waited until now to snap their fingers and make all that load shedding silliness go away, but hey, let's not look a gift horse in the mouth. Abracadabra! Our government has pulled off a pre-election miracle!
Brett van den Bosch
Editor