printer friendly version
Solar-powered bakery developed at UJ
26 June 2019 Power Electronics / Power Management Editor's Choice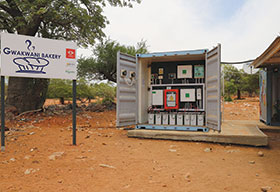 Despite being ranked as the eighth most developed country in Africa in the United Nations Development Programme's annual report in 2018, several challenges still plague South Africa.
The need for employment, access to energy, economic activity, community development and access to affordable essential foods is still very prominent in both rural and urban areas.
While working on a project to empower a remote village in the northern part of South Africa through locally available renewable energy sources, Profs Johan Meyer and Sune von Solms of the University of Johannesburg's (UJ) School of Electrical and Electronic Engineering Sciences conceptualised the Solar Bread Box – a first for commercial sized photovoltaic solar bakeries.
Boasting the same equipment and baking cycle as a standard grid tied commercial bakery, the Solar Bread Box eliminates the dependence, purchase and monthly bills associated with grid tied electricity. Not only that, but the bakery is also an instantaneous employment and skills development opportunity for youths, a tool for economic stimuli and an avenue for an essential product.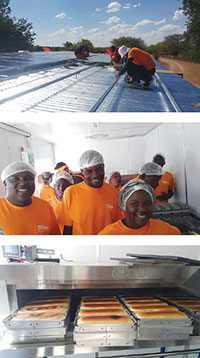 Low income households in rural and urban communities where there is no grid connection; communities where the residents cannot afford electricity; or communities where there are underlying social issues regarding the access and distribution of electrical power consider bread an everyday staple. The affordability and access of wholesome, fresh bread is essential in such areas.
Prof Meyer clarifies that the Solar Bread Box should not be confused with other solar solutions such as concentrated solar power or solar thermal technologies that are used for heating and cooling. He explains that this solution uses a photovoltaic system, which converts solar energy into electrical power used for the baking process.
Prof von Solms says that the idea is for the bakery to function on the conversion of solar energy as much as possible – minimising the cost of solar energy storage solutions. This means that baking will be seasonally dependent, and bakers will have to adjust their baking times in accordance with the sun to harness maximum power during baking cycles.
The UJ School of Electrical Engineering, in collaboration with Bakery and Food Technology Incubator of South Africa (BICSA), offers training on how to bake, how to run a bakery as a business and how to maintain a solar PV system, enabling communities to thrive independently.
So far, the Solar Bread Box has sparked economic activity, created jobs for eight individuals, created an enterprise that now serves neighbouring villages, enabled access to wholesome foods and the production of at least 100 loaves of bread a day, and boosted skills development in Gwakwani – a small, remote village in Limpopo that initially had no grid connection.
When used as a tool for community development, the Solar Bread Box becomes a self-sustaining, economy stimulating, job creating and skills development platform – creating communities that have access to healthy, wholesome baked goods, are self-dependent and economically active.
For more information contact Cornay Keefer, University of Johannesburg, cornayk@uj.ac.za
Further reading:
Miniature 4,4 A boost converter
28 October 2020, iCorp Technologies , Power Electronics / Power Management
The SGM6623 from SG Micro is a general-purpose, miniature boost DC-DC switching regulator with high efficiency for battery backup and standby power systems. The acceptable input voltage range is between 
...
Read more...
---
Double the power output from new Tadiran battery
25 November 2020, Altron Arrow , Power Electronics / Power Management
Tadiran has developed the latest in its PulsesPlus HLC battery range, doubling the power output of its previous offering. Recently the company launched the C-type HLC which represented a huge improvement 
...
Read more...
---
DIN-rail power supplies for harsh conditions
25 November 2020 , Power Electronics / Power Management
Available from Traco Power is a dedicated series of DIN-rail power solutions for harsh industrial applications. The TSP series' high immunity against electrical disturbances and rugged metal casing 
...
Read more...
---
SiC diodes for electric vehicles
25 November 2020, Altron Arrow , Power Electronics / Power Management
As vehicle electrification continues rapid growth worldwide, innovative power technologies such as silicon carbide (SiC) are required for high-voltage automotive systems ranging from motors to on-board 
...
Read more...
---
Single-cell battery charger
25 November 2020, iCorp Technologies , Power Electronics / Power Management
The SGM41511 is a battery charger and system power path management device with integrated converter and power switches for use with single-cell Li-ion or Li-polymer batteries. This highly integrated 3 A 
...
Read more...
---
Locally designed gang battery charger
25 November 2020, Seven Labs Technology , Power Electronics / Power Management
Made by Seven Labs Technology, the JuiceBar has 10 individually configurable chargers, each of which can be configured to charge the battery with a charge current of up to 2 A. What really makes the JuiceBar 
...
Read more...
---
Regenerative power system integrating two instruments
25 November 2020, Conical Technologies , Power Electronics / Power Management
The IT-M3600 regenerative power system from ITECH integrates two instruments in one, those being a bidirectional power supply and a regenerative electronic load. When used as a load, its energy recovery 
...
Read more...
---
Battery manufacturer enters South African market
25 November 2020 , Power Electronics / Power Management
Energon, a leading battery manufacturer based in Russia, has expanded its global presence to include new subsidiaries in Turkey (as the centre of a new cluster for eastern Europe, the Middle East and 
...
Read more...
---
Li-MnO2 and Li-ion batteries
25 November 2020, Surn Technologies , Power Electronics / Power Management
COROS Battery, which is located in Korea, has launched new 3,6 V Li-SOCl
2
(lithium thionyl chloride) and 3,0 V Li-MnO
2
(lithium manganese) batteries. The company's key members have extensive experience 
...
Read more...
---
Maintaining backup battery systems for maximum usage and reliability
30 September 2020, Comtest , Power Electronics / Power Management
Standby battery backup systems play a critical role in keeping essential operations functional in the event of a utility outage. Facilities like data centres, hospitals, airports, utilities, oil and gas 
...
Read more...
---