printer friendly version
The only constant is change
31 July 2019
Manufacturing / Production Technology, Hardware & Services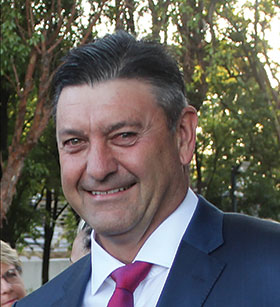 We have used the above slogan a few times over the past 25 years at Microtronix and each time we apply it, it becomes even more relevant than before. Change means different things to different people and organisations. It can mean the challenging of paradigms, disrupting performances that are embedded in comfort zones, seeking a better way, constant learning and improvement, and much more.
Currently at Microtronix it means 'renewal' and 'rejuvenation' as we embark on an energised programme to reassess our performance standards, measured against best practice, customer expectations, changes in our environment and competitive landscape, whilst also maximising our efficiencies. The past six months have seen significant changes within the Microtronix group of companies as we gear ourselves to remain relevant in the years ahead.
To drive this initiative, we brought on board a new CEO, Allan Snyman, in May 2019, who has extensive management and leadership experience, gained over 30 years in corporate and entrepreneurial environments. His primary mandate is to align all our teams and companies behind a common purpose that is clear and compelling.
Having already crystallised our vision, mission and values, we are now redefining our processes and structures to align behind the execution of the strategy. Joining Allan in the executive is Mike Goodyer, in the role of chief technical officer, Adam Cox as chief financial officer and Shaun Rampursad as chief operating officer. Furthermore, we have brought on board a few new management members into our stores, operations and finance divisions to integrate with the existing team and thereby obtain a blend of experience, organisational memory with new energy and ideas.
The re-focused stated purpose for the Microtronix group of companies is to 'grow our company by consistently delivering excellent quality products for our customers, within agreed timelines, by providing passionate service with pride'. In doing so, we will endeavour to be a trusted leader in the provision of turnkey electronics contract manufacturing solutions in Africa.
Another significant development has been the second tranche of shares being issued to our BEE partners in BUA/Microtronix, bringing it up to a 51% black-owned status and thereby ­attaining a Level 3 under the new BEE codes. This is very significant progress for our company. Also very exciting is the executive decision taken to develop and support our small factory in Centurion, SM Tech, to become a wholly owned and black empowered entity owned and managed by dedicated, loyal, long-serving staff who have worked at Microtronix for almost twenty years. When this transaction is concluded in the coming weeks, we anticipate that it will attain a Level 1 BEE code rating.
Our strategy of having three factories, i.e., small (SM Tech), medium (Microtronix) and large (BUA/Microtronix), appears to remain a successful draw-card for our clients, enabling us to offer our services across the spectrum of their requirements.
On the production and quality front, we have also made a few significant changes. One of these has been the recent acquisition of a ­Mydata MY600 jet printer which replaces stencils for solder paste printing on small to medium-sized runs. It also allows us to print new smaller-technology parts down to micro BGA and 0201 parts with ease.
This machine also helps our existing customers save money and time producing prototypes and low-volume runs cost-effectively. It also improves yields on tight and more complicated assemblies, and therefore contributes materially to meeting the challenge of striving for a level of excellence. It is always extremely difficult to achieve the last 3% improvement over 97%. To attain pass rates of between 95-97% is relatively easy, but as you approach the 99,5-100% target the improvements required become infinitely more difficult.
Concurrently, the BUA/Microtronix factory has also undergone a massive operational reorganisation within the SMD department, where six of our large Universal lines were realigned into three continuous top and bottom combinations, allowing printed circuit boards (PCB) to be processed by doing the bottom side first and soldered, and then whilst still in the line the PCB is flipped, pasted and then continues down the line where the top side of the board is populated.
This adjustment has led to faster and more efficient production times with zero human handling and intervention of boards, hence yielding a significant quality improvement with pass rates of 99,7% to 99,9% now not uncommon on larger-volume runs.
The full SMD department was also revamped and extended to allow for the relevant changes for the extension of the three lines to around 35 metres each, and now being able to produce well in excess of 5000 complicated, dual-side, populated PCBs per 24-hour shift at extremely high first-time pass rates.
As inevitably happens with significant change and improvement, there are challenges affected by big equipment moves and installation setups while still endeavouring to do full production runs. Consequently, there were intermittent delays and other frustrating challenges, but we are confident that by the end of July 2019 everything will have settled down and we will be ready and well equipped to take on the third and fourth quarter surge that we usually experience towards the end of the year.
These changes have served our STB (set-top box) customers well and BUA/Microtronix is currently completing its allocation of the government-supplied STB boxes intended for free allocation to the lower-income sector of the market as part of the digital migration project.
Microtronix is also gearing up for the next phase of production of electricity and water prepayment meters as the government and Eskom place more emphasis on the prepayment distribution strategy. The demand from our loyal customers in the tracking and security industries remains buoyant and we look forward to sustained work flow from this sector.
In the past year, in the Microtronix group of companies we have employed over 100 first-time, first-job youngsters to give them a chance. We want to continue being able to do so but we fear it won't be sustainable if our government and leaders aren't committed to the common vision for our country.
Meanwhile we continue to embrace change, choose to demonstrate a great attitude and endeavour to be the very best we can be, and thereby contributing to a vibrant and sustainable electronics manufacturing sector and the South African economy.
For more information contact Microtronix Manufacturing, +27 11 792 5322, mike@microtronix.co.za, www.microtronix.co.za
Credit(s)
Further reading:
Things are tough for electronics contract manufacturers in SA
23 October 2019, Barracuda Holdings, Leratadima Tellumat Manufacturing , Manufacturing / Production Technology, Hardware & Services
The contract manufacturing side of the South African electronics industry has been under enormous pressure for some time now, with some high-profile manufacturers having closed their doors or suffering serious financial trouble in recent years.
Read more...
---
Quality management based on quality assurance
23 October 2019, Quamba Technologies , Manufacturing / Production Technology, Hardware & Services
To ensure consistently high product quality and ultimately achieve a zero-fault production stage, it is necessary to control all process steps.
Read more...
---
3D printing and electronics manufacturing
23 October 2019, Omnigo , Manufacturing / Production Technology, Hardware & Services
"The opportunities are endless and we are excited to see what the future holds for 3D printing and the electronics manufacturing industry." – Christine Brindle, Omnigo
Read more...
---
3D printer for rapid prototyping
23 October 2019, RS Components (SA) , Manufacturing / Production Technology, Hardware & Services
RS Components is shipping the latest version of the MakerBot 3D printer – the MakerBot Method – which has been designed to bridge the gap between industrial and desktop 3D printing. The unit targets engineers 
...
Read more...
---
Versatile conformal coating applicators
23 October 2019, Techmet , Manufacturing / Production Technology, Hardware & Services
The Select Coat applicator series from Nordson Asymtek – which includes the SC-350 Select Spray and the SC-300 Multi-Mode – is a highly versatile conformal coating applicator that supports a wide range 
...
Read more...
---
High-accuracy fluid dispenser
23 October 2019, Techmet , Manufacturing / Production Technology, Hardware & Services
Nordson Asymtek recently introduced the Forte fluid dispensing system. The Forte series combines high-accuracy fluid dispensing with increased throughput and productivity in a narrow footprint to handle 
...
Read more...
---
Conformal coating cleaning agent
23 October 2019, Techmet , Manufacturing / Production Technology, Hardware & Services
Coating carriers and frames offer important advantages within the conformal coating process regarding handling, process reliability and output, but they also require very extensive cleaning afterwards.  
...
Read more...
---
Company profile: Etion Create
23 October 2019, ETION Create , Manufacturing / Production Technology, Hardware & Services
Etion Create is an original design manufacturer (ODM) that has been in operation for more than 25 years. Originally known as Parsec, the company was founded in 1993, focusing on the design, development 
...
Read more...
---
Cleaning machines and agents on show at Productronica
23 October 2019, Electronic Industry Supplies , Manufacturing / Production Technology, Hardware & Services
Using the motto 'Make the Cleaning Check', Zestron will be exhibiting a selection of state-of-the-art cleaning machines from leading international manufacturers. Visitors who are looking for a new cleaning 
...
Read more...
---
Application centres for dispensing and coating
23 October 2019, MyKay Tronics , Manufacturing / Production Technology, Hardware & Services
With a larger global installed base of MYSmart and MY700 jet printing and dispensing systems, Mycronic is taking the next step in bringing its hands-on expertise closer to customers by establishing multiple 
...
Read more...
---