Technology is fascinating and, as well as the many people that make a career in this area, there is an increasing number of individuals who regard designing and developing electronics projects to be their hobby.
Some do it to solve a problem where there is no commercially available product, while others have an idea that may eventually spawn a successful business venture.
In fact, some of the most innovative 'out of the box' concepts come from this sector. All too often, major companies have very strict and structured screening processes relating to their R&D activities. These can preclude assigning resources to high-risk or niche projects where it is unclear if there will be a return on the investment.
Unencumbered by such processes, the so-called 'makers' are fuelled by passion for an idea and often set out to develop it by working in a spare room or garage. There are numerous examples of major businesses that were started in this way (HP and Apple being among the most famous) and many successful companies of the next decade probably already exist in a small room somewhere.
Starting a software- or service-based business is relatively easy as all that is required is an initial idea, a computer (or tablet) and some software that can be freely downloaded. The barriers to entry here are consequently very low.
However, in the world of hardware, things are different. Technologies such as 3D printing have reduced the costs of prototyping mechanical parts and housings, but there remain some areas of significant cost. Apart from the basic materials required to build a prototype, there is a need to test and prove the prototype and this often requires relatively sophisticated instrumentation.
Obtaining funding for projects has become somewhat easier in recent years due to online crowdfunding platforms such as Kickstarter. However, makers are not able to list their project in order to seek financial backing until they can demonstrate the existence of a working prototype – which will require test equipment.
While there are a number of ways that makers can access test equipment including renting, these can prove expensive as maker prototypes are often developed on a part-time basis and can require several iterations, elongating development timescales. There really is no substitute to owning test equipment, so as to become familiar with its operation – including any quirks that it may possess. In fact, many consider ownership essential, but struggle to cover the expense, especially in the context of a project that is months or possibly years away from generating any appreciable revenue.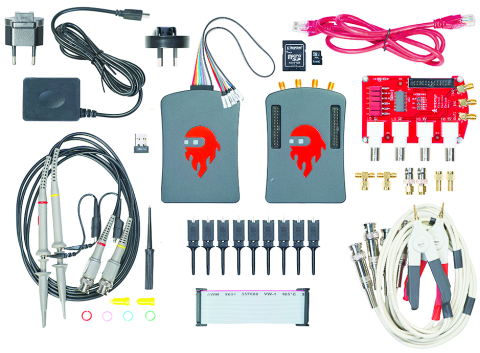 The need for affordable test equipment is not limited to the maker community. As more colleges and universities provide courses based around electronics and technology to prepare students for a career in the industry, the cost-per-head of providing relevant instrumentation is a concern. In many cases, students are required to share equipment working in groups, although there is clearly an educational benefit to providing equipment to each student.
Even within large companies, funding constraints exist, meaning that functions such as field service or applications engineering are required to book-out portable equipment, meaning that service levels are lower than if each employee had their own kit – at least for the basic everyday items. Fortunately, some manufacturers are recognising the need to address this market sector, and affordable yet highly capable test equipment can now be obtained.
One tool that provides fairly significant functionality at an acceptable price point is SparkFun's popular STEMTera platform. The units each combine a breadboard with an Arduino Uno equivalent (still featuring the standard 32-bit ATmega microcontroller that would be expected), in order to give plenty of scope for all manner of plug-and-play experimentation.
The LEGO compatible bottom allows LEGO bricks to be accommodated within the design, so that various different structures can be assembled without difficulty. Thanks to the platform's Arduino compatibility, the user can benefit from access to a plethora of shields already on the market. Multi-IDE support is another advantage that should also be factored in.
The Red Pitaya STEMLab Ultimate Kit is aimed at the educational market and contains all of the elements needed to use the Red Pitaya STEMLab 125-14 board as an oscilloscope, spectrum analyser, LCR meter, Bode analyser, tesla meter or LTI DSP workbench.
The main board is based around a dual-core ARM Cortex-A9 processor and a Xilinx Zynq FPGA MCU with 512 MB of RAM that can be expanded to 4 GB. A microSD card slot allows the addition of a further 32 GB of system RAM. On-board connectivity includes USB and gigabit Ethernet, with Wi-Fi being provided via a dongle.
The board has two RF inputs with a 125 MSps rate and 14-bit resolution that feature ESD and overload protection. A pair of RF outputs offers the same sample rate and resolution along with short circuit protection. Extension connectors include 16 digital I/Os and four 12-bit analog inputs as well as I2C, SPI and UART communication interfaces.
This multifaceted kit includes the Logic Analyser Pro that turns the STEMLab board into an 8-channel logic analyser, as well as the LCR meter board for a highly affordable LCR meter. An expansive range of diagnostic accessories is also supplied – including two oscilloscope probes, two SMA to BCN adaptors, two 50 terminations, two SMA T-adaptors and a Wi-Fi dongle.
Designed as a multi-function device to measure, visualise, generate, record and control mixed-signal circuits, the Digilent Analog Discovery 2 is small enough to fit in a pocket, yet powerful enough to replace several key items of lab instrumentation. It is aimed at students and hobbyists but is equally suitable for service personnel or anyone who wants a highly-featured solution that can be used anywhere.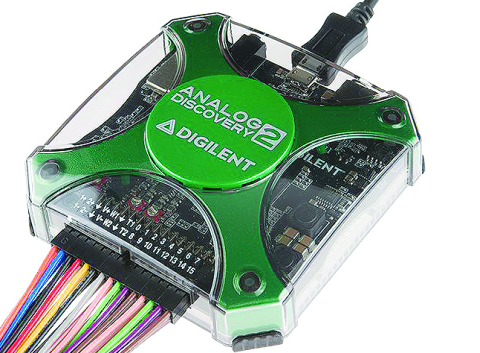 The Analog Discovery 2 can be used as a 2-channel 100 MSps, 30 MHz bandwidth oscilloscope, a 2-channel 14-bit arbitrary function generator, a 16-channel digital logic analyser, a 16-channel pattern generator or as a 16-channel virtual digital I/O for logic training applications.
Other functionality includes a single-channel AC-DC voltmeter, a network analyser, a spectrum analyser, plus the ability to analyse digital busses like SPI, PC and UART. Waveforms software is available for free to allow the tool to be driven from a PC and data to be analysed.
Summary
In addition to professional engineers, makers and hobbyists are now able to contribute significantly to innovation in our modern world – as they can develop ideas with passion and without the financial and logistical constraints that often stifle ideas in large corporations. Nevertheless, test equipment can form a substantial obstacle in such endeavours – as the capital costs for traditional instruments are high when purchasing and long project timescales might make renting/leasing impractical.
As we have seen, there is now a new generation of compact multi-function test tools that provide the capabilities of several vital instruments (such as oscilloscopes, logic analysers and signal generators) and connect to a PC for display and analysis of the captured data. They cost less than renting a traditional instrument for just a few days and are easily portable so that they can be used in a small lab or in the field – thereby making high-quality tools available to hobbyists, makers and field-based staff.
For more information contact TRX Electronics, authorised Mouser Independent Representative in South Africa, +27 12 997 0509, info@trxe.com