printer friendly version
NVIDIA-powered computing for AI at the edge
26 February 2020
Computer/Embedded Technology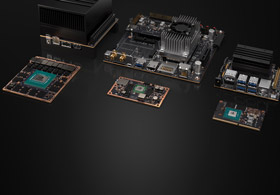 The AI revolution is transforming industries, reaching products that are smaller and more affordable than ever before. Many companies have been constrained by the challenges of size, power, and AI compute density – challenges that NVIDIA is addressing with its high-performance, low-power Jetson platform.
The platform provides real-time artificial intelligence (AI) performance where it's needed most – at the edge. Processing of complex data can be done on-board small, power-efficient devices, so you can count on fast, accurate inference in network-constrained environments.
NVIDIA Jetson developer kits and modules, together with the JetPack software development kit (SDK), provide everything you need to develop and deploy applications for multiple use cases through one unified software architecture. With a complete software stack, operating system, and suite of development tools designed for faster time-to-market, the platform dramatically reduces software development costs and enables scalable AI strategies for autonomous machines.
The initial Jetson portfolio consists of three series designed to bring modern AI, deep learning, and inference to the edge: the small form factor, lower-power Jetson Nano module, the TX2 series for increased AI and compute capabilities, and the Jetson AGX Xavier series for fully autonomous machines and embedded systems. Each module includes a Jetson heterogeneous processing SoC, system memory, power management, and an I/O connector.
The NVIDIA Jetson platform can help you deploy AI to systems at the edge in multiple industries, including robotics, industrial manufacturing, smart cities, video analytics, intelligent IoT gateways, and more.
For more information contact Renaldo Fibiger, Altron Arrow, +27 11 923 9600, rfibiger@arrow.altech.co.za, www.altronarrow.com
Credit(s)
Further reading:
Power delivery over USB Type-C will open up new applications
25 March 2020, Altron Arrow , Power Electronics / Power Management
The enablement of SuperSpeed is just one reason why we can expect the USB interface to dominate for many years to come, but power delivery must also be a major factor in that.
Read more...
---
STM32CubeMonitor for runtime variable monitoring
25 March 2020, Altron Arrow , Design Automation
The STM32CubeMonitor family of tools helps to fine-tune and diagnose STM32 applications at runtime by reading and visualising their variables in real time. In addition to specialised versions (power, 
...
Read more...
---
Mini PCIe reference design for MIL-STD-1553
25 March 2020, ASIC Design Services , Computer/Embedded Technology
Holt Integrated Circuits introduced a new dual-channel development kit and complete reference design based on the popular HI-2130LBx MIL-STD-1553 fully integrated terminals. The kit includes a full-size 
...
Read more...
---
Looking beyond radar, the car's virtual eye
25 March 2020, Altron Arrow , News
Faster, higher-resolution radar sensors have enabled the next generation of driver assistance technologies through improvements in vehicle safety and comfort in view.
Read more...
---
Compact fanless PC for harsh environments
25 March 2020, Brandwagon Distribution , Computer/Embedded Technology
Compulab's Airtop3 is a ruggedised, small-form-factor fanless IoT edge server with optimised performance, features and cooling. The ruggedised aluminium case is specially designed to generate natural 
...
Read more...
---
Steering diode/TVS array for display interfaces
25 March 2020, Altron Arrow , Circuit & System Protection
ProTek Devices has introduced a new steering diode transient voltage suppressor (TVS) array for circuit protection across popular consumer electronic display interfaces. The new PUSB403 device is ideal 
...
Read more...
---
Wireless power receiver
25 March 2020, Altron Arrow , Telecoms, Datacoms, Wireless, IoT
The STWLC68 is an integrated wireless power receiver suitable for portable applications and capable of managing up to 5 W of output power. The chip has been designed to support Qi 1.2.4 specifications 
...
Read more...
---
Waterproof touchscreen keyboard console
26 February 2020, Brandwagon Distribution , Computer/Embedded Technology
The industrial IP65-rated keyboard console from Digisign features a high-performance fanless processor and a user-friendly IP65 touch monitor, making it a modern solution for industrial automation and 
...
Read more...
---
USB Type-C port protector
26 February 2020, Altron Arrow , Circuit & System Protection
Designers can easily migrate small electronic devices from legacy USB Micro-A or Micro-B interconnects to the latest Type-C style with the STMicroelectronics TCPP01-M12 port protector, which satisfies 
...
Read more...
---
MCUs for new-generation smart objects
26 February 2020, Altron Arrow , DSP, Micros & Memory
STMicroelectronics' latest STM32H7A3, STM32H7B3, and STM32H7B0 Value Line microcontrollers (MCUs) combine 280 MHz Arm Cortex-M7 core performance, high memory density, and power savings for future generations 
...
Read more...
---