printer friendly version
MCUs for new-generation smart objects
26 February 2020
DSP, Micros & Memory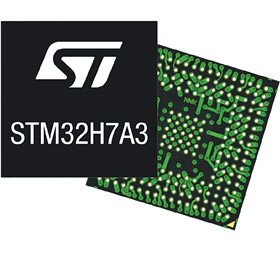 STMicroelectronics' latest STM32H7A3, STM32H7B3, and STM32H7B0 Value Line microcontrollers (MCUs) combine 280 MHz Arm Cortex-M7 core performance, high memory density, and power savings for future generations of smart objects.
Keeping power consumption low, and starting from economical 64-pin QFP packages, the new MCUs boost integration and real-time performance to handle advanced functionalities like rich user interfaces, natural language interaction, RF mesh networking, and artificial intelligence (AI).
Enhanced support for embedded graphics includes up to 1,4 MB RAM that enables cost-effective support of advanced user interfaces on display resolutions up to HVGA with 24-bit colour without external SRAM. Voice and audio processing leveraging enhanced energy efficiency and increased DSP capability efficiently handles audio front-end and output generation.
For security-conscious IoT applications, state-of-the-art cyber-protection includes secure boot/root-of-trust and hardware cryptographic/hash accelerators. New on-the-fly decryption (OTFDEC) extends protection to code stored in external serial memories by allowing encrypted content to be decrypted in real time.
Credit(s)
Further reading:
AI-powered computer for autonomous machines
Altron Arrow Computer/Embedded Technology
Nvidia recently premiered Jetson AGX Orin, the world's smallest, most powerful and energy-efficient AI supercomputer for robotics, autonomous machines, medical devices and other forms of embedded computing 
...
Read more...
---
Step-down converter with nano quiescent current
Altron Arrow Power Electronics / Power Management
The ST1PS03 is a nano-quiescent miniaturised synchronous step-down converter which is able to provide up to 400 mA output current with an input voltage ranging from 1,8 V to 5,5 V. This STMicroelectronics 
...
Read more...
---
Discovery kit for IoT nodes using STM32U5 MCU
Altron Arrow DSP, Micros & Memory
The B-U585I-IOT02A Discovery kit provides a complete demonstration and development platform for STMicroelectronics' STM32U585AI microcontroller, featuring an Arm Cortex-M33 core with Arm TrustZone and 
...
Read more...
---
Signal chain implementation for condition monitoring systems
Altron Arrow Editor's Choice Analogue, Mixed Signal, LSI
Like all system designs, there are many choices to be made when it comes to designing a condition monitoring system, each of which comes with various trade-offs and can drastically alter the DAQ signal chain design.
Read more...
---
USB charger solution with high power density
Altron Arrow Power Electronics / Power Management
Diodes Incorporated has launched a three-chip solution for enhancing the performance of ultra-high-power-density USB Type-C power delivery (PD) systems. These products can be used in a wide variety of 
...
Read more...
---
200 MHz MCUs backed by TrustZone security
Hi-Q Electronics DSP, Micros & Memory
Renesas Electronics now offers a 200 MHz RA6E1 microcontroller (MCU) which uses a high-performance Arm Cortex M33 core and TrustZone. The device is built on a highly efficient 40 nm process and supported 
...
Read more...
---
32-bit MCU for IoT edge applications
NuVision Electronics DSP, Micros & Memory
Silicon Labs launched the EFM32PG22 (PG22) 32-bit microcontroller (MCU), a low-cost, high-performance solution with an optimised combination of energy efficiency, performance and security. With easy-to-use, 
...
Read more...
---
Crossover MCU with 3D camera
EBV Electrolink DSP, Micros & Memory
NXP Semiconductors has announced the expansion of its NXP EdgeReady solution portfolio, adding a solution for secure face recognition that leverages a high-performance 3D structured light module (SLM) 
...
Read more...
---
Demo of new TouchGFX video widget
Altron Arrow Multimedia, Videos
The latest release (version 4.18) of STMicroelectronics' TouchGFX software for user-interface development with STM32 microcontrollers (MCUs) added support for video playback, enhanced tools for multi-developer 
...
Read more...
---
Configurable dual IO-Link and SIO transceiver
Altron Arrow Telecoms, Datacoms, Wireless, IoT
STMicroelectronics is bringing extra flexibility to IO-Link connections with the L6364 transceiver, which features dual communication channels that allow configurable output doubling for extra drive strength, 
...
Read more...
---