printer friendly version
STM32CubeMonitor for runtime variable monitoring
25 February 2020 Design Automation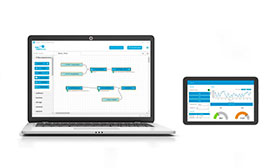 The STM32CubeMonitor family of tools helps to fine-tune and diagnose STM32 applications at runtime by reading and visualising their variables in real time. In addition to specialised versions (power, RF, USB-PD), the versatile STM32CubeMonitor provides a flow-based graphical editor to build custom dashboards simply and quickly add widgets such as gauges, bar graphs and plots. With non-intrusive monitoring, STM32CubeMonitor preserves the real-time behaviour of applications and complements traditional debugging tools to perform application profiling.
With remote monitoring and native support for multi-format displays, STM32CubeMonitor enables users to monitor applications across a network, test multiple devices simultaneously and perform visualisation on various host devices such as PCs, tablets, or mobile phones. Moreover, with the direct support of the Node-RED open community, STM32CubeMonitor allows an unlimited choice of extensions to address a wide diversity of application types.
Credit(s)
Further reading:
Intel Agilex FPGAs deliver flexibility and agility for the data-centric world
26 May 2021, Altron Arrow , Editor's Choice, Programmable Logic
The Agilex FPGA fabric and innovative chiplet architecture delivers an extensible FPGA platform that scales across a wide range of device densities and brings key features and benefits to the table.
Read more...
---
Automotive dead reckoning module
26 May 2021, Altron Arrow , Telecoms, Datacoms, Wireless, IoT
STMicroelectronics boasts that its latest Teseo-VIC3DA module is an easy-to-use dead reckoning global navigation satellite system (GNSS) standalone module, embedding a TeseoIII single-die standalone positioning 
...
Read more...
---
Infrared sensor module for outdoor applications
26 May 2021, Altron Arrow , Opto-Electronics
Vishay recently introduced a new extended-temperature 'E' option for its TSSP77038 infrared (IR) sensor module in the Heimdall package. Designed to meet the special requirements of outdoor applications, 
...
Read more...
---
Isolation for SAR ADCs
26 May 2021, Altron Arrow , Analogue, Mixed Signal, LSI
Question:
How do I add isolation to my ADC without harming its performance?   
Answer:
For isolated high-performance ADCs, keep one eye on isolated clocks and a second on isolated power. SAR ADCs (successive 
...
Read more...
---
System-on-module for rapid IoT deployment
26 May 2021, Altron Arrow , Telecoms, Datacoms, Wireless, IoT
TT Electronics has introduced the new S-2Connect Creo SOM for rapid IoT deployment. The board is designed for engineers, programmers and developers who are charged with reducing R&D risk and fast-tracking 
...
Read more...
---
MEMS absolute pressure sensor
26 May 2021, Altron Arrow , Analogue, Mixed Signal, LSI
The LPS27HHTW from STMicroelectronics is an ultra-compact piezoresistive absolute pressure sensor which functions as a digital output barometer. The device also embeds a temperature sensor to monitor 
...
Read more...
---
Reference design for humidity and temperature sensors
26 May 2021, Electrocomp , Design Automation
The SHT4x Smart Gadget is a simple reference design circuit board which demonstrates the performance and ease of use of Sensirion's SHT4x humidity and temperature sensors. It is equipped with a liquid 
...
Read more...
---
ToF sensor software expansion for STM32Cube
26 May 2021, Altron Arrow , Design Automation
The x-cube-TOF1 expansion software package for STM32Cube runs on STM32 microcontrollers and includes drivers that recognise time-of-flight (ToF) sensors and perform simple ranging on single or multiple 
...
Read more...
---
Ballast evaluation board for UV-C disinfection lamps
28 April 2021, Altron Arrow , Power Electronics / Power Management
The EVAL_ICB2FL03G is a ballast design evaluation board for 54 W UV-C disinfection lamps with voltage-mode preheating. Supplied by Infineon Technologies, it features the smart ballast controller ICB2FL03G 
...
Read more...
---
Arrow Electronics' Tech Snacks put engineers' time first
28 April 2021, Altron Arrow , News
Arrow Electronics is launching a new learning concept, Tech Snacks, that will provide engineers with the technical information and insight they need in a choice of formats that have been designed to match 
...
Read more...
---