printer friendly version
STM32CubeMonitor for runtime variable monitoring
25 February 2020 Design Automation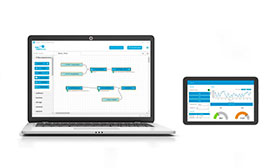 The STM32CubeMonitor family of tools helps to fine-tune and diagnose STM32 applications at runtime by reading and visualising their variables in real time. In addition to specialised versions (power, RF, USB-PD), the versatile STM32CubeMonitor provides a flow-based graphical editor to build custom dashboards simply and quickly add widgets such as gauges, bar graphs and plots. With non-intrusive monitoring, STM32CubeMonitor preserves the real-time behaviour of applications and complements traditional debugging tools to perform application profiling.
With remote monitoring and native support for multi-format displays, STM32CubeMonitor enables users to monitor applications across a network, test multiple devices simultaneously and perform visualisation on various host devices such as PCs, tablets, or mobile phones. Moreover, with the direct support of the Node-RED open community, STM32CubeMonitor allows an unlimited choice of extensions to address a wide diversity of application types.
For more information contact Robin Scholes, Altron Arrow, +27 11 923 9600, rscholes@arrow.altech.co.za, www.altronarrow.com
Credit(s)
Further reading:
Bluetooth evaluation kit
29 April 2020, Altron Arrow , Telecoms, Datacoms, Wireless, IoT
The Cypress CYW920719B2Q40EVB-01 evaluation kit enables users to evaluate and develop single-chip Bluetooth applications using the CYW20719, an ultra-low-power dual-mode Bluetooth 5.0 wireless MCU (microcontroller) 
...
Read more...
---
Solid-state drive based on QLC technology
29 April 2020, Altron Arrow , Computer/Embedded Technology
Micron Technology announced new Micron 5210 ION enterprise SATA SSD capacity and features, solidifying its leadership in QLC (quad-level cell) technology volume production. The world's first QLC solid-state 
...
Read more...
---
Automotive MOSFETs in a variety of packages
29 April 2020, Altron Arrow , Power Electronics / Power Management
Reducing CO
2
emissions of passenger cars is accelerating 48 V board net adoption. For this emerging 48 V market, Infineon Technologies offers a broad portfolio of automotive 80 V and 100 V MOSFETs as 
...
Read more...
---
Chipset for Wi-Fi 6E applications
29 April 2020, Altron Arrow , Telecoms, Datacoms, Wireless, IoT
ON Semiconductor announced sampling of its new QCS-AX2 chipset family that supports the 6 GHz spectrum band based on the enhanced Wi-Fi 6E standard. Designed with a high-performance, flexible architecture 
...
Read more...
---
Bourns launches new mobile app
25 March 2020, Electrocomp , Design Automation
The new Bourns app is now available free to download for iOS and Android at the Apple App Store and at the Google Play Store. Mobile apps are very popular marketing tools these days with over 50 million 
...
Read more...
---
Synchronous buck converter
29 April 2020, Altron Arrow , Power Electronics / Power Management
Diodes Incorporated introduced the AP62600 synchronous DC-DC buck converter for point-of-load (POL) conversion in applications such as TVs, monitors, white goods, home appliances, consumer electronics 
...
Read more...
---
Tiny step-down regulator
29 April 2020, Altron Arrow , Power Electronics / Power Management
The LTM4657 is part of Analog Devices' family of tiny, high-efficiency, identical pin-out, step-down µModule devices. The LTM4657 is designed to operate at lower switching frequencies than the LTM4626 
...
Read more...
---
Guide for designing GUIs, for novices to experts
29 April 2020, Avnet South Africa , Design Automation
The TouchGFX team at STMicroelectronics recently published TouchGFX Documentation, a website that targets developers working on their first embedded graphical user interface (GUI) as well as those with 
...
Read more...
---
Free PADS software for students and instructors
29 April 2020 , Design Automation
As part of its ongoing investment in higher education, Mentor, a Siemens business, announced that students and instructors can download a free student edition of its premium PADS Professional Design Suite 
...
Read more...
---
Embedding a 3D STEP model in a footprint
29 April 2020, EDA Technologies , Design Automation
Integrating mechanical design workflows into electrical design tools has become a necessary component of today's successful PCB design processes. But transferring inaccurate design data back and forth 
...
Read more...
---