printer friendly version
From the editor's desk: Yes, it's that thing everyone's talking about
25 March 2020
News
Call me a pessimist, but I'm absolutely, 100% certain that I'm going to catch COVID-19 (or the 'novel coronavirus' if you prefer to call it that) – if I haven't done so already. At least the mortality rate is fairly low – they're telling us about 2% of people who contract it actually die from it – so it's just a question of which side of the statistics I end up on.
At our offices, we've cancelled all face-to-face meetings with clients and they've bought us bottles of hand sanitiser. I'm sure most companies out there have taken similar measures, or allowed their staff to work from home. But even sanitising your hands until your skin gets raw can only be so effective, and for me it just feels like a matter of time.
The one thing I think I might dread even more than catching the disease is people's relentless need to talk about it. "So, how about this coronavirus hey, pretty scary stuff" is not a topic for conversation in my opinion, it's just stating the obvious. And then there's all the fake news, jokes, memes, panic buying (seriously, what's up with this apparent obsession with toilet rolls?) and general end-of-the-world-as-we-know-it fearmongering.
Naturally, at this point I shall proceed to break my own rules (well, I already have, actually) and talk about COVID-19. Over and above its threat to human lives, there's no getting away from the fact that it is having a devastating effect on industries and the general day-to-day running of people's lives worldwide – I'm sure we've all watched (or read about) President Ramaphosa's address to the nation on 15 March (you can watch it at <a href=http://www.dataweek.co.za/*mar20-covid19target="_blank"> www.dataweek.co.za/*mar20-covid19</a>), and know about his declaration of a state of disaster.
As a Dataweek reader pointed out to me, the ripple effects throughout the supply chain are also potentially devastating. To quote him: "The one thing that makes us scared in the industry is, can the virus be transmitted through packaging. Can the virus be transported from China in the stuff we order? Nobody can give a clear answer as they are not sure at this stage. If it can be transmitted and transported, we are in for one hell of a ride. If, and only if it can happen, we need to first have packages from China checked. This can cause havoc."
A recent survey by IPC showed electronics manufacturers anticipate at least a five-week product shipment delay from suppliers due to the pandemic. The group says shipping delays from China and other countries where the virus has spread are already having negative impacts on manufacturers.
Roughly 65% of manufacturers report their suppliers expect, on average, a three-week delay. However, electronics manufacturers expect delays to be longer than what their suppliers are currently quoting. On average, executives expect shipment delays to be at least five weeks.
An overwhelming majority (84%) of electronics manufacturers and suppliers are worried about the pandemic's impact on their business operations. Delays in receiving supplier inputs can lead to factory downtime, higher average costs, transportation bottlenecks, pressure for alternative sourcing, delayed sales, and delayed prototyping that slows the introduction of new products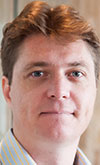 So, there's no doubt we're in for a rough ride, and our electronics manufacturing which wasn't in the healthiest condition before is going to be pushed to its absolute limits. Not to make light of such a serious situation, but at least with so many people working from home and all the schools having been closed, traffic has been an absolute breeze.
Brett van den Bosch
Editor
Credit(s)
Further reading:
Locked down but not knocked out
25 March 2020, ExecuKit , News
As a business, we are facing extremely hard times with the current worldwide pandemic and isolation. We are all maintaining social distancing and must learn how to do business with an enforced lockdown 
...
Read more...
---
From the editor's desk: A new era – after mourning comes rebuilding
29 April 2020, Technews Publishing , News
When I sit down to write these columns once a month, even if the topic I decide to write about is not all sunshine and roses, I always try and look for a silver lining. I'm simply not able to do that 
...
Read more...
---
Personality profile: Chris Viveiros
29 April 2020, Otto Wireless , News
The operations director of Otto Wireless Solutions shares his background, experience, advice and thoughts on the future.
Read more...
---
Locked down but not knocked out
29 April 2020, ExecuKit , News
We as a company salute the component suppliers who have supported us and are there to assist during this time even if the requests we pose are not always realistic.
Read more...
---
Electronics industry tackling the coronavirus
29 April 2020 , News
2020 has been a crazy year already. From Australian bushfires to climate emergencies to US trade tariffs, the start of the decade hasn't been very positive. Not only this, within the last few months there 
...
Read more...
---
SqwidNet becomes first Sigfox-accredited lab in southern hemisphere
29 April 2020, iSERT , News
iSERT (Safety, EMC, RF, Testing), a leader in the provision of turnkey testing solutions for EMC, RF and safety testing, has collaborated with SqwidNet, the only licenced Sigfox operator in South Africa, 
...
Read more...
---
Clearing the Static: ESD cleaning and hygiene products
29 April 2020, Altico Static Control Solutions , News
In light of the current COVID-19 pandemic, Actum Group would like to remind electronics manufacturers of our range of antistatic cleaning agents, cleanroom materials and PPE.      
Cleanroom garments and 
...
Read more...
---
Jemstech continuing its growth path
29 April 2020, Jemstech , News
Since its inception in 2005 and especially during the past five years, Jemstech has grown from a medium-sized electronic manufacturing services (EMS) provider into one of the major players for electronics 
...
Read more...
---
Company profile: Phoenix Contact
29 April 2020, Phoenix Contact , News
Phoenix Contact was founded in 1923 in Essen, Germany, by Hugo Knümann. It entered the South African market in 1969 through a local distributor, and was later established as a wholly owned subsidiary 
...
Read more...
---
What place is there for electronics in horticulture/agriculture?
29 April 2020, Technews Publishing, OSRAM Opto Semiconductor SA, Altron Arrow , Editor's Choice
Dataweek takes a look at what place there is for electronics in horticulture and agriculture, what roles they are serving and what their uptake is in the South African market.
Read more...
---