printer friendly version
Electronics industry prospects - an industry insight
13 February 2002
News
The past financial year saw world-wide recession for industrial electronics markets, with multinational suppliers' revenues down some 45% year on year. Component manufacturers and distributors consolidated facilities and headcount and implemented cost containment initiatives in response as customers cancelled back on orders. A large emphasis was placed on liquidating excess inventory in the channel. The South African market was similarly affected as electronics purchasers enjoyed a buyers' market throughout 2001.
Although this trend is expected to last until at least the middle of 2002, most analysts, franchised and independent distributors agree that part shortages will become a reality due to fabrication shutdowns and a lack of investment in new capacity by component manufacturers. Suppliers are cutting back capacity, but they may be cutting back below current consumption levels. Should the electronics industry recover more rapidly than commonly expected, there could be a potential for shortages which raises concerns about suppliers' ability to respond timeously to a sharply rising market demand if the upturn is not gradual. The general consensus is that any stress on meeting demand will rapidly show up in component prices.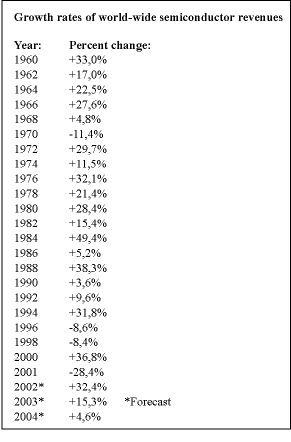 The semiconductor industry
Semiconductors are big business. In 2000 alone, $204 bn worth of chips found their way into several key end-use markets, but personal computer OEMs continue to be the primary customers for chipmakers.
In 1999, the computer segment, which includes mainframes, peripherals, servers, personal computers, workstations, and other computer equipment, accounted for $71 bn in chip sales. This represented 47,4% of the semiconductor market. While PCs have typically driven chip sales for the past 20 years, the shift toward communications is well underway as telecommunication and transmission equipment, two-way and cellular radios, and data communications continue to consume chips at a faster rate than other segments. Market factors driving this communications evolution are numerous, but the common underlying thread is a simple one: being able to communicate with anyone at any time from any location.
The communications world is also rapidly migrating from one of analog technology to digital, with a concurrent shift from wired to wireless access. Furthermore, semiconductor manufacturers see a digital future as providing the next wave of growth in consumer electronics and a further convergence between computer and consumer products. The transition from analog to digital technologies will continue to drive demand for consumer electronics, allowing chipmakers to capitalise on world-wide increasing sales of goods like digital camcorders, digital cameras, DVD players and recorders, digital cable, satellite set-top boxes, and digital televisions.
The automotive end-use market, which includes entertainment, navigation, driver information, engine controls and all other automotive applications, will offer chipmakers another hot market, and is forecast to reach $10 bn by 2005. Likewise, the industrial and military end-use segments will continue to require semiconductors, accounting for $14 bn in chip sales by 2005.
The growing trend is for semiconductor manufacturers to focus on specific end-use markets offering the highest growth opportunities. The diversification of the end-use chip market will offer greater opportunities for chipmakers to become true solution providers for their customers.
Fee for service
Quote: "If designers want component data at their fingertips with a few keystrokes and mouse clicks, saving time and money throughout the design cycle, they had better expect to pay for it." (Rob Spiegel, Electronic News.)
The difficulty that comes with building the cost of value-added services into the price of a component resulted in the question: Can distributors really sell services? For once, not all customers use services equally. If you build the cost of the service into the part, the customers that do not fully utilise those services end up subsidising those who do. When Arrow Electronics, one of the world's largest NYSE-listed electronic distribution groups, decided to break the cost of services away from component cost, the announcement was met by a sceptical industry. However, since the introduction of Arrow's fee-based services in May 2001, more than 750 subscribers have signed up, competitors have begun to sell services, and the programme is still gaining momentum.
In many cases however, only larger distributors such as Arrow, that have the infrastructure in place and a wide offering of product and supplier lines, will have the ability to produce intellectual-property services worth paying for.
Scaling China's 'Great Silicon Wall'
China's semiconductor industry presents many risks and rewards. Obstacles include a poor infrastructure, long supply chains for raw materials and manufacturing equipment and a dismal track record on human rights. China's ongoing inability to transform semiconductor technology into commercial success impedes shifting from R&D to production and marketing. Technology export controls from developed countries also blocks China's efforts to import advanced manufacturing equipment and upgrade wafer-processing technology.
The rewards of doing business in China are obvious with 1,3 billion eager consumers. The strength of the country's growing electronics segment, already a major exporter, assures a ready market for any suitable IC the Chinese fabs can produce. However, Chinese chipmakers can only satisfy about 10% of the domestic chip demand. As a result, foreign chipmakers have been transferring technology, investing capital, building wafer fabs and forming joint ventures with Chinese partners at a rapid rate over the past 20 years.
Finally, the sleeping giant is awakening with World Trade Organisation (WTO) acceptance and the Olympics coming to Beijing in 2008. China's recent acceptance into the WTO will create the following advantages:
* By 2003, foreign vendors will be able to contact Chinese customers directly without the assistance of a middleman, creating a faster and more efficient supply chain.
* US companies operating in China will no longer be required to export a large share of their product. This permits chipmakers, like Intel, which operate wholly owned plants in China, to sell to the domestic market.
* The elimination of all tariffs levied on semiconductors, telecommunication products, computer equipment and other IT goods within five years.
* Foreign suppliers will have the same access as domestic vendors to procurement by the Chinese government and state-owned companies.
* China is promising greater protection of intellectual property rights, particularly on software and content.
In the end, the lure of more than one billion microelectronics consumers will be more than enough incentive to entice every chip-producing company and nation into the Chinese market, regardless of the tremendous sacrifices and risks. Every company must have a China strategy whether they are going in or not. Multinationals cannot afford to ignore China. China could become the most important economic event in recent history.
References
1. Electronic News - Rob Spiegel
2. Converge Global Trading Exchange - Grant Johnson
For further information contact Arrow Altech Distribution, (011) 923 9600, or see www.arrow.altech.co.za
Credit(s)
Further reading:
Personality profile: Jean Mearns
29 July 2020, WH Circuit , News
"No one works for me, they only work with me, for without each other our team will fail to exceed the expectations of our customers."
Read more...
---
Letter to the editor
29 July 2020 , News
I take exception to the article 'To fake or not to fake' published in the June edition of Dataweek that is clearly based on the principle 'guilty until proven innocent'. I am by no means an expert 
...
Read more...
---
Q&A with Brandon Kuhn and Steve Stafford
29 July 2020 , News
Q: What is the rationale behind the reorganisation? What impact will it have on Avnet's customers in South Africa?    A (Kuhn):
Since 2009, our shared front-end model in South Africa has differed from the 
...
Read more...
---
Avnet EMEA names two new leaders to SA operation
29 July 2020 , News
Avnet has named Steve Stafford and Brandon Kuhn as new leaders in South Africa following the completion of a reorganisation in the region.
Read more...
---
UCT chooses Tektronix instruments for training lab
29 July 2020, Comtest , News
Comtest, local partner to Tektronix, recently assisted the University of Cape Town (UCT) physics department in refurbishing its electrical training laboratory. All of the existing analog oscilloscopes 
...
Read more...
---
New electromagnetic solutions range from Accutronics
29 July 2020, Accutronics , News
Accutronics has been appointed as the reseller for the Electromagnetic Integrated Solutions (EIS) range of products from API Technologies. APITech offers a complete line of coaxial EMI solutions, 
...
Read more...
---
Fighting COVID-19 using TV white space spectrum
29 July 2020 , News
The CSIR has partnered with the Technology Innovation Agency (TIA) to enable local Internet service providers to deploy Television White Space (TVWS) networks, using the CSIR-developed Secondary Geo-Location 
...
Read more...
---
Clearing the Static: ESD wrist straps
29 July 2020, Actum Electronics , News
The human body is the primary source of electrostatic charge generation. In order to control and reduce static charge build-up and prevent electrostatic discharges (ESD), we use grounding systems to ensure 
...
Read more...
---
Smallest automotive maXTouch controllers
29 July 2020, Altron Arrow, Avnet South Africa , DSP, Micros & Memory
To help enhance and ease today's driving experience, automotive manufacturers are implementing additional touch displays beyond the centre infotainment display (CID). Supporting the application of these 
...
Read more...
---
From the editor's desk: This too shall pass
29 July 2020, Technews Publishing , News
Things were tough enough for the South African electronics manufacturing industry before, but this year has thrown up unprecedented challenges that nobody could have foreseen and which are outside of 
...
Read more...
---