printer friendly version
AAD hosts the first ARM technology seminars in SA
18 May 2005
News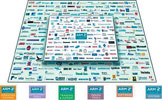 Arrow Altech Distribution (AAD) recently hosted the first training seminars on ARM Architecture in Johannesburg and Cape Town. ARM (Advanced Risc Machines) is a company that licenses the use of its processor technology to major silicon manufacturers worldwide.
AAD was privileged to have Chris Shore, ARM's training manager from the Cambridge head office, visit South Africa for this. Shore, who holds an MA in Natural Sciences, is responsible for all customer training worldwide and also for the growing network of ARM-approved training centres. During more than 15 years in the computing industry, he worked on software for complex telecommunications systems and has managed several large development projects. Prior to joining ARM in 1999, he was the technical director of a technology consultancy firm in Cambridge.
ARM provides developers with intellectual property (IP) solutions in the form of processors, physical IP, cache and SoC designs, application-specific standard products (ASSPs), related software and development tools - everything needed to create an innovative product design based on industry-standard components that are 'next generation' compatible.
ARM designs the technology that lies at the heart of advanced digital products, from wireless, networking and consumer entertainment solutions, to imaging, automotive, security and storage devices. ARM's comprehensive product offering includes 16/32-bit RISC microprocessors, data engines, 3D processors, digital libraries, embedded memories, peripherals, software and development tools, as well as analog functions and high-speed connectivity products.
According to AAD, combined with the company's broad 'Partner' community, a total system solution that offers a fast, reliable path to market for leading electronics companies is provided. The recent training here presented the South African engineering fraternity with useful and pertinent information for first time users, through to seasoned design engineers, it says.
ARM processors form the highest growth of any processor in the higher echelons of the world markets. The major advantage of the ARM core, other than performance, is the fact that it is truly non-vendor specific. This gives the engineer a far greater choice of processor from many different suppliers and ensures that there will be an exact match for any problems, says the company.
For more information contact Rodney Farrow, Arrow Altech Distribution, +27 (0)11 923 9600, [email protected]
Credit(s)
Further reading:
Powering your automotive electronics
Altron Arrow Power Electronics / Power Management
A look at the challenges of providing multiple supply rails to vehicle systems being powered from a single vehicle battery, with an available solution given.
Read more...
---
Microchip's new IC to replace Hall effect position sensors
Altron Arrow Electronics Technology
The LX34070 IC from Microchip is set to help accelerate the global move away from expensive and less accurate magnet-based solutions for safety-critical EV motor position monitoring.
Read more...
---
Mouser stocks wide product selection from Renesas companies
TRX Electronics News
The products on offer include embedded solutions, semiconductors, optoelectronics, sensors and passive components.
Read more...
---
TUKS campus taken over by robots!
News
Students are required to build autonomous robotic vehicles with a sensor system to detect specific colours on a multi-coloured track.
Read more...
---
8-bit MCU development board provides onboard 5G
Altron Arrow DSP, Micros & Memory
The AVR-IoT Cellular Mini development board is the latest from Microchip and gives developers an easy blueprint for building IoT devices that connect via 5G.
Read more...
---
Altron Arrow FAE earns STMicroelectronics award
News
Renaldo Fibiger was one of only two people from the whole of the EMEA region who scored 30 out of 31 in the certification course.
Read more...
---
PowerDI8080 40 V MOSFET delivers industry-leading performance
Altron Arrow Power Electronics / Power Management
Diodes Incorporated has announced the introduction of the PowerDI80808-5, a power package that meets the needs of EV applications.
Read more...
---
Infineon to exhibit at Embedded World 2022
News
This Infineon will be showcasing various focus areas dealing with embedded systems and the internet of things.
Read more...
---
Avnet Abacus congratulates Bourns on 75 years of innovation
Avnet Abacus News
This year also marks a milestone with the 21st anniversary of the distribution alliance between these two companies.
Read more...
---
New product marketing manager for Yamaha's SMT section
News
Yamaha appoints Kamil Stasiak, a 10-year veteran of the industry, as product marketing manager for its surface-mount technology section.
Read more...
---