printer friendly version
AAD hosts the first ARM technology seminars in SA
18 May 2005
News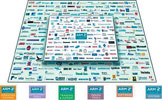 Arrow Altech Distribution (AAD) recently hosted the first training seminars on ARM Architecture in Johannesburg and Cape Town. ARM (Advanced Risc Machines) is a company that licenses the use of its processor technology to major silicon manufacturers worldwide.
AAD was privileged to have Chris Shore, ARM's training manager from the Cambridge head office, visit South Africa for this. Shore, who holds an MA in Natural Sciences, is responsible for all customer training worldwide and also for the growing network of ARM-approved training centres. During more than 15 years in the computing industry, he worked on software for complex telecommunications systems and has managed several large development projects. Prior to joining ARM in 1999, he was the technical director of a technology consultancy firm in Cambridge.
ARM provides developers with intellectual property (IP) solutions in the form of processors, physical IP, cache and SoC designs, application-specific standard products (ASSPs), related software and development tools - everything needed to create an innovative product design based on industry-standard components that are 'next generation' compatible.
ARM designs the technology that lies at the heart of advanced digital products, from wireless, networking and consumer entertainment solutions, to imaging, automotive, security and storage devices. ARM's comprehensive product offering includes 16/32-bit RISC microprocessors, data engines, 3D processors, digital libraries, embedded memories, peripherals, software and development tools, as well as analog functions and high-speed connectivity products.
According to AAD, combined with the company's broad 'Partner' community, a total system solution that offers a fast, reliable path to market for leading electronics companies is provided. The recent training here presented the South African engineering fraternity with useful and pertinent information for first time users, through to seasoned design engineers, it says.
ARM processors form the highest growth of any processor in the higher echelons of the world markets. The major advantage of the ARM core, other than performance, is the fact that it is truly non-vendor specific. This gives the engineer a far greater choice of processor from many different suppliers and ensures that there will be an exact match for any problems, says the company.
For more information contact Rodney Farrow, Arrow Altech Distribution, +27 (0)11 923 9600, rfarrow@arrow.altech.co.za
Credit(s)
Further reading:
Obituary: Steven James Meyer
January 1957 - January 2022
Technews Publishing News
It is with deep sadness and shock that we announce the sudden death of SA Instrumentation & Control Editor, Steven Meyer. Steven joined Technews in October 2007 in the position of Deputy Editor. His 
...
Read more...
---
ICASA doles out provisional RF spectrum
News
The Independent Communications Authority of South Africa (ICASA) has concluded its analysis of applications for provisional assignment of radio frequency spectrum under the new ICT Covid-19 National State 
...
Read more...
---
productronica's hybrid format a success despite restrictions
News
Following its tried and trusted biennial scheduling, productronica 2021 was held on the fairgrounds of Messe München on 16-19 November. Strict hygiene rules were observed in accordance with Covid-19 protocols, 
...
Read more...
---
Report evaluates market for Li-ion battery recycling
News
In the past, the lack of end-of-life batteries meant that the Li-ion (lithium-ion) recycling market had little opportunity to prosper. The transition to electric vehicles (EVs) is changing this. Recycling 
...
Read more...
---
AI-powered computer for autonomous machines
Altron Arrow Computer/Embedded Technology
Nvidia recently premiered Jetson AGX Orin, the world's smallest, most powerful and energy-efficient AI supercomputer for robotics, autonomous machines, medical devices and other forms of embedded computing 
...
Read more...
---
Step-down converter with nano quiescent current
Altron Arrow Power Electronics / Power Management
The ST1PS03 is a nano-quiescent miniaturised synchronous step-down converter which is able to provide up to 400 mA output current with an input voltage ranging from 1,8 V to 5,5 V. This STMicroelectronics 
...
Read more...
---
RFID market research explores 2021 and what to expect for the future
News
Despite a 5% drop in the global RFID market in 2020 compared to 2019 due to the impact of Covid-19, the market has recovered well in 2021. According to the newly released RFID market research report from 
...
Read more...
---
LED driver expansion board for STM32 Nucleo
Altron Arrow Opto-Electronics
STMicroelectronics' X-NUCLEO-LED12A1 LED driver expansion board for STM32 Nucleo features four LED1202 devices that can drive up to 48 LEDs. The LED1202 is a 12-channel, low quiescent current LED driver 
...
Read more...
---
SABS launches local content verification scheme
News
A new certification and grading scheme launched by the South African Bureau of Standards (SABS) intends to harmonise local content and local production for producers and manufacturers, levelling the playing 
...
Read more...
---
DesignSpark to host new activist engineering programme
RS Components (SA) News
RS Components has launched its DesignSpark #ActivistEngineering programme, further strengthening the company's commitment to engage and inspire design engineers across the globe to 'make amazing happen 
...
Read more...
---