printer friendly version
Stellenbosch student presents paper on SA satellite at conference
4 October 2006
Telecoms, Datacoms, Wireless, IoT
A post-graduate student at the University of Stellenbosch represented South Africa at the Utah Small Satellite Conference that was held in the USA in August.
Kgabo Mathapo presented a paper on South Africa's second satellite, recently named 'Sumbandila' - a Venda word that means 'showing the way' or 'Pathfinder'. Mathapo's paper deals with the software defined radio automatic identification receiver (AIS), one of the several experimental payloads on the satellite.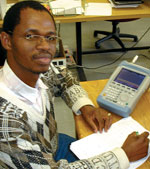 Kgabo Mathapo presented a paper on Sumbandila, SA's second satellite
The satellite is being built by SunSpace, a company that has its origins from the Sunsat satellite programme of the University. Sunsat was developed completely by a local team of engineers and launched in 1999 by NASA. This team forms the core of SunSpace today.
The Small Satellite Conference's theme this year was: The first 20 years, where we have been - where we are going. Sunspace considered it important for South Africa to be presenting a paper and supported Mathapo's participation.
Software defined radio (SDR) is a technology that is currently being researched at the University of Stellenbosch because of its potential to realise reconfigurable radio systems and networks that use the same hardware for different applications. The primary purpose of the SDR AIS experimental payload on Sumbandila is to demonstrate the monitoring of marine traffic along the SA coast. The secondary purpose is to carry out scientific experiments that will demonstrate the possibility of reconfiguring radio systems on a satellite through software updates and to serve as proof of concept of SDR for satellite communication systems.
Sumbandila (ZA002) is South Africa's second satellite that will be launched in a low earth orbit and has in addition to experimental payloads, an on-board multisensor imager will be used to take high resolution images of the earth. The satellite will be launched into a 500 km sun-synchronous orbit with a local time (at the equator) of 10 am and 10 pm.
The SDR project will use a space-qualified VHF/UHF transponder and on-board processing unit, developed for small satellites by SunSpace. The SDR architecture itself allows for the development of a library of components that are used to build a radio system.
Mathapo is studying in the Department of Signal Processing and Telecommunications Research Group and is working on the SDR project as his thesis for his Masters Degree in Electronic Engineering which he expects to complete this year. His paper goes into detail about GMSK modulation, demodulation and filtering techniques.
Further reading:
Analog-tuneable notch filter bank from Atlanta Micro
RFiber Solutions Telecoms, Datacoms, Wireless, IoT
The AM3170 is an analog-tuneable notch filter bank with notches from 6,0 to 18,0 GHz. It provides an excellent filtering solution for receivers or transceivers requiring flexible centre frequency removal, high dynamic range and low SWaP.
Read more...
---
Digitally tuneable bandpass filter bank
RFiber Solutions Telecoms, Datacoms, Wireless, IoT
The AM3163 is a miniature digitally tuneable bandpass filter bank covering the 2,0 to 18 GHz frequency range. The device provides three separate filter bands each with 16 low-pass and 16 high-pass tuning 
...
Read more...
---
Bidirectional amplifier basics
RF Design Telecoms, Datacoms, Wireless, IoT
A bidirectional amplifier (BDA) is an active RF device that is widely used in a variety of telecommunication, radar, and other RF sensing applications. Although conceptually a bidirectional amplifier 
...
Read more...
---
Expected adoption of Wi-Fi 6 routers for the smart home
Altron Arrow Telecoms, Datacoms, Wireless, IoT
We've all been there, working from home or on a Zoom call and then suddenly the computer freezes and everything stops working. In today's new normal of hybrid work, having a stable and reliable Wi-Fi connection is table stakes.
Read more...
---
MT8000A validated for testing of sub-6 GHz cells
Coral-i Solutions Telecoms, Datacoms, Wireless, IoT
Anritsu Corporation has announced that its radio communications test station MT8000A has been validated by Qualcomm Technologies and is now supported by the Qualcomm Development Acceleration Resource 
...
Read more...
---
Marki Microwave releases a family of ultra-broadband mixers
RF Design Telecoms, Datacoms, Wireless, IoT
The broad bandwidth mmWave mixers support operation up to 130 GHz and are offered as a two-, three- or four-port MMIC device.
Read more...
---
Key considerations for Wi-Fi standards for IoT products
TRX Electronics Telecoms, Datacoms, Wireless, IoT
Wi-Fi 6 delivers several new capabilities that will enhance product performance, reliability, or quality of service (QoS) enabling more connected products in the home, and reduced power consumption for improved battery life in battery-operated products.
Read more...
---
Corner-placement antenna for GNSS designs
iCorp Technologies Telecoms, Datacoms, Wireless, IoT
Antenova has added a new offering to its range of miniature surface mount designed (SMD) antennas and modules for GNSS applications with the Agosti, an antenna which operates with exceptional efficiency in a reduced space.
Read more...
---
Quectel 4G SMD antenna
iCorp Technologies Telecoms, Datacoms, Wireless, IoT
This wideband LTE/cellular/CDMA SMT antenna from Quectel, operating in the frequency range from 698 to 960 MHz and 1710 to 2690 MHz, delivers high efficiency in all bands when mounted to the device host PCB.
Read more...
---
SIMCom pioneers the LPWA segment with future-proof products
Otto Wireless Solutions Telecoms, Datacoms, Wireless, IoT
With the gradual withdrawal of 2G/3G networks from the market, LPWA has attracted extensive attention from many IoT manufacturers for its low power consumption, long standby time, and low cost.
Read more...
---