printer friendly version
Omnigo streamlines during lean times
13 October 2010
Manufacturing / Production Technology, Hardware & Services
In previous editions of Dataweek, mention was made of Omnigo's capabilities, quality of work and technical support.
Omnigo could not continue to exist as a turnkey electronic manufacturer if our business practices and philosophies were not grounded in tried and tested methodologies. With this article I would like to touch on a few other important factors which have been affecting Omnigo, our customers and our suppliers.
It is important not to underestimate the effect that the international financial downturn has had, and continues to have, on South African manufacturing as a whole and specifically on the electronic manufacturing industry. An additional impact is the phenomenon of a 'double dip' in the economy which, although very subtle and difficult to detect, has had a significant effect on the supply and demand that normally drives the manufacturing industry.
When the recession started, many of the electronic component manufacturing companies closed down or scaled down some of their production lines. Now that the economy is busy recovering and demand is beginning to pick up again for these components, the components are not available. Alternatively the components have very long lead times; for instance where a specific component would have a delivery lead time of two weeks before the recession started, it would now have a delivery lead time of between 12 and 30 weeks!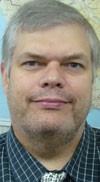 Joe Eckard, Omnigo
This situation challenges all parties involved in the supply chain of components and turnkey solutions. One of the side effects of this whole scenario is that the customer for whom the turnkey assembly or sub-assembly is manufactured stands a real chance of losing the market for which the product was intended, or losing the order because their customer cancels the order on them.
Suppliers and manufacturers of components are under tremendous pressure to step up to the challenge and start supplying as per demand. This current situation will most likely result in much more streamlined companies that must be able to adapt to change a lot faster and more efficiently than in the past. It is also becoming more and more obvious that companies in the electronic manufacturing industry will have to ensure that they employ the right person for the job since the luxury of making mistakes is considerably less than previously. Couple this to the lag in turnover (due to long component deliveries) and it adds another dimension to the challenges that must be assessed and overcome by company management and the industry as a whole.
Omnigo's focus and drive for the past two years has been to optimise customer service and provide service delivery that is of a consistently superior standard. The only way that this is achieved is by delivering as per customer scheduled delivery date, and not deviating from the expected quality standards. By doing this and not deviating from our goal of on-time delivery, we have continuously communicated the problem of long lead times, early on in the recession, to our customers.
The past year has been a challenge for Omnigo as a number of lessons have been learnt regarding customers, suppliers, personnel and the dynamic of the electronic manufacturing industry. Omnigo foresees a steady growth in manufacturing and for the next two to five years, the focus will be on growing the business while also focusing on Omnigo's core business, which is turnkey electronic manufacturing.
Omnigo has become a lean manufacturing facility, but has maintained its versatility and flexibility in spite of becoming leaner over the years. Omnigo can easily adapt to manufacture large volumes as well as low volumes. We are also prepared to manufacture one to 10 PCB assemblies even though the cost is considerably more than for larger quantities due to the once-off startup cost.
We prefer to form a relationship based on trust with our customers and achieve this through on-time delivery, constant feedback and communication on a weekly basis, including status reports and meetings. We understand how critical it is for our customers to be kept informed and up-to-date regarding their production schedule at Omnigo and always treat this requirement as part and parcel of the order placed on us.
The past 18 months have, for the most part, been constructive in that we had to re-evaluate how we do things, streamline processes, form a closer relationship with our suppliers and become more closely allied with our customers. The tough times of this period have strengthened the bonds between us and our customers and has sensitised us to our customers' needs a lot more than previously.
We are of the opinion that the economy is stabilising and that demand will start to pick up again during the coming months. The challenge will unfortunately still be to balance component delivery lead times with customer delivery expectations. Now that the effect of the Soccer World Cup has been experienced, and the demand that was created by this event has been satisfied, all of us can look forward to a more stable and steady requirement from our customers. We are very excited by the future and look forward to it with passion and great expectation.
Credit(s)
Further reading:
Fast and accurate PCB quotation and component sourcing for electronic assembly
ASIC Design Services Manufacturing / Production Technology, Hardware & Services
See how a new approach is helping electronic manufacturing services (EMS) companies solve major challenges when attempting to provide accurate quotes to their customers in a timely manner.
Read more...
---
Siemens launches Valor electronic assembly software in South Africa
ASIC Design Services Manufacturing / Production Technology, Hardware & Services
The Valor Process Preparation software is a complete engineering solution for PCB assembly and test, including upfront critical DFA analysis, BOM validation, workflows for stencil design, SMT programming, test and inspection engineering, documentation and work instructions.
Read more...
---
Indium introduces AuSn pastes for high-power LEDs
Techmet Manufacturing / Production Technology, Hardware & Services
Indium Corporation introduces two new solder pastes designed for the higher processing temperatures required for use in high-power LED module arrays.
Read more...
---
Soldering system based on Curie heat technology
Zetech Manufacturing / Production Technology, Hardware & Services
Features include dual ports with simultaneous heat-up, high thermal recovery and performance, and a power supply with built-in LCD display.
Read more...
---
Metal TIMs for burn-in and test
Techmet Manufacturing / Production Technology, Hardware & Services
Indium Corporation boasts an extensive portfolio of innovative, high-performance metal thermal interface materials (TIM), some of which will be featured at the impending TestConX conference in Arizona, 
...
Read more...
---
Cutting-edge assembly and inspection technologies on display
Truth Electronic Manufacturing Manufacturing / Production Technology, Hardware & Services
At SMTconnect 2022 in Nuremberg, Germany this May, Yamaha Motor Robotics SMT Section will show how its One Stop Smart Solution is ready to power high-speed, high-quality intelligent manufacturing. Visitors 
...
Read more...
---
How to choose the right soldering station for your needs
Allan McKinnon & Associates Manufacturing / Production Technology, Hardware & Services
Rather than simply setting an arbitrary price limit, it's a good idea to first look at some of the different types of soldering irons for sale, then decide where your budget falls and see which models you can quickly rule out.
Read more...
---
Omnigo offers high-precision manufacturing during challenging times
Omnigo Manufacturing / Production Technology, Hardware & Services
"We pride ourselves on being a service-oriented business that is able to accommodate both clients who source materials themselves and those who leverage our expertise, supply chain networks and buying power."
Read more...
---
Smart soldering process software wins global award
Quamba Technologies Manufacturing / Production Technology, Hardware & Services
SEHO was awarded a 2021 Global Technology Award in the category of selective soldering at last year's productronica trade fair, for its new SmartSplit. SEHO SmartSplit is intelligent software that 
...
Read more...
---
Truth prevails at Yamaha distributor awards
Truth Electronic Manufacturing Manufacturing / Production Technology, Hardware & Services
Yamaha Motor Robotics SMT section has held its annual European distributor meeting, again hosting the team-building event online as agents joined from across the region. The business unit recorded 
...
Read more...
---