printer friendly version
All-silicon CMOS oscillator replaces xtals
6 October 2004
Electronics Technology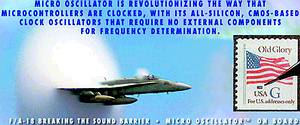 Micro Oscillator has designed and patented a 32 kHz all-silicon CMOS-based clock oscillator that can replace 32 kHz crystals in microprocessor and microcontroller-based systems for very robust operation. The MOI-32 temperature compensated oscillator operates at 0,01%, or 100 ppm, total frequency accuracy over the temperature (0 to 70°C) and voltage range without using quartz crystals or other external components. The MOI-32 has a main frequency of 32,768 kHz - other frequencies can be realised. The MOI-32 will also operate over the industrial range of -40 to 85°C with a total tolerance of 0,025%, or 250 ppm. The oscillator operates at 3 or 1,8 V, consuming a mere 50 μA.
Further reading:
Research project achieves major advance toward fusion energy
Electronics Technology
New superconducting magnet designed by MIT breaks magnetic field strength records, paving the way for practical, commercial, carbon-free power.
Read more...
---
Report forecasts impact of electrically conductive adhesives
Electronics Technology
IDTechEx recently published a market research report, 'Electrically conductive adhesives 2022-2032: Technologies, markets and forecasts', covering this emerging form of joining technology. Electrically 
...
Read more...
---
NXP exhibits the art of semiconductors
Electronics Technology
An exhibit of semiconductor history reinterpreted as art recently finished its run at ArtEZ University of the Arts in the Dutch city of Arnhem, close to Nijmegen and it was based on NXP Semiconductor's 
...
Read more...
---
IBM shrinks chip geometries to 2 nm
Electronics Technology
The current state-of-the-art in terms of semiconductor chip geometries has been superseded by a new breakthrough coming out of IBM's world renowned research division. Currently the 'process node' most 
...
Read more...
---
Challenges for electronic circuits in space applications
Altron Arrow Electronics Technology
Outside the protective cover of the Earth's atmosphere, the natural space radiation environment can damage electronic devices and the effects range from a degradation in parametric performance to a complete functional failure.
Read more...
---
The surprising ingredients used to bake a solar-panel cake
Electronics Technology
Jon Major, from the BBC's Future Planet team, has written an article that explores "The unexpected ingredients that improve solar cells". Some of these ingredients include the likes of capsaicin, the 
...
Read more...
---
Analog Devices leverages Microsoft's 3D ToF tech
Electronics Technology
Analog Devices is working with Microsoft to leverage Microsoft's 3D time-of-flight (ToF) sensor technology, allowing customers to easily create high-performance 3D applications that bring higher degrees 
...
Read more...
---
IoT communication without batteries
Electronics Technology
When we talk about IoT, we often gloss over the fact that all these interconnected things need batteries and electronics to carry out the job of collecting and processing data while they're communicating 
...
Read more...
---
Stable perovskite LEDs one step closer
Electronics Technology
Researchers at Sweden's Linköping University, working with colleagues in Great Britain, China and the Czech Republic, have developed a perovskite light-emitting diode (LED) with both high efficiency and 
...
Read more...
---
Infineon works with Qualcomm for 3D authentication
Electronics Technology
Infineon Technologies has collaborated with Qualcomm Technologies to develop a reference design for 3D authentication based on the Qualcomm Snapdragon 865 mobile platform. Infineon is thus extending its 
...
Read more...
---