printer friendly version
World's smallest Ethernet controller claimed
18 May 2005
Telecoms, Datacoms, Wireless, IoT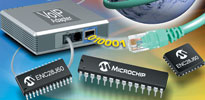 Microchip Technology's new ENC28J60 chip, is claimed to be the world's first 28-pin standalone Ethernet controller. It provides a low-pincount, cost-effective, easy-to-use solution for remote communication between embedded applications and local or global networks.
Designers who require communications for remote control or monitoring are often faced with the complexity of large-footprint, expensive Ethernet controllers that are tailored for personal-computing systems. While most Ethernet controllers come in greater than 80-pin packages, the IEEE 802.3-compliant ENC28J60 offers comparable features in a 28-pin package, according to the company.
The ENC28J60 Ethernet controller employs the industry-standard SPI serial interface, which only requires four lines to interface to a host microcontroller. These features, combined with the company's free TCP/IP software stack for PIC18 microcontrollers, provide the smallest whole-product Ethernet solution for embedded applications.
By adding Ethernet connectivity to an embedded system, microcontrollers can distribute data over a network and can be controlled remotely. Ethernet's infrastructure, performance, interoperability, scalability and ease of development have made it a standard choice for embedded application communications, such as within the growing VoIP market.
Package options for the ENC28J60 include 28-pin SPDIP, SOIC, SSOP and QFN.
Credit(s)
Further reading:
Take advantage of Wi-Fi 6, 6E
Altron Arrow Telecoms, Datacoms, Wireless, IoT
Infineon has provided a host of online resources to learn more about the technology and benefits involved with Wi-Fi 6.
Read more...
---
Arrow Electronics opens new primary distribution centre
Altron Arrow News
Arrow Electronics, represented in South Africa by Altron Arrow, announced that it has opened a new, state-of-the-art primary distribution centre in Venlo, the Netherlands.
Read more...
---
Qorvo announces new satcom MMIC power amp
RF Design Telecoms, Datacoms, Wireless, IoT
The QPA1724 SiC 20 W power amplifier operates in the Ku-K band and is aimed at defence and commercial satellite applications.
Read more...
---
40 GHz RF switch from Marki Microwave
RF Design Telecoms, Datacoms, Wireless, IoT
The MSW2-1001ELGA is a reflective SPDT switch that operates in the frequency range from 100 MHz to 40 GHz.
Read more...
---
Power amplifier operates from 17,3 to 21,2 GHz
RF Design Telecoms, Datacoms, Wireless, IoT
The new QPA1724 power amplifier from Qorvo delivers a saturated output power of 20 W over the full frequency range.
Read more...
---
Altron Arrow FAE earns top award
Altron Arrow News
STMicroelectronics awards top trophy to Altron Arrow's field application engineer for outstanding achievement in the certification course.
Read more...
---
Helium mining – Popular hype or real business opportunity? – Part 2
Otto Wireless Solutions Editor's Choice Telecoms, Datacoms, Wireless, IoT
"I would say it is really easy to get into, but you need to be aware of the exchange rates and you need to have a solid and stable Internet network."
Read more...
---
Power supply design considerations for remote patient monitors
Altron Arrow Power Electronics / Power Management
Remote patient monitors (RPMs) are continuously evolving to include new features which creates greater demands on their single-cell battery supply. A solution is provided for an ECG RPM that preserves battery life.
Read more...
---
Transient voltage suppression diodes
Altron Arrow Power Electronics / Power Management
The 24 V XClampR transient voltage suppressors, available in SMC packaging, deliver low clamping ratios for high power density.
Read more...
---
Simple replacement for legacy barrel jacks
Altron Arrow News
It is estimated that over 10 billion power tools are still using the old barrel jacks for their power needs, which will need to change.
Read more...
---