Weller produces a growing generation of temperature-controlled stations and tools. Becoming more powerful, faster, intelligent and reliable than before, these small stations easily connect to a variety of new and existing Weller soldering irons and accessories to provide more flexibility for users.
Two 80 W stations, the WS 81 and WSD 81, increase the ability to work on high-mass components where a greater controlled power is required. The analog WS 51 model meets most everyday soldering needs, while the WSD 81, WSD 151 and WSD 161 digital stations are able to display the set, read and actual temperatures.
The WSD 161 also has dual outputs to drive two WSP 80 soldering irons that are supplied with the station. The outputs are able to be set at different temperatures and can be individually-switched on/off. To meet the requirements of high-temperature soldering or applications that need high power, the WSD 151 can be set to a temperature of 550°C.
All of these stations can drive any of the company's 'Temtronic' tools compatible with the stations' rating. For users who prefer to control the temperature of the soldering iron by changing the tip, the WTCP 51 is the latest version of the 'tried and tested' Magnastat-controlled tool.
Fast temperature correction
The heating elements in the WSP 80 and WSP 150 soldering irons are designed in such a way that the thermal energy generated by the element is passed to the patented low mass bits by thermal conduction. As a result, the soldering irons have faster heat up and recovery times than conventional tools. See Figure 1.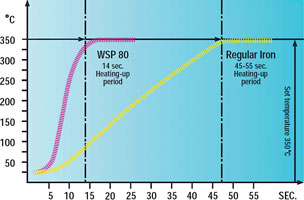 Figure 1
The effect of this rapid recovery rate is that there is very little temperature loss at the tip when making high mass or rapid soldering joints. Therefore making these tools ideally suited for production line applications.
All of Weller's electronically controlled soldering, desoldering and rework stations meet the current ESD safety requirements. All of the digital stations have the added facility of being able to be programmed from the company's WCB 2 control box. This feature allows temperature offset, temperature lock out and temperature set-back with automatic switch-off to be set.
The processor in these stations is able to recognise which tool is in use and calibrate the station output so that any tool compatible with the rating of the station can be driven and controlled, without the need to recalibrate. The adjustments can be audited according to ISO standards.
Reworking and repair
The Weller WAD 101 hot air station, WDD 81 V desoldering station and WDD 161 V rework station are natural partners of the Weller SL series of soldering stations. For full details of connecting tools, tips, nozzles and accessories for the soldering range, contact the distributor.