On-chip spiral inductors are essential for key RF circuits such as low-noise amplifiers (LNAs), voltage-controlled oscillators (VCOs) and power amplifiers. To create reliable designs in a realistic time frame, designers need to be able to select a given inductance and calculate the quality factor (Q) and resonance frequency as a function of size, number of turns, track width and track spacing.
Researchers from Philips Research have developed a predictive, equivalent-circuit model that enables designers to do exactly that. Philips Research is part of Royal Philips Electronics and concentrates on promising investigations that may lead to new or improved solutions for Philips' product divisions.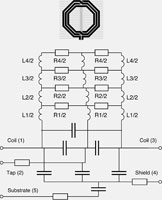 Simplified layout of symmetrical spiral inductor
Just as in advanced full-wave 3D electromagnetic simulation tools, the model works by splitting the inductor into a number of parallel sub-loops. For the first time, it enables designers to calculate the inductance, AC resistance and resonance frequencies for integrated symmetric inductors without time-consuming RF measurements or parameter fitting. It covers all operating conditions and can be applied in both the frequency and time domain. The model is fully scalable and has already accurately predicted inductances, Q factors and resonance frequencies for a large number of inductors from three different industrial IC processes.
The model is the result of the RF characterisation and passive device modelling activities within Philips Research. This program has also shown how inductor Q factors can be improved by splitting the inductor track into several parallel paths and including a patterned ground shield with polysilicon bars connected to the centre of the inductor.
In a more recent development, the program has shown how certain devices within the Crolles2 Alliance's 90 nm CMOS technology can be optimised to deliver the industry's highest RF performance. These devices include: record-performance inductors; varactors that combine attractive tuning ratios of 1:3 to 1:5 with high sensitivity and Q factors up to three-times higher than reported elsewhere; and NMOS transistors with maximum oscillation frequencies (fMAX) up to 280 GHz.