printer friendly version
Predictive spiral inductor model devised to speed RF design
13 July 2005
Passive Components
On-chip spiral inductors are essential for key RF circuits such as low-noise amplifiers (LNAs), voltage-controlled oscillators (VCOs) and power amplifiers. To create reliable designs in a realistic time frame, designers need to be able to select a given inductance and calculate the quality factor (Q) and resonance frequency as a function of size, number of turns, track width and track spacing.
Researchers from Philips Research have developed a predictive, equivalent-circuit model that enables designers to do exactly that. Philips Research is part of Royal Philips Electronics and concentrates on promising investigations that may lead to new or improved solutions for Philips' product divisions.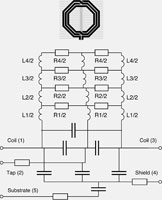 Simplified layout of symmetrical spiral inductor
Just as in advanced full-wave 3D electromagnetic simulation tools, the model works by splitting the inductor into a number of parallel sub-loops. For the first time, it enables designers to calculate the inductance, AC resistance and resonance frequencies for integrated symmetric inductors without time-consuming RF measurements or parameter fitting. It covers all operating conditions and can be applied in both the frequency and time domain. The model is fully scalable and has already accurately predicted inductances, Q factors and resonance frequencies for a large number of inductors from three different industrial IC processes.
The model is the result of the RF characterisation and passive device modelling activities within Philips Research. This program has also shown how inductor Q factors can be improved by splitting the inductor track into several parallel paths and including a patterned ground shield with polysilicon bars connected to the centre of the inductor.
In a more recent development, the program has shown how certain devices within the Crolles2 Alliance's 90 nm CMOS technology can be optimised to deliver the industry's highest RF performance. These devices include: record-performance inductors; varactors that combine attractive tuning ratios of 1:3 to 1:5 with high sensitivity and Q factors up to three-times higher than reported elsewhere; and NMOS transistors with maximum oscillation frequencies (fMAX) up to 280 GHz.
Credit(s)
Further reading:
Halo invests in high-speed data transformers
29 January 2020, ASIC Design Services , Passive Components
Halo Electronics, a leading supplier of Ethernet transformers, has invested in UWB X Limited, a UK based technology company focused on creating a new high-speed transformer technology. As part of Halo's 
...
Read more...
---
LAN transformers with automotive certification
29 January 2020 , Passive Components
Bourns' signal magnetics product line has introduced three new LAN transformers: Model SM91071AL, SM91072AL and SM91073AL. These new products are single-port LAN 10/100 Base-T/isolation transformer modules 
...
Read more...
---
Selection software for capacitors
29 January 2020, RFiber Solutions , Passive Components
Passive Plus Inc.'s (PPI) brand new Capacitor Application Program (CAP) helps engineers and designers select capacitors according to parameters such as capacitor value and frequency. CAP will provide 
...
Read more...
---
V2X: The future of vehicle communications
29 January 2020, Avnet South Africa , Editor's Choice, Telecoms, Datacoms, Wireless, IoT
A recent report by Juniper Research forecasts that more than 62 million vehicles will be capable of vehicle-to-vehicle communication by 2023; up from just over 1,1 million in 2019.
Read more...
---
STM32 system-on-chip for LoRa
29 January 2020, Avnet South Africa , Telecoms, Datacoms, Wireless, IoT
Powering the search for sustainability through smart infrastructure and logistics, smart industry and smart living, STMicroelectronics has revealed the world's first LoRa system-on-chip (SoC) for connecting 
...
Read more...
---
EERAM memory solutions retain data at power loss
29 January 2020, Avnet South Africa , DSP, Micros & Memory
Microchip Technology announced a new family of Serial Peripheral Interface (SPI) EERAM memory products that offers system designers up to 25% cost savings over the current serial non-volatile ram (NVRAM) 
...
Read more...
---
28 GHz bandpass filter for mm-Wave
29 January 2020, RF Design , Passive Components
The B274MB1S from Knowles is a bandpass filter with a passband from 26,5 to 29,5 GHz, ideally suited for 5G mm-Wave applications. It has an insertion loss of less than 3,5 dB and a rejection of 40 dB 
...
Read more...
---
High-voltage moulded power inductors
29 January 2020, RF Design , Passive Components
Coilcraft has expanded its XEL family of high-performance, moulded power inductors to include three new higher-voltage series: the XEL401xV, XEL4020V and XEL4030V. All three offer operating voltage ratings 
...
Read more...
---
LAN interfaces transformers
29 January 2020, Würth Elektronik eiSos , Passive Components
Würth Elektronik is expanding its extensive range of signal transformers. The new series of WE-STST (Super Tiny Signal Transformer) devices for LAN interfaces features a maximum component height of just 
...
Read more...
---
Non-inverting converters for buck or boost operation
29 January 2020, Avnet South Africa , Power Electronics / Power Management
Texas Instruments introduced a family of four high-efficiency, low-quiescent-current (IQ) buck-boost converters that feature tiny packaging with minimal external components for a small solution size. 
...
Read more...
---