printer friendly version
Inductors and transformers ruggedised for military/aerospace power applications
2 November 2005
Passive Components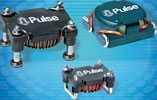 A new series of inductors and transformers for modern military and aerospace power applications has been introduced by Pulse. The SLED PL8100 series rail-mount inductors use a ruggedised header for durable board connections while the SLIC PL8200 and PL8300 series contain self-leaded package transformers and inductors with ruggedised construction. The POGO PL8400 series has an open construction with pad-mounted transformers for robust board mounting.
Pulse's military off-the-shelf (MOTS) catalogue power components meet modern military and aerospace mechanical and electrical design requirements. SLED toroid surface mount inductors use two rails for board mounting and cores bonded to high-temperature headers for durability and mechanical strength. Current ratings up to 14,3 A d.c. and frequencies up to 1 MHz are currently available. SLEDs come in four package sizes.
SLICs are available as inductors and transformers. The structural header is bonded to the cores and lead wires for increased mechanical durability. The footprint is 31 x 25,4 mm maximum with a maximum height of 12,7 mm. Current rating is up to 38 A d.c. and inductance range is 1,1 to 18,1 μH.
The POGO and SLED transformers and inductors have pad or rail mounting configurations used for both surface board mounting and electrical connection. Packages are available in sizes from 10,25 x 8,75 x 6,35 mm high to 32 x 27 x 12 mm high. Current rating up to 23,8 A d.c. and operating frequencies to 1 MHz are currently available. All parts can withstand -55 to 130°C.
Credit(s)
Further reading:
Smallest automotive maXTouch controllers
29 July 2020, Altron Arrow, Avnet South Africa , DSP, Micros & Memory
To help enhance and ease today's driving experience, automotive manufacturers are implementing additional touch displays beyond the centre infotainment display (CID). Supporting the application of these 
...
Read more...
---
CeraCharge now available in a small packing unit
30 June 2020, Electrocomp , Passive Components
TDK is presenting a new packing unit for CeraCharge, the world's first SMD technology solid-state rechargeable battery, in the compact size EIA 1812 (4,4 x 3,0 x 1,1 mm). The packing unit (B73180A0101M199) 
...
Read more...
---
3 kW TVS diode arrays
30 June 2020, Avnet South Africa , Circuit & System Protection
To ensure critical operations, aviation and space systems rely on digital and logic functionality and circuitry in engine control units, environmental controls, instruments and actuators. Data centres, 
...
Read more...
---
Surface mount resistors and terminations
30 June 2020, RF Design , Passive Components
Smiths Interconnect announced the release of its extended CXH series of surface mount chip resistors and terminations. The CXH series uses a patented layout to provide improved power handling over conventional 
...
Read more...
---
PCIe Gen 4 switches
30 June 2020, Avnet South Africa , Computer/Embedded Technology
To support cloud, data centre and hyperscale computing that facilitates advancements in artificial intelligence (AI) and machine learning (ML), Microchip Technology released to production its Switchtec 
...
Read more...
---
DIN-rail mounting DC-DC converters
30 June 2020, Avnet South Africa , Power Electronics / Power Management
Shortly after unveiling the brand-new DIN-rail mounting DC-DC converter family, the DDR-15/30/60/120/240 series, Mean Well has announced the DDR-480 series (480 W) to enable integration into higher-power 
...
Read more...
---
Broadband capacitors and their significance
30 June 2020, TRX Electronics , Passive Components
There are a number of circuits that require coupling RF signals or bypassing them to ground while blocking DC over extraordinarily large RF bandwidths. The applications for which they are intended typically 
...
Read more...
---
Thick-film chip resistors
29 April 2020, Electrocomp , Passive Components
Bourns announced the introduction of its new Model CR01005 series thick-film chip resistor. This extra small – 01005 inch (0402 metric) – CR01005 series broadens the general purpose thick-film chip resistor 
...
Read more...
---
Automotive-grade MLCCs
29 April 2020, TRX Electronics , Passive Components
Yageo's automotive grade MLCC (multilayer chip capacitor) AC/AS series is AEC-Q200 qualified as well as MIL-STD-020D tested to ensure its reliability under various temperatures (from -55°C to +150°C) 
...
Read more...
---
Chip resistors in automotive grade
29 May 2020, Altron Arrow , Passive Components
Vishay has enhanced its MC AT precision series of automotive grade thin film chip resistors with a wider range of resistance values from 47 Ω to 10 MΩ in the 1206 case size. The MCA 1206 AT is the industry's 
...
Read more...
---