printer friendly version
Miniature spectrometer modules
8 March 2006
Opto-Electronics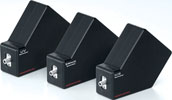 Hamamatsu's new C9404, C9405 and C9406 series of mini spectrometer modules are intended for applications such as colour measurement, moisture measurement, and in-line product inspection amongst other applications.
This range of modules uses a transmission grating optical arrangement (TG Type) to provide high optical throughput and high sensitivity. All modules consist of a palm-top size polychromator integrated with optical elements, a photodiode array optimised for the required wavelength range, together with an image sensor driver circuit.
To allow a simple PC connection and data acquisition, an option is also available to include an integrated USB interface.
The C9404 series (TG-UV) features a spectral response range from 200 nm to 400 nm using a CMOS image sensor. The C9405 series (TG-SWNIR), 500 nm to 1100 nm using an infrared enhanced NMOS image sensor and the C9406 series (TG-NIR) 900 nm to 1700 nm using an InGaAs image sensor.
These new spectrometer modules are supplied with sample software, which allows the user to set measurement conditions, acquire, save data and then display it graphically, making it quick and easy to start taking basic measurements. The transmission grating allows high light throughput, allowing high sensitivity. Highly accurate optical characteristics can thus be measured.
Use of the USB interface means that no external power supply is required. This, together with its compact design, allows easy assembly into portable equipment. Customised versions are also available on request.
For more information contact Hamamatsu on Freephone 00 800 800 800 88, europe@hamamatsu.com, or +27 (0)11 802 5505, or see www.sales.hamamatsu.com
Credit(s)
Further reading:
Automotive LED drivers and controllers
29 January 2020, Future Electronics , Opto-Electronics
ON Semiconductor has launched a new family of four devices that facilitate the high levels of performance and innovative functionality that vehicle manufacturers and consumers now expect from automotive 
...
Read more...
---
Photocouplers for industrial equipment and solar inverters
29 January 2020, Hi-Q Electronics , Opto-Electronics
Renesas Electronics announced five new 8,2 mm creepage photocouplers that are the world's smallest isolation devices for industrial automation equipment and solar inverters. With a package width of 2,5 mm, 
...
Read more...
---
Image sensor evaluation kits
25 November 2019, Future Electronics , Opto-Electronics
Ams has released the NanoVision and NanoBerry evaluation kits, which provide a ready-made platform for the development of innovative solutions based on the ams NanEyeC miniature image sensor. The NanEyeC 
...
Read more...
---
VentoFlex modular LED lighting system
23 October 2019, Mimic Components , Opto-Electronics
Visual Communications Company (VCC) launched its VentoFlex flexible modular lighting system. The system is made up of flexible copper clad laminate (FCCL) sheets with 90 CRI Luxeon LEDs. VentoFlex was 
...
Read more...
---
LED flicker, and how to prevent it
28 August 2019, Avnet South Africa , Opto-Electronics
With the growing popularity of LED lighting, especially now that very cheap LED luminaires are coming to the market, flicker is becoming more of a problem. Flicker, a repetitive switching on and off 
...
Read more...
---
Digital fibre-optic sensor
28 August 2019, Vepac Electronics , Opto-Electronics
The DFS digital fibre-optic sensor series from Tri-Tronics is designed to provide reliable detection using plastic fibre-optic light guides. The slim-line housing with protective lid will fit in a variety 
...
Read more...
---
All-in-one light pipe system
28 August 2019, Vepac Electronics , Opto-Electronics
Bivar's Zero Light Bleed adaptor technology, with built-in surface-mount LED, channels light directly to the lens, eliminating disruptive light bleed. The all-in-one adaptor system is built with optimum 
...
Read more...
---
High-intensity colour LEDs
31 July 2019, Würth Elektronik eiSos , Opto-Electronics
Würth Elektronik has expanded its LED portfolio with a particularly compact model family. The WL-SMCC series of SMT chip LEDs, available in 0402 and 0603 packages, is characterised by a full-surface lens 
...
Read more...
---
RGB LEDs for decorative lighting
26 June 2019, Würth Elektronik eiSos , Opto-Electronics
Würth Elektronik's new WL-SFTW and WL-SFTD series of RGB LEDs are targeted at accent and decorative lighting, optical displays as well as industrial applications. Thanks to their PLCC contacting design, 
...
Read more...
---
4,3" TFT LCD module
26 June 2019, iCorp Technologies , Opto-Electronics
The RFE430W-AYW-DNN from Raystar is a 4,3" TFT display with a resolution of 480 x 270 pixels. It has a built-in SC7283 driver IC and supports an RGB 24-bit interface, with brightness of 500 nits, an aspect 
...
Read more...
---