printer friendly version
New digital signal controllers for motor and power control
8 March 2006
DSP, Micros & Memory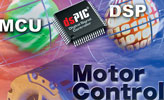 Microchip has added two new devices to its 16-bit dsPIC digital signal controller (DSC) series. The dsPIC30F5015 and dsPIC30F5016 devices feature: an advanced PWM designed for motor-control, power-conversion and lighting applications; a 1 MSPS 10-bit ADC; 66 KB of Flash program memory; and full-speed operation (30 MIPS) using an internal oscillator. These devices are ideal for applications that drive power FETs and require advanced algorithmic processing, says Microchip. Microchip's dsPIC digital signal controllers are devices that combine the robust peripherals and interrupt-handling capability of a high-performance 16-bit microcontroller with the computation speed of a fully implemented DSP to produce an optimum single-chip solution. The dsPIC30F5015/6 operate from 2,5 to 5,5 V, operate over -40 to +125°C, and come in 64- and 80-pin TQFP packages.
Arrow Altech Distribution, 011 923 9600
Avnet Kopp, 011 909 6100
Electrocomp, 011 458 9000
Tempe Technologies, 011 791 6000
Credit(s)
Further reading:
Thick-film chip resistors
29 April 2020, Electrocomp , Passive Components
Bourns announced the introduction of its new Model CR01005 series thick-film chip resistor. This extra small – 01005 inch (0402 metric) – CR01005 series broadens the general purpose thick-film chip resistor 
...
Read more...
---
MOSFETs for automotive applications
29 April 2020, Altron Arrow , Power Electronics / Power Management
Supporting the needs of the electro-mobility market, Infineon Technologies launches its new product family: the CoolMOS CFD7A series. These silicon-based, high-performance products can be used in both 
...
Read more...
---
Phase noise analyser for precision oscillator characterisation
29 April 2020, Altron Arrow , Test & Measurement
To help research and manufacturing engineers make precise and accurate measurement of frequency signals, including those generated by atomic clocks and other high-performance frequency reference modules 
...
Read more...
---
Bluetooth evaluation kit
29 April 2020, Altron Arrow , Telecoms, Datacoms, Wireless, IoT
The Cypress CYW920719B2Q40EVB-01 evaluation kit enables users to evaluate and develop single-chip Bluetooth applications using the CYW20719, an ultra-low-power dual-mode Bluetooth 5.0 wireless MCU (microcontroller) 
...
Read more...
---
Solid-state drive based on QLC technology
29 April 2020, Altron Arrow , Computer/Embedded Technology
Micron Technology announced new Micron 5210 ION enterprise SATA SSD capacity and features, solidifying its leadership in QLC (quad-level cell) technology volume production. The world's first QLC solid-state 
...
Read more...
---
HDMI 2.1 active switch
29 May 2020, Altron Arrow , Analogue, Mixed Signal, LSI
Diodes Incorporated announced the PI3HDX12221, an HDMI 2.1 active switch with linear ReDriver that enables manufacturers of TVs, PCs, gaming consoles and set-top boxes to adopt the latest 12 Gbps HDMI 
...
Read more...
---
Chip resistors in automotive grade
29 May 2020, Altron Arrow , Passive Components
Vishay has enhanced its MC AT precision series of automotive grade thin film chip resistors with a wider range of resistance values from 47 Ω to 10 MΩ in the 1206 case size. The MCA 1206 AT is the industry's 
...
Read more...
---
IoT-based smart agriculture solutions
29 May 2020, Altron Arrow , Editor's Choice
Smart agriculture relies on critically important technologies to perform tasks like sensing, processing, storing, networking and physically moving. However, there's one technology that binds these together 
...
Read more...
---
Wi-Fi and BLE combo module
29 May 2020, Avnet South Africa , Telecoms, Datacoms, Wireless, IoT
Dialog Semiconductor announced the DA16600, a module that combines its advanced Wi-Fi and BLE (Bluetooth Low Energy) capabilities into a single solution. This two-in-one module is comprised of two 
...
Read more...
---
Dual-band Wi-Fi/Bluetooth module
29 May 2020, Altron Arrow , Telecoms, Datacoms, Wireless, IoT
Telit's WE866C6-P is a dual-band (2,4 and 5 GHz), 1-stream (1x1) 802.11 ac Wi-Fi and Bluetooth (BT/BLE5) module with an extremely small footprint that provides an easy and cost-effective way for manufacturers 
...
Read more...
---