printer friendly version
Cases developed for the high-tech sector
14 June 2006
Enclosures, Racks, Cabinets & Panel Products
Today and in the future, cases serve the purpose of securely packaging electronic and electro-mechanical components. However, despite functionality, their visual appearance and quality finish play an ever more important part, especially with measuring and control products in high technology areas.
Companies developing and manufacturing such products cannot sell products that look as if they come 'from a market stall'. The external appearance is of utmost importance and has to reflect the high quality of the end product.
Schroff is a leading entity in the area of 19" enclosure technologies and is known for technically-refined products. The company's ratiopacPRO case system was adapted to high quality and reliability design concepts. In this article, the company describes this system, which allows sufficient scope for individual adjustments and various configurations.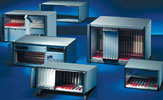 The ratiopacPRO comprises a visually attractive range of cases with optimal space
ratiopacPRO: optimising space and appearance
Schroff has been aware of the increasing demands on design for a long time. At the same time, new technologies and standards relating to computer systems like VME64x and CompactPCI have changed demands on packaging systems.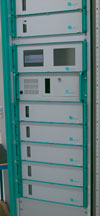 In this unit up to 26 ratiopacPRO cases are being employed
The company's well-established subrack range serves as the platform for the complete ratiopacPRO range. Users are able to thus fall back on the extensive range of accessories, ie, guide rails of 19" subracks that can be coded, or ESD-clips for the discharge of static electricity on the guide rail and board retainers. The cases meet the requirements of today's 19" standard as well as the US standard IEEE1101.10/.11, and are therefore able to receive extractor handles for high extraction force with CompactPCI and VME64x units (eg, Schroff's IE-handles).
The ratiopacPRO range was constructed with the aim to create a modern and yet timeless outward appearance. The grey/silver design is visually appealing and at the same time 'timeless'. Schroff managed to minimise the seams of the panels. This has resulted in smooth, easy-to-clean surfaces. From the outside no screws are visible. For the front, depending on requirement, handles, 19" brackets or cover plates can be used.
Transforms into a tabletop unit
To remove cover plates and front panels users do not have to disassemble front panels or rear feet of the case. Instead, a press-on facility enables quick and easy handling, without the necessity of special tools. This construction offers EMC shielding greater than 25 dB at 1 GHz, even in the standard version, and this is without additional shielding material. If the user requires a higher degree of shielding, the case can be retrofitted with appropriate gasketing.
The customer has the choice of various models. There is a space-optimising version in the heights of 3, 4 and 6U, as well as versions with integrated fans for high heat dissipation, which are then 1U higher appropriately. The refined air flow concept allows the user to stack the 1U higher cases on top of each other without losing space and without heat increase - either in the cabinet or on the table.
Assembly with 19" components
From the front all ratiopacPRO subracks have a uniform appearance. All cases feature the application specific depth of 420 mm to utilise the internal space. Apart from customer-specific depth and width, special paint finishes as well as four colour screen prints are available within the range of modifications. Removable shielded and hinged front covers are used, which allow quick and maintenance-friendly access.

ratiopacPRO with shielded, hinged front panel, recessed 19" plug-in units and individual rear assembly on a chassis plate
The assembly of the 19" subracks varies considerably. For some cases, entirely customer-specific modules are used which do not have standard dimensions, whilst Schroff uses standard 19" plug-in units for other subracks. "We depend on flexible, electronic plug-in units, which we integrate into small cases and frame type plug-in units," explains the design engineer. "These modules can be tested completely separately and are easier to handle with regard to EMC. The individual modules are mounted to the chassis plate of the ratiopacPRO, completely configured and tested as an operational unit. Like a drawer, we then slide the entire chassis plate with its assemblies into the case, and only six screws later it is fully assembled."
But even with the use of 19" plug-in units, Schroff prefers an individual solution. Thanks to a grid of holes in the side panels, the guide rails, and with this the board position, can easily be recessed to the rear. In principle, it is possible to assemble 19" plug-in units with standard components, eg, horizontally, or with 3U and 6U areas in one case. The front and rear of the ratiopacPRO being symmetric, users can generally slide in subracks from the front (e.g. monitors) as well as from the rear (eg, network parts without having to remove cover plates.
Summary
Due to its high flexibility, ratiopacPRO has proven itself being ideally suited for the installation of standardised components as well as for the unconventional configuration. For test purposes, or when still in the prototype phase, the completely panelled case modules can be plugged into a movable rack or into a smaller unit and later, without additional cost, they can be transferred into the final cabinet system.
Credit(s)
Further reading:
Actum Group merges its brands under one roof
29 January 2020, Actum Electronics , News
Over the years, Actum Group has been built through partnerships, collaborations and acquisitions of leading companies with a long history and rich legacy in the industry. These companies include Actum 
...
Read more...
---
Actum Group remains resilient and optimistic for 2020
25 November 2019, Actum Electronics , News
Running a profitable business in South Africa is not for the fainthearted. With the national treasury downgrading this year's growth forecast from 1,5% to 0,5%, and state-owned entities like Eskom negotiating 
...
Read more...
---
Clearing the Static:Topic 9: Time to audit your ESD environment
25 November 2019, Actum Electronics , News
Now that we are nearing the end of the year, it is a good time to audit your existing static control products and procedures. The first line of defence should be your antistatic floor, since this is the 
...
Read more...
---
Conduction-cooled electronics cases
23 October 2019, Actum Electronics , Enclosures, Racks, Cabinets & Panel Products
As electronics and processing systems become smaller and smaller, the need for versatile, compact form-factor cases that allow efficient heat dissipation increases. nVent Schroff offers customisable conduction-cooled 
...
Read more...
---
19-inch compatible power supply units
23 October 2019, Actum Electronics , Power Electronics / Power Management
nVent Schroff offers pluggable, switch-mode power supplies and a variety of open-frame power supplies for open standards. The linear regulator range caters for extremely sensitive electronics applications 
...
Read more...
---
19-inch lab racks
23 October 2019, Actum Electronics , Enclosures, Racks, Cabinets & Panel Products
nVent Schroff's 19-inch lab racks are designed for laboratory environments, and come in mobile and stationary models. They offer a load-carrying capacity of 200 kg at the centre and a chassis depth of 
...
Read more...
---
18-slot PXI Express chassis
25 September 2019, Actum Electronics , Enclosures, Racks, Cabinets & Panel Products
Schroff nVent has expanded its Schroff product range for PXI systems by adding an 18-slot Schroff PXI Express system with a modular structure which is used in complex measuring and simulation applications. The 
...
Read more...
---
Table-top instrument enclosures
25 September 2019, Avnet South Africa , Enclosures, Racks, Cabinets & Panel Products
The Evotec range of table-top plastic enclosures, made by OKW, is suitable for for tough working environments in applications such as measurement and control engineering, IT, medical, laboratory and environmental 
...
Read more...
---
Plastic enclosures with mounting flange
25 September 2019, Sivan Electronic Supplies , Enclosures, Racks, Cabinets & Panel Products
Available from Gainta is a range of plastic enclosures for mounting and assembly of general electronic applications. The bases of the cases have a mounting flange and incorporate a tongue and groove sealing 
...
Read more...
---
USB and utility plastic boxes
25 September 2019, Sivan Electronic Supplies , Enclosures, Racks, Cabinets & Panel Products
Gainta's G19XX series of utility boxes and USB boxes come in a range of materials and a variety of designs to meet an array of application requirements. The G1901G/G1901C and G1911G/G1911C are ideally 
...
Read more...
---