Microchip has announced two new 20-pin PIC microcontrollers to further strengthen its 8-bit portfolio. The PIC16F631 provides a cost-effective migration from 8- and 14-pin devices, while the PIC16F677 offers affordable hardware I²C and SPI capability. The devices are fully compatible with Microchip's existing range of PIC microcontrollers making them a good choice for cost reduction of existing 20-pin designs or upward migration of simpler designs to add more functionality.
The new devices are a compatible extension of the PIC16F685/687/689/690 series. The board layout, software, and tool suite can be completely re-used without modification giving engineers the freedom to design platform-based systems.
Both new microcontrollers feature the company's nanoWatt technology to minimise power consumption - including a precision internal oscillator (operating from 31 kHz up to 8 MHz), an ultra-low-power wakeup function, an enhanced low-power watchdog timer and an enhanced low-power 16-bit timer with gate control.
Both devices include up to 3,5 Kbytes of flash program memory and up to 128 bytes of RAM. Other features include:
* Two comparators with set/reset latch mode.
* 0,6 V internal bandgap reference.
* In-circuit serial programming technology.
* Brownout reset with software-control option.
* Up to 18 I/O pins.
* 4x4 QFN package option.
In addition, the PIC16F677 features a 12-channel, 10-bit ADC, and SPI and I²C support with Address Mask option.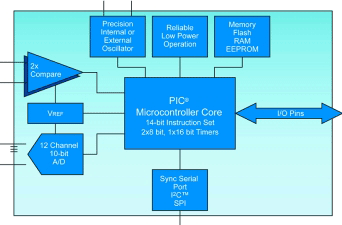 PIC16F677 block diagram
The new devices are supported by Microchip's suite of development tools, including the free MPLAB IDE, the low-cost PICkit 2 Starter Kit, and the MPLAB ICD 2 (in-circuit debugger). The PIC16F631 and PIC16F677 microcontrollers are available in RoHS-compliant 20-pin PDIP, SOIC, SSOP and QFN packages.