printer friendly version
Boost converter with dynamic output voltage programming has small footprint
20 September 2006
Power Electronics / Power Management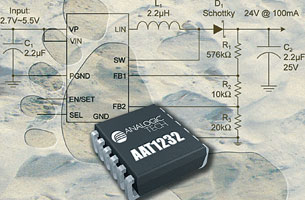 Whilst operating, lighting and display functions in portable products can consume a significant portion of a lithium-ion battery's available power, finding ways to optimise power dissipation and maintain display quality is necessary. Advanced Analogic Technologies' AAT1232 boost converter is tailor-made for these cost-sensitive applications by combining output voltage programming with high output current drive in space-efficient packaging.
Rated at 24 V at 100 mA, the AAT1232 boost converter is said to offer substantial output drive capability in an extremely compact footprint. Operating at a switching frequency up to 2 MHz, it reduces PCB footprint by using small-value external inductors and capacitors. For example, the device operates with 2,2 μH inductors that the company claims are approximately 10 times smaller than many industry standard boost conductors require. Small TSOP and TDFN packages and fewer external components also help reduce system cost.
Configuring the AAT1232's operation is easy and dynamic. Depending on the application, the system designer can select one of two internal feedback reference voltages using its SEL input. In addition, the AAT1232 offers dynamic output voltage programming over a 16-step range using the company's single-wire S²Cwire (simple serial control) interface - a lower cost and simpler alternative to traditional I²C-based addressing/programming methods, according to AATI.
A True Load Disconnect feature on the AAT1232 completely isolates the load from the power sources when the EN/SET input is pulled low. This feature helps to minimise standby power dissipation and extends battery life by virtually eliminating leakage current. The AAT1232 maintains 80% efficiency across a wide range of load currents - even down to 1 mA.
The boost converter also features a number of protection circuits, including integrated soft start, cycle-by-cycle current limit, and short-circuit protection. The AAT1232 comes in a Pb-free, 16-pin, 3 x 4 mm TDFN package or a Pb-free, 12-pin TSOPJW package. It is specified over -40 to +85°C.
For more information contact Stephen Delport, Hi-Q Electronics, +27 (0)21 595 1307.
Credit(s)
Further reading:
Maintaining backup battery systems for maximum usage and reliability
30 September 2020, Comtest , Power Electronics / Power Management
Standby battery backup systems play a critical role in keeping essential operations functional in the event of a utility outage. Facilities like data centres, hospitals, airports, utilities, oil and gas 
...
Read more...
---
Double the power output from new Tadiran battery
30 September 2020, Altron Arrow , Power Electronics / Power Management
Tadiran has developed the latest in its PulsesPlus HLC battery range, doubling the power output of its previous offering. Recently the company launched the C-type HLC which represented a huge improvement 
...
Read more...
---
Bidirectional DC power supply for lab testing
30 September 2020, Conical Technologies , Power Electronics / Power Management
The new IT-M3400 bidirectional DC power supply from ITECH integrates the features of a bidirectional power supply and a regenerative load. It inherits the advantages of high power density and modular 
...
Read more...
---
Global analysis of the solid-state battery market
30 September 2020 , Power Electronics / Power Management
The rapid growth of the electric vehicle market has driven the development, manufacture and sales of batteries, especially lithium-ion batteries. In the meantime, market research firm IDTechEx has identified 
...
Read more...
---
Solar lithium storage system
30 September 2020, Vepac Electronics , Power Electronics / Power Management
The US2000 Plus is a latest-generation lithium storage unit. Combining enhanced safety with a long service life – even when at low levels of charge on a regular basis – it meets the demanding requirements 
...
Read more...
---
Cost optimised power supplies
30 September 2020, Current Automation , Power Electronics / Power Management
The Dimension CP-Series from PULS are cost optimised power supplies without compromising quality, reliability and performance. The most noteworthy features of the CP10.241–R1/-R2 units are their high 
...
Read more...
---
1 kW programmable DC power supplies
30 September 2020, Accutronics , Power Electronics / Power Management
TDK-Lambda announced the introduction of the G1kW and GH1kW series of 1U high programmable DC power supplies. These new products further expand the GENESYS+ series, offering up to 1000 W output power 
...
Read more...
---
SPST RF switch for high-performance aperture tuning
30 September 2020, Hi-Q Electronics , Telecoms, Datacoms, Wireless, IoT
Skyworks has introduced the SKY59272-707LF, a single-pole, single-throw (4xSPST) switch designed for antenna tuning applications that require ultra-low off-capacitance and low on-resistance. This device 
...
Read more...
---
DC-DC converters certified for railway radio
30 September 2020, Vepac Electronics , Power Electronics / Power Management
In addition to the existing certificates for the compliance of EMC characteristics according to EN 50121-3-2, MTM Power can now also prove compliance with the technical regulation EMV 06 – verification 
...
Read more...
---
Cosel expands microprocessor controlled power supplies offering
30 September 2020, Vepac Electronics , Power Electronics / Power Management
Cosel has announced the addition of a 3000 W AC/DC enclosed power supply for industrial and demanding semiconductors applications. Designed with advanced built-in digital microprocessor technology, the 
...
Read more...
---