printer friendly version
On-demand infrastructure for mission-critical ICT systems
20 September 2006
Enclosures, Racks, Cabinets & Panel Products
Designing a data centre that can adapt to changing technology and user requirements is extremely challenging. It is critical that the design criteria include the flexibility to respond to change. Issues such as redundancy, maintainability, expandability and the elimination of single point failures are critical.
The role of the data centre is constantly changing; the challenge is to design a data centre that can respond to those changes.
Customer-driven requirements have always been the mainstay of the solutions offered at ModRac, a leading manufacturer of enclosures. With this in mind, it has designed the new PoweRac, distributed by DataNet Distribution. The key is to build in flexibility and expandability in the original data centre design. The PoweRac is an on-demand architecture for mission-critical physical infrastructure.
From a single enclosure to 1000 or more, there is a configuration that will meet your needs, now and for the future. PoweRac fully integrates power, cooling, and management within an enclosure-optimised design. These customisable systems are built from standard, off-the-shelf components, which are modular and pre-engineered to fit together.
The challenge
In two words - power and heat: consolidation implies a higher concentration of equipment in a smaller space; it also implies that new technologies, such as high-capacity blade servers will be incorporated as part of the rational consolidation process (see Figure 1).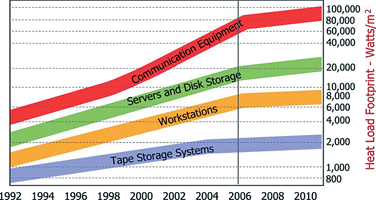 Figure 1. Product heat density trend
These requirements are placing extreme pressure on exiting server room configurations, especially in the areas of power reticulation and cooling. The PoweRac was specifically designed to address these in a significant way, without dramatically increasing costs or requiring a fork-lift upgrade to the existing power reticulation system or cooling plant.
.The approach
A cost effective way to address the problem is to utilise existing cooling systems better through hot-aisle, cold-aisle design - clusters of server enclosures are laid out front-to-front and back-to-back, so a 'cold aisle' is created between the two fronts, and a 'hot aisle' is created between the backs of the rack rows.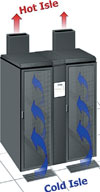 Figure 2. Improve cooling through better hot-aisle, cold-aisle design
Airflow could further be controlled so that hot air is less likely to mix with cold air, that is, it should be 'delivered' to the 'hot aisle', thus further increasing the efficiency of the system through properly located returns over hot aisles - hot exhaust air from the hot aisle rows can be directed into a plenum-return ceiling through registers over the hot aisles.
Finally, hot air inside the enclosures must be replaced with cold air in the shortest possible time to reduce a heat build-up inside the enclosures. With the PoweRac (that incorporates a purpose-built air removal unit) ModRac achieved exactly that: delivering the hot air to the hot aisle, in the best possible time.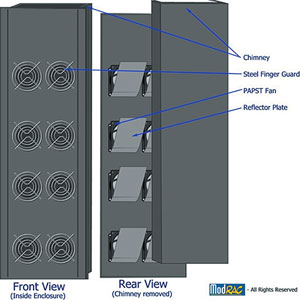 Figure 3. Hot air inside the enclosures must be replaced with cold air in the fastest possible time
Monitoring system
The EnviroRAMM (remote access management module) has been designed for comprehensive event, alarm and message management within IT and business environments, combined with automated reporting of out-of-line situations to support personnel or other systems management applications. The main objective of EnviroRAMM is to maintain high availability of critical systems and components whilst minimising operational costs.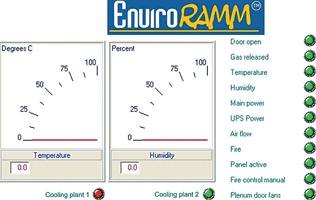 Figure 4. The EnviroRAMM system has been specially-developed to provide feedback so that action can be taken as quickly as possible
EnviroRAMM is a modular system using industry standard software and hardware interfaces. Remote system or environmental monitoring and controls are undertaken across permanent IP-based or PSTN/GSM networks using modules with digital and analog probes. It provides effective unattended operations for environments, computer systems and networks, and with the comprehensive embedded monitoring and reporting capabilities available, the requirements for proactive management is always met. EnviroRAMM addresses the following application areas, and systems are operational in a wide variety of production environments:
* Facility and environmental monitoring.
* Network and telecommunications monitoring.
* Server, systems and application monitoring.
* Automated alerting and reporting.
* Extended messaging for systems management products.
* Integration of diverse systems into an enterprise management system.
Besides offering a comprehensive infrastructure and environmental monitoring and alerting solution, EnviroRAMM provides, amongst others, the following additional facilities.
Types of input that are processed include: e-mail (SMTP); SNMP; ASCII text files; SMS messages; alarm activity; time period rule state changes; message delivery; user defined input; standby groups and rosters with automated roster rotation; bi-directional SMS messaging including the ability to send abbreviated commands to remotely restart critical services; full audit trails; graphical views of the monitored infrastructure from a central point, or multiple points; SMS chat where, for example, a group of engineers discuss a technical solution remotely.
Physical environment
The key challenge in managing complex and time-critical situations is that when things go wrong, action must be taken as quickly as possible. This implies the need for a feed-back control system that detects problems, informs those involved and escalates the issue if no action is taken. The EnviroRAMM system has been specially-developed to address these requirements.
DataNet is a focused independent infrastructure distribution company providing leading edge structured cabling solutions, 19" racking systems and purpose build electronic enclosures to the network installer market.
For more information contact Datanet, +27 (0)11 990 6000.
Further reading:
Enclosures for small table-top instruments
30 September 2020, Avnet Abacus , Enclosures, Racks, Cabinets & Panel Products
The Evotec range of table-top plastic enclosures, made by OKW, is suitable for tough working environments in applications such as measurement and control engineering, IT, medical, laboratory and environmental 
...
Read more...
---
Enclosures for mounting electronic applications
30 September 2020, Sivan Electronic Supplies , Enclosures, Racks, Cabinets & Panel Products
Available from Gainta is a range of plastic enclosures for mounting and assembly of general electronic applications. The bases of the cases have a mounting flange and incorporate a tongue and groove 
...
Read more...
---
Stylish new plastic enclosure family
30 September 2020, Electrocomp , Enclosures, Racks, Cabinets & Panel Products
Hammond Electronics has announced its new 1557 family. Initially available in four plan sizes, each in two heights, it is available in polycarbonate sealed to IP68 and ABS designed to meet IP66. The sizes 
...
Read more...
---
Range of DIN rail enclosures
30 September 2020, Vepac Electronics , Enclosures, Racks, Cabinets & Panel Products
The CNMB range of DIN rail enclosures provides a diverse selection of modular housings which are available in eight set lengths. They are optimised for a wide range of electrical and electronics industries 
...
Read more...
---
Rittal's range of compact and small enclosures
30 September 2020 , Enclosures, Racks, Cabinets & Panel Products
After more than 50 years and 35 million enclosures sold, Rittal has introduced its small and compact enclosures in the form of the AX and KX series. According to managing director of Rittal South Africa, 
...
Read more...
---
Versatile rack cases
30 September 2020, Vepac Electronics , Enclosures, Racks, Cabinets & Panel Products
Rack cases are a key building block of rack mounting systems, enabling electronic, electric and electro-mechanical sub-systems and assemblies to be mounted easily in any standard 19" enclosure. For 
...
Read more...
---
Industrial enclosures in stainless steel
31 August 2020, Electrocomp , Enclosures, Racks, Cabinets & Panel Products
The IP66 EJSS family from Hammond Electronics is available in 304 or 316 grade stainless steel, supplied as standard in a natural smooth brushed finish. Sealed to IP66, the EJSS is designed for use as 
...
Read more...
---
Navigating EMI challenges in next-generation railway technology
31 August 2020, Actum Group , Enclosures, Racks, Cabinets & Panel Products
The advent of new-age connectivity, such as 5G networks and LTE, has enabled railway systems to process higher volumes of data digitally, which has significantly improved operational safety, efficiency 
...
Read more...
---
DIN rail enclosures
30 June 2020, Electrocomp , Enclosures, Racks, Cabinets & Panel Products
Hammond Manufacturing has announced its 1597DIN family of UL94-V0 flame-retardant plastic enclosures for mounting to standard IEC/EN 60715 35 mm DIN rails for applications such as industrial control equipment, 
...
Read more...
---
Company profile: Rittal
30 June 2020, Rittal , Enclosures, Racks, Cabinets & Panel Products
Rittal was founded by Prof. Friedhelm Loh in 1961 in Herborn, Germany. The enclosure specialist forms part of a larger family-owned group called the Friedhelm Loh Group. Today, the company has 10 000 
...
Read more...
---