printer friendly version
Low-power, high-accuracy operational amplifiers
16 May 2007
Analogue, Mixed Signal, LSI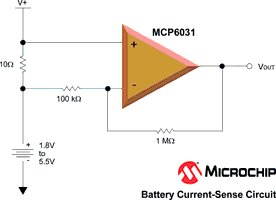 Microchip has expanded its linear product portfolio with the low power, high-precision MCP6031, MCP6032, MCP6033 and MCP6034 operational amplifiers.
The new devices have a quiescent current of only 900 nA and a bandwidth of 10 kHz. These highly accurate amplifiers are targeted at handheld, portable electronic devices used in the medical, industrial and consumer markets.
Microchip's low-power CMOS technology and non-volatile memory for in-package trimming enables the MCP603X amplifiers' extremely low offset of just 150 μV at 25°C. The devices' low power consumption extends battery life, and their rail-to-rail input/output structure enables greater dynamic range and better performance across the entire operating-voltage range. They operate from 1,8 to 5,5 V, and draw 900 nA quiescent current (typ).
As with Microchip's other amplifiers, the MCP603X amplifiers are supported by its free FilterLab filter-design software, which provides full schematic diagrams of filter circuits with component values, and displays frequency response.
The MCP6031, MCP6032 and MCP6033 amplifiers are available in 8-pin MSOP and SOIC packages, and the MCP6034 in 14-pin SOIC and TSSOP packages.
For more information contact Arrow Altech Distribution, +27 (0)11 923 9600, Avnet Kopp, +27 (0)11 809 6100, Electrocomp, +27 (0)11 458 9000, Future Electronics, +27 (0)31 262 7743, or Tempe Technologies, +27 (0)11 452 0530.
Credit(s)
Further reading:
AI-powered computer for autonomous machines
Altron Arrow Computer/Embedded Technology
Nvidia recently premiered Jetson AGX Orin, the world's smallest, most powerful and energy-efficient AI supercomputer for robotics, autonomous machines, medical devices and other forms of embedded computing 
...
Read more...
---
maXTouch touchscreen controller for various aspect ratios
EBV Electrolink Analogue, Mixed Signal, LSI
As the automotive market continues to demand larger touchscreens with more flexibility in size and shape, Microchip Technology is announcing a new maXTouch touchscreen controller that allows automotive 
...
Read more...
---
Step-down converter with nano quiescent current
Altron Arrow Power Electronics / Power Management
The ST1PS03 is a nano-quiescent miniaturised synchronous step-down converter which is able to provide up to 400 mA output current with an input voltage ranging from 1,8 V to 5,5 V. This STMicroelectronics 
...
Read more...
---
LED driver expansion board for STM32 Nucleo
Altron Arrow Opto-Electronics
STMicroelectronics' X-NUCLEO-LED12A1 LED driver expansion board for STM32 Nucleo features four LED1202 devices that can drive up to 48 LEDs. The LED1202 is a 12-channel, low quiescent current LED driver 
...
Read more...
---
Braid tail swept elbow backshells
Electrocomp Interconnection
TE Connectivity is complementing its series of banding (BT) and Tinel ring (TXR) backshells with a braid tail backshell. The new 70 Series swept elbow backshells include a pre-terminated screenbraid sock 
...
Read more...
---
Field-installable mini industrial I/O connector
Electrocomp Interconnection
The Industrial Mini I/O connector system made by TE Connectivity is a compact, wire-to-wire and wire-to-board solution for reliable serial, bus and Ethernet connections in industrial applications. At 
...
Read more...
---
Precision wideband ADC advances data-acquisition performance
Analogue, Mixed Signal, LSI
Texas Instruments (TI) has introduced a very small 24-bit wideband analog-to-digital converter (ADC) that delivers tight signal-measurement precision. The ADS127L11 achieves ultra-precise data acquisition 
...
Read more...
---
K-band passivated VCO
RF Design Analogue, Mixed Signal, LSI
The K-VCO-2324 from Arralis is a GaAs PHEMT MMIC voltage-controlled oscillator (VCO) that operates from 23,25 to 24,25 GHz. It provides 15 dBm output power over tuning voltages between 0 V and 1 V and 
...
Read more...
---
QFN-packaged gain blocks covering various frequency ranges
RFiber Solutions Analogue, Mixed Signal, LSI
Four new gain blocks have been introduced by Atlanta Micro to serve the requirements of various applications, each covering a different range of frequencies. The AM1127 is a high dynamic range, cascadable 
...
Read more...
---
Improving power supply regulation accuracy with resistor divider tool
Altron Arrow Power Electronics / Power Management
Analog Devices' LTpowerCAD resistor divider toolbox can use component tolerances and estimate corresponding errors in output voltage, letting designers decide what tolerance is allowable for their application.
Read more...
---