printer friendly version
High-speed universal device programmer
27 June 2007
DSP, Micros & Memory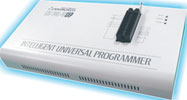 The LabTool-48UXP from Advantech is a USB-based universal device programmer featuring a 48-pin universal pin driver and an expandable TTL pin driver.
An onboard processor lets it handle today's and tomorrow's complicated DIP-type silicon PLDs, microprocessors and high density memory chips.
Designed for both laboratory and mass-production applications, this programmer supports over 7000 different devices, including PAL, GAL, CPLD, EPLD, PEEL, MAX, MACH, pLSI, microprocessors, EPROM, series EPROM, PROM and Flash memory.
The MOSFET logic controls the programmer's pin switches, so each pin can supply Vcc, Vpp or ground. Pins can also be configured for TTL high/low levels with pull-high/pull-low, high-speed clock and tri-state. This advanced pin design lets the user program any DIP device up to 48 pins without an adapter. It also ensures support for the full range of silicon technologies on the market.
The programmer's on-board intelligence reduces system overhead to a minimum. The LabTool-48XP can program a 32 Mbit FLASH device in under 60 seconds, making it highly productive with today's high-density, multimegabit memory devices.
Device insertion and contact checks are performed before any device is programmed. In this way, poor pin contact and devices inserted the wrong way around or in the wrong position can be detected, serving to prevent chip damage due to operator error.
Many EPROMs and Flash memories have a burnt-in device ID and manufacturer ID. The LabTool-48UXP can read the device's ID to determine its vendor and product number. This feature is especially useful with second-user chips and devices that have had their part numbers accidentally or intentionally removed. The programming software's easy-to-use graphical interface allows the user to simply type the device vendor's name and part number and the software will select the proper driver automatically.
To meet mass-production requirements the LabTool-48UXP has implemented new patented technology in both its hardware and software. After entering the mass-production mode, the production line operator inserts a device into the ZIF socket. An LED on the programmer will indicate if the device has been programmed successfully and the operator simply removes it and replaces it with the next one. No formal training is necessary to do this, adding flexibility and saving time and money. Furthermore, in the mass-production mode the system keyboard is automatically disabled, preventing the operator from making any inadvertent mistakes.
If memory devices need individual serial numbers, the LabTool-48UXP has an Auto Increment function, that simply increments the serial numbers in the buffer each time a new device is inserted. It also lets the user select the verify voltage after the device has been programmed, eg, 5 V, 5 V -10%, 5 V +10%.
The LabTool-48's universal pin driver capability allows it to program any 48-pin DIP device without DIP-to-DIP adapters, including all single-chip microcontrollers. The market, however, offers many choices besides DIP devices, such as PLCCs, SOPs, TSOPs, QFPs and SDIPs. Over 40 different converters have been developed to support these special-package devices. The LabTool-48's universal pin driver significantly reduces the number of converters required, reducing cost for future expansion; for example, a single 44-pin PLCC adapter lets it program all 44-pin PLCC devices.
Credit(s)
Further reading:
Enabling cloud connectivity to all Microchip MCUs and MPUs
25 March 2020, Avnet South Africa , DSP, Micros & Memory
Due to the fragmented nature of the Internet of Things (IoT) marketplace, increasing project complexity and costs, today's developers face more challenges in design decisions than ever before. These challenges 
...
Read more...
---
High-speed DDR4 SDRAMs
29 April 2020, Future Electronics , DSP, Micros & Memory
Alliance Memory has expanded its product offering with a new line of high-speed CMOS DDR4 SDRAMs. For improved performance over previous-generation DDR3 devices, the 4 GB AS4C256M16D4 and AS4C512M8D4 
...
Read more...
---
Cryptographic MCU protects against malware
29 April 2020, Altron Arrow , DSP, Micros & Memory
With the rapid growth of 5G including new cellular infrastructure, growing networks and data centres supporting expanding cloud computing, developers are seeking new ways to ensure operating systems remain 
...
Read more...
---
MCU with embedded LoRa transceiver
29 April 2020, Altron Arrow , DSP, Micros & Memory
The STM32WL is the world's first wireless microcontroller (MCU) to integrate a LoRa transceiver on its silicon die. Until now, the industry either had discrete MCUs and transceivers, or both components 
...
Read more...
---
Industrial-grade 32 GB DRAM modules
25 March 2020, Vepac Electronics , DSP, Micros & Memory
32 GB DRAM modules from Innodisk are the newest industrial-grade, high-capacity DRAM series launched with expanded capacity. Targeted at core network switches for 5G technology – touted as a much faster, 
...
Read more...
---
New PIC MCU family
25 March 2020, Avnet South Africa , DSP, Micros & Memory
In microcontroller (MCU)-based system design, software is often the bottleneck for both time to market and system performance. By offloading many software tasks to hardware, Microchip Technology's new 
...
Read more...
---
Micron and Continental accelerate automotive machine learning
25 March 2020, Altron Arrow , DSP, Micros & Memory
Micron Technology, together with technology company Continental, announced plans to enter into a collaboration agreement to explore and adapt Micron's deep learning accelerator for next-generation machine 
...
Read more...
---
ASIL-D certified embedded safety controller
25 March 2020, Altron Arrow , DSP, Micros & Memory
Electro-mobility, advanced driver assistance systems, connected driving – the demand for functionally safe electrical and electronic systems in cars is increasing. Infineon Technologies has now reached 
...
Read more...
---
MCUs for new-generation smart objects
26 February 2020, Altron Arrow , DSP, Micros & Memory
STMicroelectronics' latest STM32H7A3, STM32H7B3, and STM32H7B0 Value Line microcontrollers (MCUs) combine 280 MHz Arm Cortex-M7 core performance, high memory density, and power savings for future generations 
...
Read more...
---
DRAM for memory expansion
26 February 2020, Future Electronics , DSP, Micros & Memory
Cypress Semiconductor's HyperRAM 2.0 is a high-speed, low-pin-count, self-refresh Dynamic RAM (DRAM) for high-performance embedded systems requiring expansion memory. HyperRAM 2.0 offers HyperBus and 
...
Read more...
---