printer friendly version
Freescale revs up analog product portfolio
25 July 2007
Analogue, Mixed Signal, LSI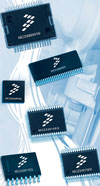 Today's vehicles require sophisticated engine control solutions to meet consumers' performance, fuel efficiency and environmental expectations.
To address these challenges, Freescale is introducing six standard SMARTMOS analog products designed for engine management applications.
Engine control modules are sophisticated systems that require diagnostics and specialised control functions to monitor environmental inputs and control complex loads while operating in harsh automotive environments. Managing the complexities of engine control can be accomplished reliably and efficiently using Freescale's analog products, according to the company.
Freescale's growing portfolio of analog products for high-current powertrain applications includes output drivers, signal monitoring and conditioning devices, and H-bridges. These products can be mixed and matched with Freescale's complementary MPC55xx 32-bit microcontrollers (MCUs), providing the flexibility to support a wide variety of multicylinder engine control applications. Built on Power Architecture technology, these MCUs are fully synthesisable system-on-chip (SoC) devices optimised for automotive applications, including powertrain control.
Engine control complexity is continuing to increase as next-generation systems are developed to meet tighter future emissions legislation limits. Mixed-signal interfacing between sensors and actuators and the engine MCU accounts for a significant amount of the circuit design complexity and cost. To control costs while delivering enhanced performance, electronic module engineers are looking for higher levels of design flexibility and feature integration within standard IC products.
A demonstration of an engine control solution based on some of the following Freescale analog devices was recently on display at the Freescale Technology Forum (FTF) Tech Lab in Orlando, Florida.
Output drivers
The MC33800 is a 16-channel, multifunction output driver featuring eight low-side drivers, six field-effect transistor (FET) pre-drivers and two constant current low-side drivers. A 'Swiss Army knife' of MCU interfaces, the MC33800 is designed to control relays, motors, solenoids, lamps, valves and heated exhaust gas oxygen (HEGO) sensors. While ideal for engine and transmission control, the device is also well-suited for many other applications, such as electronic power steering, four-wheel drive control, and industrial and commercial control systems requiring low-side drivers with diagnostic reporting and fault protection.
The MC33810 low-side driver provides a versatile, programmable interface between the engine control MCU and the spark ignition and fuel injection functions of a gasoline engine. Applications include automobiles, motorcycles, industrial engines, generators, marine craft and other recreational vehicles. The MC33810 is a flexible engine control interface circuit that scales easily for various numbers of engine cylinders. The device integrates four low-side drivers and four PWM-capable pre-drivers that can be configured to drive fuel injectors, solenoids, external FETs or IGBTs. The MC33810 significantly reduces the number of components in an engine control unit, reducing its size, cost and complexity.
Signal monitoring and conditioning
The MC33811 is a five-channel solenoid monitoring device used to determine the correct operation of a solenoid. The device determines whether there is a problem with a solenoid opening and closing by monitoring the profile of the solenoid's current waveform. A simple SPI message tells the MCU if the solenoid actuation has been successful or if a fault has occurred. Applications include automatic transmissions, fuel injectors and other control valve actuators.
The MC33975 is an enhanced interface IC designed to detect the state of 22 switch inputs: 14 switch inputs to ground and eight switch inputs for contacts to ground or to battery. All 22 inputs can be configured as analog signal inputs multiplexed and buffered for use by off-chip circuitry. A member of Freescale's Multiple Switch Detection Interface family, the MC33975 can connect to any SPI-enabled MCU, providing a protected switch-level interface and an analog input signal capability. The device has been enhanced to provide 32 mA of current per output to switched 5 V sensors, as well as input sensing. The MC33975 also can be used in automotive body control modules and in industrial and commercial control systems.
H-bridges
The MC33899 and MC33926 devices are monolithic H-bridge power ICs designed for electronic throttle control and low-voltage DC servo motor control applications. The devices can drive DC motors or bi-directional solenoid-controlled actuators, such as throttle control or exhaust gas recirculation actuators. They also provide robust solutions for harsh powertrain environments in a compact, easy-to-use package. The MC33899 features an SPI interface to the system MCU to enable advanced diagnostics, programmable current limit and a selectable slew rate. It also offers a higher output current than the MC33926. A fault restart feature allows the MC33899 to be configured to regulate high load currents below the programmed current limit.
The MC33926 offers a simple input control to enable precise load management without a SPI interface. The device's rich feature set is a subset of the broad programmability of the MC33899. The MC33926 also has a smaller footprint package than the MC33899. This thermally enhanced compact PQFN package makes the MC33926 an ideal solution for small-footprint engine controllers.
Freescale's analog SMARTMOS devices for engine control are supported by evaluation boards and a USB to SPI interface board. The KITUSBSPIEVME board enables a PC without a parallel port to communicate with other Freescale evaluation boards via a USB port.
Credit(s)
Further reading:
High-voltage analog multiplexers
30 September 2020, Altron Arrow , Analogue, Mixed Signal, LSI
Diodes Incorporated announces the PS508 and PS509 analog multiplexers that are capable of switching signal voltages of up to 36 V in an industrial environment. The high voltage capability of the devices 
...
Read more...
---
Low inductance SiC power module gate driver kit
31 August 2020, Altron Arrow , Analogue, Mixed Signal, LSI
The transformation to electrify transportation – from trains, trams and trolleys to buses, automobiles and EV chargers – continues at a rapid pace, as countries shift toward improved modes of transit 
...
Read more...
---
New GaN-on-SiC power amplifiers
31 August 2020, RFiber Solutions , Analogue, Mixed Signal, LSI
MACOM Technology Solutions, a leading supplier of semiconductor solutions, recently announced at the virtual International Microwave Symposium the introduction of its new gallium nitride on silicon carbide 
...
Read more...
---
USB Type-C charging controllers
29 July 2020, Avnet Silica , Power Electronics / Power Management
Designers can overcome the challenges of implementing USB-C Power Delivery (PD) with the MAX77958 USB-C PD controller and the MAX77962 28 W buck-boost charger from Maxim Integrated Products. As portable 
...
Read more...
---
DACs with 1 or 2 channels
31 August 2020, Altron Arrow , Analogue, Mixed Signal, LSI
The MCP47CXBXX/MCP48CXBXX are single- and dual-channel 8-bit, 10-bit and 12-bit buffered voltage output digital-to-analog converters (DAC), with volatile or MTP memory and an I2C/SPI interface. The MTP 
...
Read more...
---
Data buffer for high performance server and cloud service applications
30 September 2020, Hi-Q Electronics , Analogue, Mixed Signal, LSI
Renesas Electronics Corporation has introduced a new high speed, low power DDR5 data buffer for data centre, server and high-performance workstation applications. Advancements over the past few years 
...
Read more...
---
High accuracy inclinometer with machine learning core
30 September 2020, Avnet Silica , Analogue, Mixed Signal, LSI
The IIS2ICLX from STMicroelectronics is a high accuracy, low power, 2-axis digital inclinometer for use in applications such as industrial automation and structural health monitoring. It features a 
...
Read more...
---
Smoke detection matters
30 September 2020, Altron Arrow , Editor's Choice, Analogue, Mixed Signal, LSI
Smoke detection regulations are critically important when the value proposition is as basic as human life itself.
Read more...
---
11th Gen Intel Core processors with new design options
30 September 2020, Avnet Silica , Computer/Embedded Technology
In parallel with the 11th Gen Intel Core processor launch (code named Tiger Lake), congatec has launched both its first COM-HPC Client size A module and a next generation COM Express Compact Computer-on-Module. 
...
Read more...
---
Temperature-compensated quartz crystal oscillators
30 September 2020, Hi-Q Electronics , Analogue, Mixed Signal, LSI
With it's compact, power-saving and highly precise specifications, Jauch's new TCXO JT21S is particularly suitable for use in wireless applications and ensures a stable frequency across all RF standards 
...
Read more...
---