printer friendly version
Comprehensive case platform for test and measurement technology
19 September 2007
Enclosures, Racks, Cabinets & Panel Products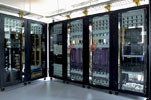 The demands on the properties of cases are constantly changing, depending on the application markets.
Test and measurement technology, for instance, requires very flexible assembly possibilities together with an extensive range of accessory and assembly parts. The design, too, plays an important role. Furthermore, an optimum EMC concept with a high shielding efficacy is often indispensable.
With the number of case types on the market today, it should not be difficult to find a suitable enclosure for these requirements. However, if there is a change in the requirements or application, in most cases a completely new case has to be found. New accessories and assembly parts are often needed, as the old and new cases are incompatible. In the long run this generates a large amount of costs and effort for the user. Therefore, customers increasingly demand cases that guarantee a high technical standard on the one hand and are highly variable and flexible on the other hand, to make them suitable for different applications.
To fulfil these demands, Schroff has extended its platform concept, already existing for cabinets and subracks, to cases, allowing hardware developers to design customer specific solutions quickly and cost effectively. A case platform has evolved consisting of three case types, all based on the same components. With these cases, the supplier says almost all demands in the area of test and measurement, from low-end to high-end applications, can be met.
compacPRO: mobile low-end case
As a case for simple applications without specific EMC demands, compacPRO can be used as a tabletop case or with a handle as a mobile case, and can be assembled with 19-inch as well as non-standard components and plug-in units. The case makes numerous versions possible through its assembly options, and modifications such as unique depths, cut-outs and silk screen printing are also possible. All assembly and accessory parts of the subrack range europacPRO can be used.

compacPRO: for simple applications without EMC requirements
The size of the depth grid for internal assembly with these components is 15 mm. Integrated screw channels on the inside of the side panels allow the assembly of further components at any possible height of the case depth. Furthermore all accessories can be easily installed from the outside. The entire assembly of the case is simple: the side panels are already mounted onto the frame; if required, horizontal and guide rails are installed and then the boards are assembled. The top cover is screwed to small die-cast pieces with integrated threads. The front and rear of the case are identical, as more and more often boards with front panels are also assembled at the rear. For optimum cooling, ventilation slots are integrated in the base plate.
As standard the case compacPRO is available in the colours white aluminium (RAL 9006) and anthracite (RAL 7016). A continuous front panel without visible screws, eg, for the integration of foil keyboards, provides an aesthetic appearance.
propacPRO: universal and mobile
Through an effective shielding concept, propacPRO offers high mechanical and EMC protection for sensitive electronics. Just like compacPRO, it can be used as a tabletop case or with a handle as a mobile unit, and it can be assembled with 19-inch or non-standard components. With modern colouring and individual design elements that can be screwed on, the enclosure range propacPRO has a pleasing appearance. The assembly and accessory parts of the established europacPRO subrack range can be utilised. As the case is based on the same platform, the internal assembly corresponds to that of the compacPRO case.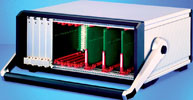 propacPRO: well shielded and highly variable in its design
ratiopacPRO: universal high-end case
ratiopacPRO is particularly suited to demanding test and measurement applications. The enclosure consists of an EMC shielded, robust metal case and fulfils the requirements of today's 19-inch standard as well as IEEE1101.10./11 and can therefore accommodate extraction handles for high insertion and extraction forces of CompactPCI and VME64x applications. Plug-in units can be inserted from the front (eg, display modules) as well as the rear (for instance power supplies), without removing the top cover. Tabletop units, 19-inch plug-in units and tower versions can be realised with the same basic case.

ratiopacPRO: for particularly demanding applications
Customers have a choice between two models: ratiopacPRO, a space optimising version in the heights of 2, 3, 4, 5 and 6 U, as well as ratiopacPRO-air, a version where all the heights are higher by 1 U; here ½ U is used below and above the assembled units for cold air intake and hot air expulsion. The cooling concept allows the user to place the 1 U higher cases on top of each other, either inside a cabinet or on the table top without losing space and without accumulation of heat.
Customised sizes can also be realised easily with ratiopacPRO at the customer's request. As an example, specific widths are generated through the length of the horizontal rails. For alterations in height, the side panels are adjusted correspondingly and the standard front panels are combined with the height requested (eg, 3 U + 4 U = 7 U or 2 x 5 U = 10 U). The depth of the cases can also be varied through correspondingly adapted side panels. In the same way as for ratiopacPRO cases, here too pre-assembled cases are available under one order number.
ServicePLUS installation: assembly of cases
Schroff offers a service that allows customers to configure unique subracks using the Internet. The interactive configurator ensures that the assembly and component selection are feasible. Individual parts can for instance be modified with cut-outs and drillings. For this, the customer downloads construction drawings of the product in DXF, DWG or 3D step format and modifies them accordingly. The processing of orders is said to start at the latest one day after their receipt.
All europacPRO assembly and accessory parts can be used in this case range
The Express Service guarantees the assembly of cases within five to 10 working days - depending on the degree of modification. It is geared to lot sizes of 1 to 25, while larger lot sizes would have to be individually agreed.
Individual front panel preparation
Front panels form the 'face' on a case or subrack: cut-outs for connectors, LEDs, handles, switches and label printing or company logos. With its Front Panel Express, Schroff offers the possibility of individually designed and manufactured front panels with a delivery from seven days ex works.

Front Panel Express – processing within two days
ServicePLUS integration: plug-and-play systems on demand
With its ServicePLUS integration, Schroff offers the integration of electro-mechanical and electrical components, such as EMC measures, cabling, switches, backplanes, power supply, monitoring units or cooling solutions into a case, providing users with a sort of plug-and-play product for their 19-inch technology. The starting point for integration is the demands of the customer, resulting from the specification and the framework conditions. Schroff supports its customers from specification to construction via purchasing, prototype manufacturing, tests and examinations up to the actual product manufacture, including all logistics.
Credit(s)
Further reading:
Clearing the Static
31 August 2020, Actum Electronics , News
Ionisation and static control
Electronic products normally consist of conductors and insulators. Within the ESD-protected workstation, insulators can be found on products such as PCBs, onthe tools being 
...
Read more...
---
Enclosures for small table-top instruments
30 September 2020, Avnet Abacus , Enclosures, Racks, Cabinets & Panel Products
The Evotec range of table-top plastic enclosures, made by OKW, is suitable for tough working environments in applications such as measurement and control engineering, IT, medical, laboratory and environmental 
...
Read more...
---
Enclosures for mounting electronic applications
30 September 2020, Sivan Electronic Supplies , Enclosures, Racks, Cabinets & Panel Products
Available from Gainta is a range of plastic enclosures for mounting and assembly of general electronic applications. The bases of the cases have a mounting flange and incorporate a tongue and groove 
...
Read more...
---
Stylish new plastic enclosure family
30 September 2020, Electrocomp , Enclosures, Racks, Cabinets & Panel Products
Hammond Electronics has announced its new 1557 family. Initially available in four plan sizes, each in two heights, it is available in polycarbonate sealed to IP68 and ABS designed to meet IP66. The sizes 
...
Read more...
---
Range of DIN rail enclosures
30 September 2020, Vepac Electronics , Enclosures, Racks, Cabinets & Panel Products
The CNMB range of DIN rail enclosures provides a diverse selection of modular housings which are available in eight set lengths. They are optimised for a wide range of electrical and electronics industries 
...
Read more...
---
Rittal's range of compact and small enclosures
30 September 2020 , Enclosures, Racks, Cabinets & Panel Products
After more than 50 years and 35 million enclosures sold, Rittal has introduced its small and compact enclosures in the form of the AX and KX series. According to managing director of Rittal South Africa, 
...
Read more...
---
Versatile rack cases
30 September 2020, Vepac Electronics , Enclosures, Racks, Cabinets & Panel Products
Rack cases are a key building block of rack mounting systems, enabling electronic, electric and electro-mechanical sub-systems and assemblies to be mounted easily in any standard 19" enclosure. For 
...
Read more...
---
Industrial enclosures in stainless steel
31 August 2020, Electrocomp , Enclosures, Racks, Cabinets & Panel Products
The IP66 EJSS family from Hammond Electronics is available in 304 or 316 grade stainless steel, supplied as standard in a natural smooth brushed finish. Sealed to IP66, the EJSS is designed for use as 
...
Read more...
---
Navigating EMI challenges in next-generation railway technology
31 August 2020, Actum Group , Enclosures, Racks, Cabinets & Panel Products
The advent of new-age connectivity, such as 5G networks and LTE, has enabled railway systems to process higher volumes of data digitally, which has significantly improved operational safety, efficiency 
...
Read more...
---
Clearing the Static: ESD wrist straps
29 July 2020, Actum Electronics , News
The human body is the primary source of electrostatic charge generation. In order to control and reduce static charge build-up and prevent electrostatic discharges (ESD), we use grounding systems to ensure 
...
Read more...
---