About two years ago, Mike King formed PHD Powerhouse, a specialist company in the power electronics industry. Having many years experience in the industry being involved in power semiconductors, cooling and surge protection, King noted the local market conditions of imported components and subsequent stock and distribution around South Africa, and took this as an exciting challenge to give clients just what they need.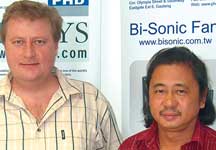 Steven Cox (left) and Mike King of PHD Powerhouse
Having started out with a handful of agencies and suppliers, the company's offering has now grown into a respectable portfolio. In 2007, Steven Cox joined the company to further promote and extend its market share and reach. With this appointment, the company boasts a total accumulated market knowledge of almost 40 years.
PHD Powerhouse is currently able to provide the following products and says it is able to source almost anything related:
* Andeli Group - power supplies, silicon rectifiers, solid state relays, circuit breakers, H.R.C. fuses, plugs and sockets, electrical parts.
* Bisonic - tube axial, DC cooling fan, AC cooling fan, DC brushless motor, DC crossflow fan.
* Kestar KVR - metal oxide varistor, surge protection devices.
* Evox Rifa - film capacitors, polyester, polypropylene, polycarbonate, paper, metallised, EMI suppression, pulse capacitors.
* Westcode Semiconductors - GTO, thyristor, diode, SCR, distributed gate, press pack IGBTs, FRED, capacitors, heatsinks, assemblies, high voltage IGBT gate drive units.
* Iconopower - precision clamps for press pack semiconductors.
* Ixys - MOSFET, IGBT, CBI modules, SCR, diode, BOD, thyristor, SCR/diode modules, rectifiers, gate driver IC, FRED.
* Water Cooled Capacitors - for electric inductive heating systems with a maximum capability of 3000 kVAR.
The company can also offer custom stack assembly solutions suited to customer requirements, using many of the aforementioned products.