printer friendly version
Starter kit for low-power wireless development
14 May 2008
Telecoms, Datacoms, Wireless, IoT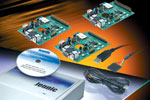 Jennic has released a new low-cost starter kit which allows developers with little or no wireless experience to develop products.
The JN5139-EK020 IEEE802.15.4/JenNet Starter Kit simplifies the evaluation and application development of low power wireless connectivity products using Jennic's robust and reliable JenNet networking stack.
The kit provides the flexibility to develop wireless capability by using Jennic JN5139 microcontrollers and modules as wireless processors or co-processors. In the wireless co-processor configuration, the kit demonstrates nodes adding wireless connectivity to a PC or embedded processor via a serial port and Jennic's AT-Jenie serial communications API. In the single-chip configuration, the kit demonstrates the protocol and application both running on the JN5139 32-bit wireless microcontroller. The Jenie 'C'-based API provides communication between the application and the wireless connectivity protocol.
The kit comprises three nodes, pre-programmed with a range of example applications to demonstrate the capabilities of wireless sensor networks. A simple introduction explains the common wireless network topologies that are supported by the JenNet wireless network stack. The kit clearly demonstrates point-to-point connections, and a simple network utilising a coordinator, router and endpoint, as well as the self-healing properties of the JenNet stack. Wireless co-processor operation is demonstrated using a PC connection to the nodes and communication via AT-Jenie serial commands. RF performance, range and packet error rate monitoring are also included, allowing users to evaluate the radio performance of the JN5139 modules and the 2,4 GHz IEEE802.15.4 standard.
Each node includes a standard Jennic module, which integrates a JN5139 wireless microcontroller and an antenna. Operating in the licence-free ISM band at 2,4GHz, the modules have worldwide RF approval and provide a seamless route from concept-proving, and easy application development using the evaluation kits, through to prototyping and volume production using either the ICs or modules.
The JenNet stack provides a powerful higher-layer networking solution based on the IEEE802.15.4 standard, which is becoming the worldwide de-facto standard for low power wireless connectivity. It implements networks ranging from simple point-to-point systems, to large tree or linear networks of devices. The Jenie and AT-Jenie programmer interfaces simplify access to the commands for building and running the network, de-skilling the task of designing the network and allowing the developer to concentrate on designing their application.
Developers also have free access to Jennic's full and unlimited software developer kit (SDK) which uses the Code::Blocks IDE with a GNU based compiler and linker. This provides a complete development environment and eliminates the need to purchase additional development tools. The AT-Jenie serial interface and Jenie C programmer's API are accessed through the SDK to simplify design of the application software.
Credit(s)
Further reading:
RF amplifier for linear and saturated applications
28 October 2020, RFiber Solutions , Telecoms, Datacoms, Wireless, IoT
The MAPC-A1103 is a high-power GaN-on-silicon-carbide HEMT D-mode amplifier suitable for DC to 2,7 GHz frequency operation. The device supports both CW and pulsed operation with peak output power levels 
...
Read more...
---
Antennas from Linx available from RS
25 November 2020, RS Components (SA) , Telecoms, Datacoms, Wireless, IoT
RS Components is now stocking a comprehensive range of antennas from wireless technology specialist, Linx Technologies. Linx, headquartered in Oregon, USA, produces antennas that enable design engineers 
...
Read more...
---
Major update to GNSS firewall software strengthens protection
25 November 2020, Comtest , Telecoms, Datacoms, Wireless, IoT
Critical infrastructure systems including power utilities, financial services, mobile networks and transportation rely on Global Positioning System (GPS)-delivered timing to ensure ongoing operations. 
...
Read more...
---
The difference between RF limiters and attenuators
25 November 2020, RF Design , Telecoms, Datacoms, Wireless, IoT
Both RF limiters and attenuators reduce the power of an RF signal. However, they do so in different ways that are key to understanding their use. These components are often used to protect sensitive RF 
...
Read more...
---
RTLS tag module for real-time positioning
25 November 2020, Altron Arrow , Telecoms, Datacoms, Wireless, IoT
Inpixon announced the launch of its newest smart tag module, the swarm bee LE V3, supporting a range of indoor and outdoor location applications including real-time location systems (RTLS). This is 
...
Read more...
---
Antenna selection and design for small IoT devices
25 November 2020, Avnet Abacus , Telecoms, Datacoms, Wireless, IoT
IoT devices are typically small and often have a severely limited power budget to operate for long periods from a small energy source such as a primary coin cell. While careful selection of ICs and modules, 
...
Read more...
---
Connectivity for IoT devices with SoftSIM platform
25 November 2020, Otto Wireless Solutions , Telecoms, Datacoms, Wireless, IoT
IoT device vendors are facing more and more complex cellular connectivity issues these days. Manufacturing is often outsourced to third-party factories and finished devices are being distributed to many 
...
Read more...
---
Otto Wireless Solutions' evolution into a wireless connectivity powerhouse
25 November 2020, Otto Wireless Solutions , Telecoms, Datacoms, Wireless, IoT
Otto Wireless Solutions, established in 2010, has gradually evolved into a South African powerhouse of industrial wireless connectivity, offering solutions which cover multiple industries with its suite 
...
Read more...
---
Nordic supports development of Amazon Sidewalk devices
25 November 2020, RF Design , Telecoms, Datacoms, Wireless, IoT
Nordic Semiconductor is cooperating with Amazon to develop Bluetooth Low Energy (Bluetooth LE) solutions for Amazon Sidewalk. Amazon Sidewalk is a neighbourhood network designed to help customer devices 
...
Read more...
---
4G USB device gateway makes IoT retrofitting easy
25 November 2020, Gemalto IoT (Cinterion Wireless Modules) , Telecoms, Datacoms, Wireless, IoT
As 2G and 3G networks phase out around the world, the Cinterion DGL61-W USB Device Gateway offers a simple and powerful solution for retrofitting existing IoT applications while providing seamless evolution 
...
Read more...
---