Infineon has expanded its extensive OptiMOS 3 n-channel MOSFET portfolio with new 40 V devices which offer features such as low on-state resistance for reduced conduction losses and a high Figure-of-Merit (FOM) for low switching losses.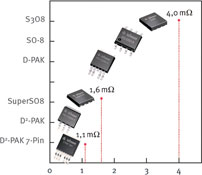 Comparison of RDS(on) for available package types
The new MOSFETs are intended for a variety of power conversion and management applications, including SMPS (switched-mode power supplies), DC-DC converters and DC motor drives in industrial, computer, telecommunication and consumer products.
The new OptiMOS3-40V family includes MOSFETs that offer RDS(on) as low as 1,1 mΩ in D2-PAK 7-Pin packages. This is combined with a thermal resistance of 0,5 K/W and a continuous current rating of 180 A. Six different packages are available to fulfil various application needs: D2-PAK 7-Pin, D2-PAK, TO220, D-PAK, SuperSO8 and S3O8.
The high FOM of these devices enables fast switching while minimising conduction losses and on-state power dissipation, allowing higher power densities. It also results in less heat generation and therefore improved system reliability. In addition, the low RDS(on) allows the use of smaller packages, such as the 3 x 3 mm S3O8, which can lead to 80% less board space in a design, thereby increasing power density.