printer friendly version
Low-power touch screen controller
11 June 2008
Opto-Electronics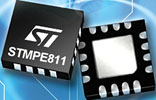 The new STMPE811 from STMicroelectronics is a four-wire resistive touch screen controller featuring autonomous functionality to minimise demands on the host processor. For embedded designers, this frees valuable CPU cycles to ease pressures on performance, power consumption and response times.
Built-in features include an internal 12-bit ADC for high resolution as well as 128 x 32-bit FIFO data buffers for smooth position tracking. There are also features for accurate position identification and a window-masking function to support multiple sense windows. Special low-power design features achieve active current below 1 mA, idle current less than 1 μA, and an ultra-low-power 150 nA hibernation mode.
By combining these functions into a compact 3 x 3 mm QFN-16 package, the STMPE811 saves footprint and extends battery lifetime in portable applications such as PDAs, mobile phones, GPS receivers, game consoles and POS terminals.
Credit(s)
Further reading:
Smallest automotive maXTouch controllers
29 July 2020, Altron Arrow, Avnet South Africa , DSP, Micros & Memory
To help enhance and ease today's driving experience, automotive manufacturers are implementing additional touch displays beyond the centre infotainment display (CID). Supporting the application of these 
...
Read more...
---
3 kW TVS diode arrays
30 June 2020, Avnet South Africa , Circuit & System Protection
To ensure critical operations, aviation and space systems rely on digital and logic functionality and circuitry in engine control units, environmental controls, instruments and actuators. Data centres, 
...
Read more...
---
Driver for low-current LED strips
30 June 2020, Altron Arrow , Opto-Electronics
Infineon Technologies' new BCR431U is a constant-current linear LED driver IC providing low voltage drop performance for regulating LED current. It is the second device released in the new-generation 
...
Read more...
---
PCIe Gen 4 switches
30 June 2020, Avnet South Africa , Computer/Embedded Technology
To support cloud, data centre and hyperscale computing that facilitates advancements in artificial intelligence (AI) and machine learning (ML), Microchip Technology released to production its Switchtec 
...
Read more...
---
DIN-rail mounting DC-DC converters
30 June 2020, Avnet South Africa , Power Electronics / Power Management
Shortly after unveiling the brand-new DIN-rail mounting DC-DC converter family, the DDR-15/30/60/120/240 series, Mean Well has announced the DDR-480 series (480 W) to enable integration into higher-power 
...
Read more...
---
Robust glass and plastic laminated displays
29 May 2020, Actum Group , Opto-Electronics
Instrument Plastics specialises in glass and plastic optical-grade contrast enhancement filters for electronic displays. These filters improve display readability by enhancing contrast and reducing reflections, 
...
Read more...
---
Testing the optical characteristics of photonic integrated circuits
29 May 2020 , Opto-Electronics
Today's bandwidth boom – 400G rollouts, 5G and the explosion in data centre development – is being driven in large part by photonic integrated circuits (PICs). Tiny but mighty, these powerful components 
...
Read more...
---
Wi-Fi and BLE combo module
29 May 2020, Avnet South Africa , Telecoms, Datacoms, Wireless, IoT
Dialog Semiconductor announced the DA16600, a module that combines its advanced Wi-Fi and BLE (Bluetooth Low Energy) capabilities into a single solution. This two-in-one module is comprised of two 
...
Read more...
---
HV MOSFET for ruggedness, smart PWM controller for flexibility
30 June 2020, Avnet South Africa , Power Electronics / Power Management
As the world recently celebrated Earth Day, STMicroelectronics' blog recently featured one of its many components that help better manage the electricity people consume every day and therefore, decided 
...
Read more...
---
Why 'new space' satellites demand a new approach to components
29 May 2020, Avnet South Africa , News
New space is opening up exciting opportunities for businesses, which can create completely new products, services and capabilities that were, until recently, impossible or impractical.
Read more...
---