printer friendly version
Comprehensive electronics packaging service
11 June 2008
Enclosures, Racks, Cabinets & Panel Products
Seen from a technical point of view, product lifecycles are decreasing. Products are more complex, require more detailed explanation and are becoming more demanding from the service aspect.
Services for customers are today equally as important as high quality products, with customers demanding complete solutions for the entire lifecycle of products.
The existing electronics packaging service offered at Schroff has been extended over recent years and currently comprises numerous services which have been well received by customers. In order to enhance the transparency of these services, Schroff has now gone one step further by streamlining all existing services and adding a number of new pre- and after-sales services under the umbrella brand 'ServicePLUS'. The ServicePLUS concept consists of eight modules: configuration, assembly, modification, solution, express, support, academy and lifecycle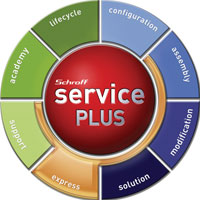 The eight modules of ServicePLUS
Configuration: Compile products individually and easily
Nearly all Schroff products are based on platform concepts. From a large pool of standard items customers can configure their individual products. This flexibility and the great variety of possible service combinations become clear in the Schroff catalogue as well as support through interactive configurators on the Internet. Individual products can be configured quickly, easily and application orientated. Immediately after the configuration the customer receives a complete parts list with all order numbers.
Assembly
Schroff, together with its exclusive partner in South Africa, also offers a complete assembly service. The majority of the products come in a self-assembly and easy- to-use system. Customers can either assemble the particular product themselves by following the simple instructions, or they can make use of the assembly service offered by Actum Electronics.
Modification: Customise standard products
Standard products have two great advantages: they can be ordered easily and are delivered quickly. However, products often have to be adapted to certain conditions and be modified, for example by drilling, cutouts, silk screen printing or special colouring.
Integrated into this ServicePLUS module is also the service known as 'Front Panel Fast Track' for individual configuration of front panels. After the input of basic data of the front panels - such as height, width, number of round holes, number of cutouts, required EMC shielding, type of finish, varnish or silk screen printing (the number of required colours) - the desired accessories (different types of sleeve and collar screws as well as shielding material) are selected.
Solution: System integration from one source
Electronics packaging means more than empty cabinets and cases. Schroff offers services including system integration, the integration of electromagnetic and electronic components, such as EMC measures, cabling, switches, backplanes, power supplies, monitoring units or cooling solutions into a cabinet or case. Users thus receive what is effectively a plug-and-play product for their 19" technology. The starting point for this integration is the customer's requirements, resulting from the specification and the framework conditions.
Certain 'high-end' modifications of standard products, which in some instances require extensive additional or new developments, are also realised with this service.
Express: When time is of the essence
On the top of customers' wish lists are short delivery times. In prototype construction as much as in serial production, apart from flexibility during product development, delivery times in particular are often the deciding factor. This ServicePLUS module focuses on these aspects of service delivery.
Support: Difficulties and problems are solved on time
Even the best quality management does not always avoid the occurrence of faults or production problems. To be available for the customer at all times and realise short response times is the aim of an effective fault analysis.
Academy: Useful knowledge passed on
Fundamental knowledge of technologies and the products of the manufacturers by staff and service technicians is the basis for trouble-free operation of their application. Schroff provides the basis for a beneficial transfer of knowledge by having skilled partners in the countries in which it is represented.
Lifecycle: Support for the entire product lifecycle
The last of the eight ServicePLUS modules consists of customer care and support over the entire product lifecycle. Depending on customers' requirements, an individual lifecycle package can be formulated from different services - including delivery to operating site, extension of guarantee, replacement of parts and upgrading.
Credit(s)
Further reading:
Clearing the Static: ESD wrist straps
29 July 2020, Actum Electronics , News
The human body is the primary source of electrostatic charge generation. In order to control and reduce static charge build-up and prevent electrostatic discharges (ESD), we use grounding systems to ensure 
...
Read more...
---
DIN rail enclosures
30 June 2020, Electrocomp , Enclosures, Racks, Cabinets & Panel Products
Hammond Manufacturing has announced its 1597DIN family of UL94-V0 flame-retardant plastic enclosures for mounting to standard IEC/EN 60715 35 mm DIN rails for applications such as industrial control equipment, 
...
Read more...
---
Company profile: Rittal
30 June 2020, Rittal , Enclosures, Racks, Cabinets & Panel Products
Rittal was founded by Prof. Friedhelm Loh in 1961 in Herborn, Germany. The enclosure specialist forms part of a larger family-owned group called the Friedhelm Loh Group. Today, the company has 10 000 
...
Read more...
---
Clearing the Static: Curb the spread of COVID-19 with stringent floor hygiene
30 June 2020, Actum Electronics , News
According to the World Health Organisation (WHO), COVID-19 is primarily transmitted from person to person through respiratory droplets that emerge from the nose and mouth when an infected person speaks, 
...
Read more...
---
EMI/RFI shielding cable ties
29 May 2020, Actum Electronics , Interconnection
BAND-IT EMI cable ties have been designed and manufactured to excel in mission-critical applications, such as Mil/Aero EMI/RFI (electromagnetic interference/RF interference), for the past 30 years.  
...
Read more...
---
Verotec's Diplomat cases and caseframes
30 June 2020, Vepac Electronics , Enclosures, Racks, Cabinets & Panel Products
Verotec's Diplomat metal enclosure range is recognised worldwide as one of the leading products in its field, having evolved around a number of international standards and in response to a number of trends. 
...
Read more...
---
Ventilated sensor enclosures
30 June 2020 , Enclosures, Racks, Cabinets & Panel Products
The new 1551V miniature ventilated sensor enclosures from Hammond Manufacturing are designed to house sensors and small sub-systems installed in the manufacturing environment as part of IoT (Internet 
...
Read more...
---
Electronics housings for harsh environments
30 June 2020, Phoenix Contact , Enclosures, Racks, Cabinets & Panel Products
Phoenix Contact has introduced new electronics housings for especially harsh ambient conditions. The robust housings of the ECS series, with IP69 degree of protection, are suited for a broad temperature 
...
Read more...
---
Extruded aluminium enclosures
30 June 2020, Sivan Electronic Supplies , Enclosures, Racks, Cabinets & Panel Products
The extruded aluminium enclosures of Gainta's ALUG7XX series are available in different sizes, with lengths suitable for indoor desktop device or outdoor wall-mounting junction/control box use. Five 
...
Read more...
---
Elegant and functional handheld enclosures
25 March 2020, Electrocomp , Enclosures, Racks, Cabinets & Panel Products
Hammond Electronics has launched its new 1552 family of handheld enclosures. Initially available in six sizes, the IP54 rated UL94-V0 flame-retardant ABS enclosure features an ergonomic design that fits 
...
Read more...
---