printer friendly version
What we must do to compete globally - a contract manufacturer's perspective
23 July 2008
Manufacturing / Production Technology, Hardware & Services
It is becoming more and more important that South African electronics companies are going to have to start to compete more actively in the global market.
Our customers and we ourselves at Microtronix, are being wooed on a daily basis by foreign companies - particularly from Asia - eager for us to make use of their various services.
Although there is a very strong understanding amongst our customers that to support local companies is of utmost importance to the survival of our industry and ultimately our economy as we know it, we as a manufacturer must be able to rely on more than just patriotism to secure ongoing work from our customers into the future. We must be able to offer better service as well as excellent quality, but most of all at the best possible price. We must be able to offer our customers pricing that compares well with offshore manufacturing.
Microtronix is a medium size company which caters mainly for a large number of customers which each do a (relatively) small number of PCBs per month. In order to keep up with the growing demand for manufacturing services, Microtronix has recently installed three new lines, bringing our fleet of Yamaha machines to a total of 12, making up seven complete lines, and with the high demand for lead-free products, the new lines all include new Vitronix Soltec xpm3 ovens.
Four of the lines have been set up to enable a fast changeover of jobs, which allows us to run up to five different runs per day per line. The other three lines are set up for high-speed, longer runs with less changeover requirements. This configuration allows us to cater for the full range of customers in the South African market.
One of the biggest challenges in the past year has been to control the many different jobs going through the factory at the same time. To solve this problem, we have separated the factory into three different divisions, and physically moved some of the lines into three separate buildings. Each set of lines now has its own space, customers, management team and staff. This has been very successful as the one factory, which is used to handling lots of different jobs in small volumes, continues to do this, and the two new factories are handling our very high volume customers where we are able to streamline our manufacturing process, enabling us to start competing in the global market.
One of our main aims as a contract manufacturer is to try to pass on the benefit of a larger company's purchasing power to provide benefit to our smaller customers, as well as of course taking away the everyday hassles of manufacturing by providing a turnkey solution.
There are many South African electronics companies who have been competing globally for a long time, but usually on large production runs and in very specific markets such as TVs, decoder and metering. Up until now, this has not really affected smaller customers with short production runs, which is the market where Microtronix is most active. This is now changing, and we must face challenges where we must compete on relatively small volume runs with offshore competitors.
We have recently competed with Asian as well as an Indian company for two large contracts, where the volumes of PCBs per month made it attractive for our customers to look at the offshore options. In both cases we were able to compete directly with our offshore competitors, finally coming in at within 3% of the landed cost in SA. This was not without effort, but it was most encouraging that we were actually able to do so on these relatively smaller volumes of production.
There was one major challenge in being able to achieve this, and that was the procurement of parts. Our initial pricing was as much as 20% higher than our final price, and no matter how we squeezed and cut on our labour costs, we were not able to compete based on the raw cost of our material. After some negotiation we were able to get the target pricing from our customers in US dollars. Once we had these targets we were in with a fighting chance. Now, with the target pricing on the raw materials, we could go back to our suppliers with these targets which they were finally able to match.
Having endured this exercise, one could easily believe that our local suppliers are giving us a raw deal, but they have a similar challenge with their offshore suppliers and manufacturers with regards to pricing - our volumes are small and the shipping costs to Africa make it difficult to compete. Once we were able to supply them with our realistic target pricing and we were able to carefully consolidate our orders and shipping costs, the local distributors were eventually able to achieve the pricing that we required to compete.
Once our raw costs of materials were at the same cost as our offshore competitors, the rest was easy, as our labour costs, overheads and profit requirements were in line. We were now within 3 to 5% of the offshore pricing and could offer an excellent service up the road in the same language and time zone, but most importantly 'at a comparable price'.
This now poses an interesting question: why do we first need to compare pricing with China and India to get a target costing? Quite simply, up until now, smaller companies have not been forced to compete actively in a global market. We now need to start playing catch-up quite quickly to stay ahead on behalf of our customers and our industry.
Further to these comments, the success of a contract manufacturer is directly linked to our ability to procure accurately and on time. In almost all cases of complaints and compliments in our company, the success of a job can be linked directly to the timeous procurement of the parts. If all the parts are there on time, your production planning will be good and there will be no need to rush a job and thereby induce unnecessary errors.
Getting the parts on time relies on the efficiency of the procurement department as well as the willingness and reliability of the suppliers to deliver within a reasonable time and on the promised date.
One of our most efficient systems that has been introduced at Microtronix to help the procurement department, is the implementation of the Kanban or Cares system where we hold around 300 commonly used items from resistors to most common semiconductors permanently in stock and in quite large volumes. As the item runs low, the system automatically reorders the parts. The following day, the required parts are shipped and are in our store, and therefore there are no production delays. This also cuts down the number of items to be procured per contract and also - most importantly - gives us a volume price advantage on these items. We now send out this list to all our customers and design engineers encouraging them to design in, where possible, all the common parts as per our Kanban stocked items. This helps our customers hugely in cutting down production time and we all achieve better efficiency, which will ultimately lower costs.
I feel that the biggest challenge as a contract manufacturer at the moment is to ensure an excellent relationship with the distributors and suppliers of components locally. If we are to compete globally we must insist on our suppliers introducing and maintaining effective, efficient systems that ensure aggressive pricing on the raw material costs. As a manufacturer, our challenge is definitely to automate as many of our processes as possible to remain 100% competitive.
It is also important to share information amongst the South African manufacturers to enable us to compete globally. I feel that the new SMART Group initiatives have gone a long way to starting off this process. It would be a great shame to see the new set-top boxes for soon-to-be-rolled-out digital TV being imported, rather than produced locally, providing jobs and boosting our economy - 'at the right price' of course.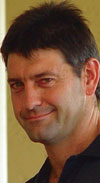 Mike Goodyer
For more information contact Mike Goodyer, Microtronix, +27 (0)11 792 5322/3, info@microtronix.co.za, www.microtronix.co.za
Credit(s)
Further reading:
Things are tough for electronics contract manufacturers in SA
23 October 2019, Barracuda Holdings, Leratadima Tellumat Manufacturing , Manufacturing / Production Technology, Hardware & Services
The contract manufacturing side of the South African electronics industry has been under enormous pressure for some time now, with some high-profile manufacturers having closed their doors or suffering serious financial trouble in recent years.
Read more...
---
Quality management based on quality assurance
23 October 2019, Quamba Technologies , Manufacturing / Production Technology, Hardware & Services
To ensure consistently high product quality and ultimately achieve a zero-fault production stage, it is necessary to control all process steps.
Read more...
---
3D printing and electronics manufacturing
23 October 2019, Omnigo , Manufacturing / Production Technology, Hardware & Services
"The opportunities are endless and we are excited to see what the future holds for 3D printing and the electronics manufacturing industry." – Christine Brindle, Omnigo
Read more...
---
3D printer for rapid prototyping
23 October 2019, RS Components (SA) , Manufacturing / Production Technology, Hardware & Services
RS Components is shipping the latest version of the MakerBot 3D printer – the MakerBot Method – which has been designed to bridge the gap between industrial and desktop 3D printing. The unit targets engineers 
...
Read more...
---
Versatile conformal coating applicators
23 October 2019, Techmet , Manufacturing / Production Technology, Hardware & Services
The Select Coat applicator series from Nordson Asymtek – which includes the SC-350 Select Spray and the SC-300 Multi-Mode – is a highly versatile conformal coating applicator that supports a wide range 
...
Read more...
---
High-accuracy fluid dispenser
23 October 2019, Techmet , Manufacturing / Production Technology, Hardware & Services
Nordson Asymtek recently introduced the Forte fluid dispensing system. The Forte series combines high-accuracy fluid dispensing with increased throughput and productivity in a narrow footprint to handle 
...
Read more...
---
Conformal coating cleaning agent
23 October 2019, Techmet , Manufacturing / Production Technology, Hardware & Services
Coating carriers and frames offer important advantages within the conformal coating process regarding handling, process reliability and output, but they also require very extensive cleaning afterwards.  
...
Read more...
---
Company profile: Etion Create
23 October 2019, ETION Create , Manufacturing / Production Technology, Hardware & Services
Etion Create is an original design manufacturer (ODM) that has been in operation for more than 25 years. Originally known as Parsec, the company was founded in 1993, focusing on the design, development 
...
Read more...
---
Cleaning machines and agents on show at Productronica
23 October 2019, Electronic Industry Supplies , Manufacturing / Production Technology, Hardware & Services
Using the motto 'Make the Cleaning Check', Zestron will be exhibiting a selection of state-of-the-art cleaning machines from leading international manufacturers. Visitors who are looking for a new cleaning 
...
Read more...
---
Application centres for dispensing and coating
23 October 2019, MyKay Tronics , Manufacturing / Production Technology, Hardware & Services
With a larger global installed base of MYSmart and MY700 jet printing and dispensing systems, Mycronic is taking the next step in bringing its hands-on expertise closer to customers by establishing multiple 
...
Read more...
---