With the uncertainty over Eskom's and local municipalities' ability to guarantee electricity supply, it makes sense to consider alternative power sources and back-up solutions. It would be most cost effective to incorporate such systems in the planning and during the construction phase of a property development. These systems are ideal for installations where generators are not an option.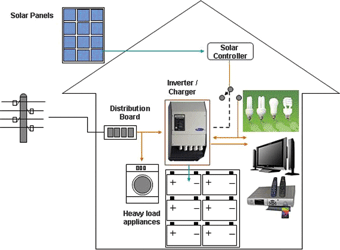 Backup power system including solar energy
Installing such a system should be seen as a permanent fixture which will increase a property's value and become an attractive selling point of the property. If the electrical reticulation for the backup system is incorporated during the planning stage, it would not cost any more than the standard electrical installation and the total system costs would become part of the building finance.
While such systems are not necessarily meant to run an entire household on backup power (even this is possible but rather costly), only the most common appliances – such as low-power lights (LED/power saver lights, etc,), TVs, Hi-Fis, microwave ovens, fridges, alarm systems, etc, – should be considered, not exceeding 8 kVA on a single phase. This means that geysers, stoves, washing machines, dish washers, airconditioners and so on should not really be connected to the power backup system and should be connected to the standard incoming AC supply.
Larger systems and three-phase systems up to 72 kVA are available, but taking long backup times into consideration, such larger systems are not always applicable for everybody.
While it is more cost effective to install this professional backup system during the development phase, the distribution board (DB) in existing properties can usually be rewired to accommodate these systems, without rewiring the entire dwelling. In existing dwellings, systems can be installed in garages, under staircases, wine cellars, etc.
The Swiss-made Studer Innotec range, marketed and installed locally by power backup and renewable energy specialist Sinetech, fits the bill as a fully integrated professional standard solar power source/power backup system. The Studer products are found in use in all facets of property use whether domestic or professional.
How do these systems work?
The professional backup system is permanently connected to utility power so that while mains power is present, the four stage built-in battery charger recharges a large battery bank and keeps the batteries fully charged until a power failure occurs. The equipment to be backed up is also permanently connected via the system.
In case of a power failure, the backup system automatically switches over, via a fast transfer switch, to a sine wave inverter which will continue to provide power to the equipment within 20 to 30 msec. When utility power returns, the whole procedure is reversed and the unit will switch back to utility power and will automatically start recharging the battery bank. The whole process is fully automated and no human intervention is necessary.
Solar panels can also be added to the Studer system to give an additional source of energy and to gain greater self sufficiency.
Sinetech can provide professional, technical advice and assistance to electrical installers on system selection and installation.