Seoul Semiconductor announced the development and commercial release of the ultra bright Z-Power P7 LED Series, claimed to deliver the world's highest brightness of 900 lumens at 10 W. This means that the single-LED package produces more luminous flux than an average 60 W general residential incandescent lamp, which produces just 660 lumens. This results in an efficacy of 90 lumens per Watt from a single package, which is eight times higher than an incandescent lamp.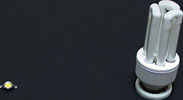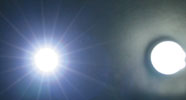 Comparision between P7 LED and 15 W compact flourescent lamp
In addition, the P7 Series shows remarkable performance compared to compact fluorescent lamps (CFL). In a comparison with a CFL consuming 15 W and emitting light at 924 lumens, the CFL shows an efficacy of 61 lumens per watt, only 68% that of the P7 Series.
Another advantage is low light loss. General light sources, such as fluorescent lamps and incandescent lamps, emit in all directions and the light loss rate is high. This means that only 60% to 70% of light produced from these light sources is applied to illuminate an object. In contrast, a P7 LED is able to focus light in a specific direction based on the intended application. As a result, there is little loss of light generated from the source. These LEDs can be applied in many fields such as general residential lighting, streetlights, a variety of task lights, high-end flashlights for military, police or rugged use, and landscape lighting requiring extremely bright light.