The Mini-Scope from Metocheck is a handheld digital microscope. It does not have an eyepiece as one might expect, but rather connects to a computer through its USB port, allowing users to see the image directly on a computer screen. This also means that images can be saved to hard disk for future reference.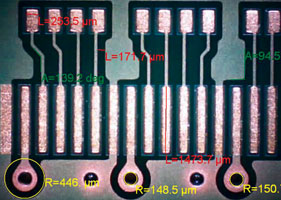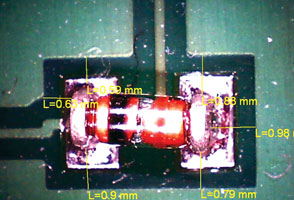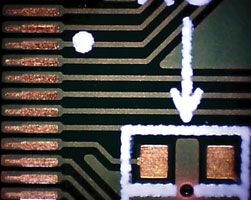 Image captures using the Mini-Scope
Optional measuring software allows precise measurement of distances, angles, surfaces, diameters etc, and turns the Mini-Scope into a precise low-budget measuring microscope.
The Mini-Scope is useful for inspecting printed circuit boards (populated or bare), films, inner layers, surfaces of any materials, material examination, precision parts and components, security marks, trace widths, etched parts, flexographic printing plates (dot size), etc.
The device enables viewing of objects at 40x and 140x magnification, with a single slider which controls both magnification and focus. The compact design with built-in lighting means that no extra parts are required.
Together with the software, the Mini-Scope allows users to save still images or movies with labels and markers that can be placed directly on the live picture. An optional GPS module saves the location and time information with the images.