printer friendly version
Clamping diodes
28 April 2010
Circuit & System Protection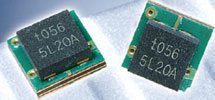 The PolyZen family of clamping diodes from Tyco Electronics offers designers the simplicity of a traditional clamping diode while obviating the need for significant heatsinking.
This single device solution helps protect against damage resulting from the use of improper power supplies and also provides transient suppression, reverse bias protection and protection from damage caused by over-current events.
The device's micro-assembly incorporates a stable Zener diode for crisp voltage clamping and a resistively non-linear polymeric positive temperature coefficient (PPTC) layer. The PPTC layer responds to either diode heating or over-current events by transitioning from a low- to a high-resistance state. In the event of a sustained high-power over-voltage condition, the tripped PPTC element limits current and generates a voltage drop to help protect both the Zener and the follow-on electronics – effectively increasing the diode's power handling capability.
The PolyZen is particularly effective at clamping and smoothing inductive voltage spikes. In response to an inductive spike, the Zener diode element shunts current to ground until the voltage is reduced to the normal operating range. In the case of power supply of the incorrect voltage, the device clamps the voltage, shunts excess power to ground, and eventually locks out the incorrect supply. The relatively flat voltage versus current response of the device helps clamp the output voltage, even when input voltage and source currents vary. The PolyZen offers power handling on the order of 30 W and available hold currents up to 2,3 A.
For more information contact Jeva Narian, Arrow Altech Distribution, +27 (0)11 923 9600, jnarian@arrow.altech.co.za, www.arrow.altech.co.za
Credit(s)
Further reading:
Dual-channel high-speed protector
29 April 2020, Electrocomp , Circuit & System Protection
Bourns announced the release of the Model TBU-RS085-300-WH, for use in RS-485 communication interface protection. The part is an integrated dual-channel transient blocking unit (TBU) over-current and 
...
Read more...
---
Automotive MOSFETs in a variety of packages
29 April 2020, Altron Arrow , Power Electronics / Power Management
Reducing CO
2
emissions of passenger cars is accelerating 48 V board net adoption. For this emerging 48 V market, Infineon Technologies offers a broad portfolio of automotive 80 V and 100 V MOSFETs as 
...
Read more...
---
Chipset for Wi-Fi 6E applications
29 April 2020, Altron Arrow , Telecoms, Datacoms, Wireless, IoT
ON Semiconductor announced sampling of its new QCS-AX2 chipset family that supports the 6 GHz spectrum band based on the enhanced Wi-Fi 6E standard. Designed with a high-performance, flexible architecture 
...
Read more...
---
Synchronous buck converter
29 April 2020, Altron Arrow , Power Electronics / Power Management
Diodes Incorporated introduced the AP62600 synchronous DC-DC buck converter for point-of-load (POL) conversion in applications such as TVs, monitors, white goods, home appliances, consumer electronics 
...
Read more...
---
Tiny step-down regulator
29 April 2020, Altron Arrow , Power Electronics / Power Management
The LTM4657 is part of Analog Devices' family of tiny, high-efficiency, identical pin-out, step-down µModule devices. The LTM4657 is designed to operate at lower switching frequencies than the LTM4626 
...
Read more...
---
Reliably protect LED applications
29 April 2020, Phoenix Contact , Circuit & System Protection
The Type 2 surge protective device from the Blocktrab series from Phoenix Contact protects all lighting systems and is particularly suitable for LED applications. LED technology has become indispensable 
...
Read more...
---
Cryptographic MCU protects against malware
29 April 2020, Altron Arrow , DSP, Micros & Memory
With the rapid growth of 5G including new cellular infrastructure, growing networks and data centres supporting expanding cloud computing, developers are seeking new ways to ensure operating systems remain 
...
Read more...
---
IMUs that carry machine learning burden
29 April 2020, Altron Arrow , Analogue, Mixed Signal, LSI
Designed for use in a wide variety of consumer and industrial applications, STMicroelectronics' 6-axis iNEMO inertial measurements units (IMU) feature an embedded machine learning core (MLC) to offload 
...
Read more...
---
Bipolar DC-DC supply design sources and sinks current
29 April 2020, Altron Arrow , Power Electronics / Power Management
Most electronic systems depend on power voltage rails that are either positive or negative, but a few applications require individual rails that can be both. In these situations, positive or negative 
...
Read more...
---
MCU with embedded LoRa transceiver
29 April 2020, Altron Arrow , DSP, Micros & Memory
The STM32WL is the world's first wireless microcontroller (MCU) to integrate a LoRa transceiver on its silicon die. Until now, the industry either had discrete MCUs and transceivers, or both components 
...
Read more...
---