printer friendly version
Protection for Li+ battery stacks
28 April 2010
Circuit & System Protection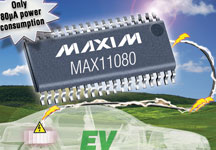 The new MAX11080 from Maxim is a high-voltage, 12-channel battery protection IC for high-cell-count lithium-ion (Li+) battery stacks. It provides redundant cell monitoring to prevent Li+ batteries from exploding (thermal runaway), and up to 31 ICs can be daisy-chained together to monitor as many as 372 cells. This capability prevents cascading electrical failures and eliminates the expensive isolation components required by discrete solutions. In a typical hybrid vehicle, Maxim's solution is said to reduce the cost of the battery management system (BMS) by up to 80%.
Offering high accuracy, low power consumption, built-in safety and self-diagnostic features, and extensive configurability, the MAX11080 is well suited for a spectrum of battery applications including automotive, industrial, power line and battery backup.
For more information contact Larry Gordon, CST Electronics, +27 (0)11 608 0070, sales@cstelectronics.co.za, www.cstelectronics.co.za
Credit(s)
Further reading:
USB Type-C power delivery controller
30 June 2020, CST Electronics , Power Electronics / Power Management
The MAX77958 from Maxim Integrated is a robust solution for USB Type-C CC detection and power delivery (PD) protocol implementation. It detects connected accessories or devices by using Type-C CC detection 
...
Read more...
---
3 kW TVS diode arrays
30 June 2020, Avnet South Africa , Circuit & System Protection
To ensure critical operations, aviation and space systems rely on digital and logic functionality and circuitry in engine control units, environmental controls, instruments and actuators. Data centres, 
...
Read more...
---
Highly accurate 1-wire temperature sensor
29 April 2020, CST Electronics , Analogue, Mixed Signal, LSI
The MAX31825 temperature sensor from Maxim Integrated provides 8-bit to 12-bit Celsius temperature measurements with better than ±1°C accuracy from 0°C to +70°C and ±1,75°C from -45°C to +145°C. The 
...
Read more...
---
Integrated EMC line filters and design kit
29 May 2020 , Circuit & System Protection
Würth Elektronik provides solutions to help prevent EMI problems with non-compliant equipment. It offers complete WE-CLFS EMC line filters that have most components one needs for an EMC filter inside 
...
Read more...
---
Advanced EMI shielding solutions
29 May 2020, Actum Group , Circuit & System Protection
All electronic devices generate electromagnetic radiation that can be transmitted through the air from one electronic device to another. This is known as electromagnetic interference (EMI). In certain 
...
Read more...
---
Low-power power management IC
29 May 2020, CST Electronics , Power Electronics / Power Management
The MAX77654 from Maxim Integrated provides highly integrated battery charging and power supply solutions for low-power applications where size and efficiency are critical. The IC features a SIMO buck-boost 
...
Read more...
---
Dual-channel high-speed protector
29 April 2020, Electrocomp , Circuit & System Protection
Bourns announced the release of the Model TBU-RS085-300-WH, for use in RS-485 communication interface protection. The part is an integrated dual-channel transient blocking unit (TBU) over-current and 
...
Read more...
---
Reliably protect LED applications
29 April 2020, Phoenix Contact , Circuit & System Protection
The Type 2 surge protective device from the Blocktrab series from Phoenix Contact protects all lighting systems and is particularly suitable for LED applications. LED technology has become indispensable 
...
Read more...
---
Rectifier chip diodes
25 March 2020, Electrocomp , Circuit & System Protection
Portable electronics, communications, computing and video equipment manufacturers are challenging the semiconductor industry to develop increasingly power efficient solutions with smaller electronics 
...
Read more...
---
Steering diode/TVS array for display interfaces
25 March 2020, Altron Arrow , Circuit & System Protection
ProTek Devices has introduced a new steering diode transient voltage suppressor (TVS) array for circuit protection across popular consumer electronic display interfaces. The new PUSB403 device is ideal 
...
Read more...
---