printer friendly version
Precision resistors
18 August 2010
Passive Components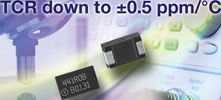 Vishay has announced a new series of high-precision Bulk Metal Z-Foil resistors built using Z1-Foil technology that features enhanced accuracy, stability and fast thermal stabilisation in sizes small enough for permanent assembly in operational equipment.
The SMR3P devices feature a TCR of ±0,5 ppm/°C maximum (+25°C to
+125°C), tolerances to 0,01%, load-life stability of ±0,005% (50 ppm) after 10 000 hours with 0,6 W at 70°C, and PCR (ΔR due to self-heating) of ±5 ppm at a rated power of 0,6 W at +70°C or 0,3 W at +125°C.
The SMR3P series is targeted at feedback devices for operational amplifiers, precision voltage dividers, precision bridge resistors and decade voltage dividers in precision amplifiers; high-precision instrumentation; medical, industrial, high-end stereo and automatic test equipment; electron beam and pulse applications; and measurement instrumentation.
Chips of 1206 and larger dimensions occasionally delaminate from the PCB or develop cracks due to the stresses introduced by handling of the PCB and thermal shock. The SMR3P features a moulded package with flexible terminations that ensure minimal stress transference from the PCB due to load-induced temperature gradients and a difference in thermal coefficient of expansion (TCE). The SMR3P's low absolute TCR reduces errors due to temperature gradients, thus reducing a major source of uncertainty in precision circuits. The resistors can withstand unconventional environmental conditions, including the extremely high temperatures and radiation-rich environments of down-hole oil exploration and well logging, or the deep-sea underwater repeaters in cross-ocean communications.
The SMR3P series features electrostatic discharge (ESD) immunity up to 25 000 V, a thermal stabilisation time of <1 second (nominal value achieved within 10 ppm of steady-state value), current noise of 0,010 μVRMS/V of applied voltage (<-40 dB) and a voltage coefficient of <0,1 ppm/V. The devices offer a resistance range of 100 Ω to 15 kΩ. Vishay Foil resistors are not restricted to standard values, and can be supplied with 'as required' values (eg, 1,0002 kΩ vs. 1 kΩ) at no extra cost or delivery time. The resistors offer a non-inductive
(< 0,08 μH), non-capacitive design and feature lead-free or tin/lead alloy terminal finishes.
For more information contact Marian Ledgerwood, Future Electronics, +27 (0)21 421 8292, marian.ledgerwood@futureelectronics.com, www.futureelectronics.com
Credit(s)
Further reading:
Thick-film chip resistors
29 April 2020, Electrocomp , Passive Components
Bourns announced the introduction of its new Model CR01005 series thick-film chip resistor. This extra small – 01005 inch (0402 metric) – CR01005 series broadens the general purpose thick-film chip resistor 
...
Read more...
---
Automotive-grade MLCCs
29 April 2020, TRX Electronics , Passive Components
Yageo's automotive grade MLCC (multilayer chip capacitor) AC/AS series is AEC-Q200 qualified as well as MIL-STD-020D tested to ensure its reliability under various temperatures (from -55°C to +150°C) 
...
Read more...
---
Storage choke against harmonic distortion
29 April 2020, Würth Elektronik eiSos , Passive Components
The WE-LHMD is an SMT-mountable storage choke from Würth Elektronik optimised for filter topologies in Class-D amplifiers. Thanks to their iron powder cores, the high-current inductors for audio applications 
...
Read more...
---
DC-DC converter for aerospace/defence
25 March 2020, Future Electronics , Power Electronics / Power Management
Vicor announced the DCM5614, an isolated, regulated 270 V-28 V DC-DC converter with an output power rating of 1300 W in a 142,2 x 35,6 x 9,4 mm VIA package. Providing power density of 27,52 W/cm
3
at a 
...
Read more...
---
High-speed DDR4 SDRAMs
29 April 2020, Future Electronics , DSP, Micros & Memory
Alliance Memory has expanded its product offering with a new line of high-speed CMOS DDR4 SDRAMs. For improved performance over previous-generation DDR3 devices, the 4 GB AS4C256M16D4 and AS4C512M8D4 
...
Read more...
---
High-temperature shielded power inductors
29 April 2020 , Passive Components
The Bourns inductive components product line is introducing the Model SRP6030VA and SRP1040VA high-temperature shielded power inductors. These models are built with a new metal alloy powder formulation 
...
Read more...
---
Passive components and subsystems for demanding applications
29 April 2020, Actum Group , Passive Components
Represented locally by Actum Group, Exxelia is a specialised manufacturer of high-quality Hi-Rel passive components and precision subsystems. Exxelia products meet complex specifications and cater for 
...
Read more...
---
Storage choke for audio amplifiers
29 April 2020, Würth Elektronik eiSos , Passive Components
With WE-HIDA, Würth Elektronik offers a storage choke optimised for Class D amplifiers. The high-current inductor is characterised by low core losses, very low DC resistances from 2,5 mΩ to 14,8 mΩ and 
...
Read more...
---
Radio interference suppression choke
29 April 2020, Würth Elektronik eiSos , Passive Components
Würth Elektronik is complementing its AEC-Q200 product group of qualified radio interference suppression chokes with an SMT-mountable model, the WE-RCIS. The rod core choke, available in four versions, 
...
Read more...
---
Bypass capacitor kit for MMIC amplifiers
29 April 2020, RF Design , Passive Components
High-frequency MMIC amplifiers with broadband gain need to be protected from RF noise on the supply lines, particularly RF energy coupled back into the device from its output. Supply noise creates challenges 
...
Read more...
---