printer friendly version
Analog Devices retains domination in data converters
11 May 2011
News
As the global market continues down the road to full-on recovery in 2011, the technology sector likewise continues to ramp its way back towards pre-recession numbers. This is particularly the case thanks to consumer electronics, mobile phones, and portable PCs and tablets.
Growing demand for a wide array of these digital devices means that advancements in analog technology, particularly data conversion, must rapidly keep up to meet the latest market requirements. This means that in the highly demanding market, new data conversion techniques are necessary in enabling higher fidelity audio and video, improved on-camera video displays, and an array of touch sensing options used in all segments of the technology industry.
According to Databeans research, no one has benefited from this more than Analog Devices, the overall global market leader in data converters. The company boasts the industry's leading portfolio of ADCs (analog-to-digital converters) and DACs (digital-to-analog converters), as well as numerous application specific products, across all major application segments. This position helped Analog Devices to increase its already impressive share of the global data converters market by 33% from $1,07 billion in 2009 to $1,42 billion in global revenue in 2010. This was good enough for a supplier share of 47,5% of the market, or more than doubles the share of its next closest competitor, Texas Instruments. In fact, Analog Devices controlled more of the 2010 supplier share than the next 10 suppliers combined.
Because of its role as market leader, Analog Devices has been responsible for some of the most significant and efficient data converters to be released over the past year. For example, in January, the company released the AD9284, the industry's first dual, 8-bit, 250 MSps ADC. At the same time it released the AD9286 500 MSps ADC, which delivers 8-bit resolution at 40% less power than competitive components. Both converters feature high SNR (signal-to-noise ratio) of 49,3 dBFS and are designed for applications such as handheld scope meters, battery-powered instruments and digital oscilloscopes.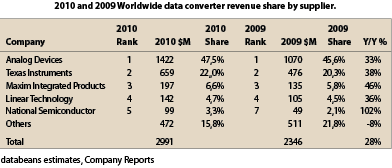 2010 and 2009 Worldwide data converter revenue share by supplier
With data converters accounting for more than half of total company revenue, Analog Devices has much to be optimistic about for 2011. For its fiscal first quarter, the company's net income rose to $222,1 million, from $120,5 million a year earlier. Also, company revenues in the first quarter were $728,5 million, which were up from $603 million one year earlier, a 21% increase year-over-year. Gross profit margin also improved to 66,2% from 61,1% one year prior.
The company has equally high aspirations for the second quarter, which it believes will fall in the $730 million to $760 million range, which would represent growth of 9% to 14% on a year-to-year basis. This is thanks largely to increasing orders in the first quarter from most of Analog Devices' top customers. Meanwhile, the company's cash generation also continues to be strong. These results have given the company confidence that the inventory correction issues of its recent past are now mostly behind it. And even though parts of the semiconductor industry remain uncertain, the company remains confident about its future.
For more information visit www.databeans.net
Further reading:
From the editor's desk: Are electromagnetic waves culpable in making us sick?
30 June 2020, Technews Publishing , News
When I started writing my column for this issue, I was determined to come up with a topic and a way to avoid mentioning the 'C' word. I came close – you will only find 'COVID-19' mentioned once or twice 
...
Read more...
---
To fake or not to fake
30 June 2020 , News
Prof. Johan Meyer explores the complex and controversial topic of the potential link between the global rollout of 5G networks and the COVID-19 pandemic.
Read more...
---
Clearing the Static: Curb the spread of COVID-19 with stringent floor hygiene
30 June 2020, Actum Electronics , News
According to the World Health Organisation (WHO), COVID-19 is primarily transmitted from person to person through respiratory droplets that emerge from the nose and mouth when an infected person speaks, 
...
Read more...
---
Personality profile: Warren Mande
30 June 2020, Altron Arrow , News
"It is said that "culture eats strategy for breakfast". Look to join companies whose culture fits your personal belief system."
Read more...
---
Not the end, but a journey
30 June 2020, ExecuKit , News
ExecuKit's Renita Fleischer and Elizna Classen offer local companies a route to help them navigate their way through what has become the 'new normal.'
Read more...
---
Elmatica CEO to vice chair IPC cybersecurity task group
30 June 2020, Elmatica , News
Didrik Bech, CEO of printed circuit broker Elmatica, has been appointed to serve as vice chair for IPC's new cybersecurity task group. The 2-12c Task Group leadership is a representation of IPC as an 
...
Read more...
---
From the editor's desk: Making and sending things to space
29 May 2020, Technews Publishing , News
In this issue, one of the topics we are featuring is the aerospace and military/defence sector. The feature includes an analysis of what it takes to successfully design and manufacture products in this 
...
Read more...
---
Electronics news digest
29 May 2020, Technews Publishing , News
South Africa
• Acting minister of communications and digital technologies, Jackson Mthembu, joined the world in observing World Telecommunication and Information Society Day (WTISD). Proclaimed by the 
...
Read more...
---
Personality profile: David Power
29 May 2020, Cadshop , News
"Aspire to work for a company that you admire, and for a boss that you want to serve, that shares your passion and motivation."
Read more...
---
Designing for military and defence applications
29 May 2020, Omnigo, Kreon Technology , News
No business can stand on its own without strong partnerships and stakeholder relationships. In this regard the military and defence industry is no exception.
Read more...
---