printer friendly version
Precision power analyser
11 May 2011
Test & Measurement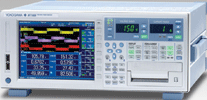 The Yokogawa WT1800 precision power analyser is the replacement for the WT1600, offering innovative measurement functions which benefit the engineer with electrical power and efficiency measurements in a range of industries from inverter and drive design to alternative energy systems.
The instrument is capable of performing up to six power input measurements, which makes it possible to perform efficiency tests between the input and output of products such as inverters. With its high-resolution, 8,4 inch XGA display, it is simple to set up and display up to 12 different pages of measurement items in formats such as numeric, waveforms and trends. A vector display is available for voltage and current phase analysis.
Many of today's power conversion circuits use energy-saving switching techniques which can cause highly distorted voltage or current waveforms with high harmonic content. To measure these waveforms accurately, the WT1800 uses high-resolution 16-bit analog-digital converters with a digitising rate of 2 MSps. It has a power measurement bandwidth from DC and 0,1 Hz to 1 MHz. Basic power measurement accuracy is 0,1% of reading plus 0,05% of range.
For electric motor testing applications, the WT1800 offers a motor evaluation function which offers measurements of all the relevant electrical power parameters along with rotational speed, torque, mechanical power, synchronous speed, slip, motor efficiency and total system efficiency. In addition, A-phase, B-phase and Z-phase input terminals have been added for advanced motor analysis. These signals make it possible to detect the rotational direction of the motor as well as the electrical angle measured using the Z-phase signal.
A new programmable digital filter function enhances the capability to remove unnecessary harmonic components and noise superimposed on signals such as from an inverter or variable-speed motor drive. This filter can be set independently for each input element, from 100 Hz to 100 kHz in 100 Hz increments. An analog filter is also provided for 300 kHz and 1 MHz filtering on each input element.
Harmonic analysis can be carried out up to the 500th order from a 50 or 60 Hz fundamental frequency. This facility is especially important for measurements on new power conversion and power electronics devices. Dual harmonic measurement functionality makes it possible to simultaneously measure the harmonic content and perform harmonic analysis on two different sources, such as the input and output of an inverter, variable-speed motor drive, lighting ballast, uninterruptible power supply or similar devices. The normal power parameters and harmonic data are measured simultaneously, providing for faster and more accurate power analysis.
For photovoltaic power generation applications, a maximum peak power tracking measurement is available to maximise the harvested power generated by photovoltaic cells. To accomplish this, the WT1800 is capable of measuring voltage, current and power peak values and calculating the derived parameters. A power integration function is also available which can be used to measure the amount of power sold or purchased in grid interconnection applications. The instrument features Yokogawa's average active power function, making it possible to measure power consumption under conditions where the power fluctuates greatly.
An event trigger function is incorporated to capture only a particular event. A trigger can be set for measured values that fall out of a pre-selected range, and the WT1800 will only store, print or save data that meets the trigger condition. All the latest communication interface ports such as Ethernet, USB and GPIB are included in the analyser, as is support for USB removable storage media.
For more information contact Trevor Grundlingh, Protea Electronics, +27 (0)11 719 5700, trevorg@protea.co.za, www.protea.co.za
Credit(s)
Further reading:
Vector network analyser training kit
26 February 2020, Comtest , Test & Measurement
Pico Technology has added significant functionality and value to its low-cost, high-performance vector network analyser (VNA), by joining the NI/AWR Connected Partner community. The PicoVNA interface 
...
Read more...
---
Better phase noise measurement for Infiniium UXR scopes
26 February 2020, Concilium Technologies , Test & Measurement
Keysight Technologies and Silicon Labs announced a collaboration that streamlines the validation of timing solutions critical in the development of system-level designs for wireless communications, high-speed 
...
Read more...
---
Eliminate risk with proper calibration
26 February 2020, Concilium Technologies , Test & Measurement
Proper calibration lowers cost of test by reducing the number of incorrect decisions made, by improving instrument performance.
Read more...
---
Double pulse test software for Tektronix AFG
29 January 2020, Comtest , Test & Measurement
Comtest announced the availability of Tektronix' new software plugin for its AFG31000 arbitrary function generator (AFG), making it possible to perform crucial double pulse testing in less than a minute, 
...
Read more...
---
Battery charge/discharge test system
29 January 2020, Conical Technologies , Test & Measurement
The ITS5300 battery charge and discharge test system from ITECH is designed for a variety of power batteries including lead acid, nickel hydrogen, lithium batteries, supercapacitors, hydrogen fuel cells 
...
Read more...
---
DIN-rail programmable transmitter
23 October 2019, Instrotech , Test & Measurement
Calog Instrument's versatile DPM9000 series – a miniature DIN-rail mount programmable isolated transmitter range – boasts high reliability and a versatile, wide range of programmable inputs. With dimensions 
...
Read more...
---
Hands-on learning module
23 October 2019, Altron Arrow , Test & Measurement
The ADALM2000 (M2K) active learning module is an affordable, USB-powered, software-defined instrument that exceeds the capabilities of its predecessor ADALM1000 (M1K). With 12-bit ADCs (analog-to-digital 
...
Read more...
---
Digital multimeter with thermal imager
23 October 2019, RS Components (SA) , Test & Measurement
A digital multimeter (DMM) with a built-in thermal imager has been added to RS Components' RS PRO product range. The RS-9889 allows engineers to identify thermal overload issues in electrical equipment 
...
Read more...
---
Project-based learning for the modern engineer
23 October 2019 , Test & Measurement
Projects that inherently challenge students to use innovative design thinking often involve interacting with an unknown process or device. Students are encouraged to understand the unknown through theory, 
...
Read more...
---
Automotive Ethernet testing software
25 September 2019, Comtest , Test & Measurement
Tektronix has released two new software packages that greatly simplify Automotive Ethernet testing, debug and protocol decode for use with its 5 and 6 Series mixed-signal oscilloscopes (MSO). Using 
...
Read more...
---