printer friendly version
Floating surge stopper
2 May 2012
Circuit & System Protection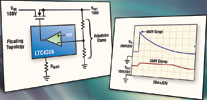 Linear Technology's new LTC4366 is an over-voltage protection controller for electronic systems. Operating from 9 V to greater than 500 V, the device utilises an adjustable floating topology to enable very high-voltage operation independent of the voltage rating of its internal circuitry.
Two internal shunt regulators coupled with the external voltage-dropping resistors generate the LTC4366's internal supply rails. The maximum operating voltage is set by the breakdown of the external resistors and MOSFETs. The device is said to be the first product of its kind to protect, for example, a 12 V circuit from a 500 V transient without the need for additional protection components.
The chip monitors the voltage at its output and reacts quickly to input supply
over-voltage by controlling the gate of an N-channel MOSFET. It regulates the output to a user-defined voltage during an over-voltage transient, allowing the load to remain operational while the over-voltage is dropped across a MOSFET. An adjustable fault timer ensures safe shutdown if the fault persists.
The LTC4366 is ideal for harsh industrial, automotive and avionic applications where systems must continue operating reliably through severe over-voltage events. High-voltage applications include protecting from motor transients, coupled over-voltage, incorrect input supplies or power supply failures.
While traditional protection circuitry relies on bulky inductors, capacitors, fuses and transient voltage suppressors to clamp the transient, the LTC4366 protects by series regulating the transient. It is packaged in tiny 8-lead TSOT-23 and 3 x 2 mm DFN packages. During operation, the entire circuit consumes only a few mA, and the device may be shut down to less than 20 µA.
The IC is available in two options; the LTC4366-1 latches off after a fault, while the LTC4366-2 will retry after a 9-second cool down period. Devices are specified over the full commercial, industrial and automotive temperature ranges.
Credit(s)
Further reading:
NVIDIA-powered computing for AI at the edge
26 February 2020, Altron Arrow , Computer/Embedded Technology
The AI revolution is transforming industries, reaching products that are smaller and more affordable than ever before. Many companies have been constrained by the challenges of size, power, and AI compute 
...
Read more...
---
USB Type-C port protector
26 February 2020, Altron Arrow , Circuit & System Protection
Designers can easily migrate small electronic devices from legacy USB Micro-A or Micro-B interconnects to the latest Type-C style with the STMicroelectronics TCPP01-M12 port protector, which satisfies 
...
Read more...
---
MCUs for new-generation smart objects
26 February 2020, Altron Arrow , DSP, Micros & Memory
STMicroelectronics' latest STM32H7A3, STM32H7B3, and STM32H7B0 Value Line microcontrollers (MCUs) combine 280 MHz Arm Cortex-M7 core performance, high memory density, and power savings for future generations 
...
Read more...
---
Video Reel 1: February
26 February 2020, Altron Arrow , Multimedia, Videos
This video from STMicroelectronics shows how you can download the free TouchGFX GUI software, try the out-of-the-box supported STM32H7B3I-DK, and eliminate the need for external RAM, when developing your 
...
Read more...
---
Thingstream extends LoRaWAN support
29 January 2020, Altron Arrow , Telecoms, Datacoms, Wireless, IoT
It is now possible to add LoRaWAN gateways and LoRaWAN devices to Thingstream, giving developers quick, easy on-boarding, and the full power of Thingstream's MQTT broker, and Data Flow Manager. This new 
...
Read more...
---
GaN is breaking barriers for RF power amplifiers
29 January 2020, Altron Arrow , Telecoms, Datacoms, Wireless, IoT
The increasing demand for higher data rates in telecommunications and higher resolution in industrial systems is pushing the frequency of operation higher for the electronics that support them. Many of 
...
Read more...
---
PCIe 2.0 packet switches
29 January 2020, Altron Arrow , Telecoms, Datacoms, Wireless, IoT
Diodes Incorporated announced the PI7C9X2G304EVQ and PI7C9X2G404EVQ PCIe 2.0 packet switches, offering 3-ports/4-lanes and 4-ports/4-lanes, respectively. The packet switches are automotive-compliant for 
...
Read more...
---
Unity gain operational amplifier
29 January 2020, Altron Arrow , Analogue, Mixed Signal, LSI
The ADHV4702-1 is a high-voltage (220 V), unity-gain, stable precision operational amplifier. The next generation of proprietary semiconductor processes and innovative architecture from Analog Devices 
...
Read more...
---
The importance of surge protection in the lightning protection arena
29 January 2020, DEHN Africa , Circuit & System Protection
In order to understand the need for surge protection, it is important to understand how lightning causes damage. The sources of lightning damage are quite different, and we use different types of mitigation 
...
Read more...
---
TVS array for medical electronics
29 January 2020, Altron Arrow , Circuit & System Protection
ProTek Devices has introduced a new bidirectional, asymmetrical TVS(transient voltage suppressor) array component for circuit protection in medical electronic devices, smartphones, audio/video inputs, 
...
Read more...
---