printer friendly version
Current sensing chip resistors
2 May 2012
Passive Components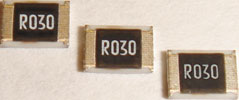 Stackpole Electronics announced the addition of the 1210 size to the CSR/CSRN series of thick film SMD current sensing chip resistors.
The CSR1210 has a 0,5 W power rating and can achieve resistance values from 0,01 W up to 1 W in tolerances as low as 1%. For current sensing, the 1210 size chip offers distinct advantages in that the wider termination enables the part to handle more current than the 1206 size at temperatures typically 10°C to 15°C lower.
The CSR1210 series is suitable for applications where resistance values are above 10 milli-ohms and TCR requirements are 200 ppm and higher. This would include power management for a wide range of power supplies, small motor controls, DC to DC converters, battery management, instrumentation amplifiers, voltage regulation modules and industrial controls.
The resistor is available in tape and reel packaging quantities of 5000 pieces.
For more information visit www.seielect.com
Further reading:
Innovative power capacitor technologies for wide band-gap semiconductors
26 February 2020, Electrocomp , Passive Components
Conventional semiconductors based on silicon are being replaced by wide band-gap (WBG) technologies based on GaN (gallium nitride) and SiC (silicon carbide). These demand a great deal from the passive 
...
Read more...
---
Halo invests in high-speed data transformers
29 January 2020, ASIC Design Services , Passive Components
Halo Electronics, a leading supplier of Ethernet transformers, has invested in UWB X Limited, a UK based technology company focused on creating a new high-speed transformer technology. As part of Halo's 
...
Read more...
---
LAN transformers with automotive certification
29 January 2020 , Passive Components
Bourns' signal magnetics product line has introduced three new LAN transformers: Model SM91071AL, SM91072AL and SM91073AL. These new products are single-port LAN 10/100 Base-T/isolation transformer modules 
...
Read more...
---
Selection software for capacitors
29 January 2020, RFiber Solutions , Passive Components
Passive Plus Inc.'s (PPI) brand new Capacitor Application Program (CAP) helps engineers and designers select capacitors according to parameters such as capacitor value and frequency. CAP will provide 
...
Read more...
---
28 GHz bandpass filter for mm-Wave
29 January 2020, RF Design , Passive Components
The B274MB1S from Knowles is a bandpass filter with a passband from 26,5 to 29,5 GHz, ideally suited for 5G mm-Wave applications. It has an insertion loss of less than 3,5 dB and a rejection of 40 dB 
...
Read more...
---
High-voltage moulded power inductors
29 January 2020, RF Design , Passive Components
Coilcraft has expanded its XEL family of high-performance, moulded power inductors to include three new higher-voltage series: the XEL401xV, XEL4020V and XEL4030V. All three offer operating voltage ratings 
...
Read more...
---
LAN interfaces transformers
29 January 2020, Würth Elektronik eiSos , Passive Components
Würth Elektronik is expanding its extensive range of signal transformers. The new series of WE-STST (Super Tiny Signal Transformer) devices for LAN interfaces features a maximum component height of just 
...
Read more...
---
Low-profile aluminium electrolytic capacitors
25 November 2019, TRX Electronics , Passive Components
At 2 and 3 mm thin, Cornell Dubilier's ULP series offers high energy density in a low-profile aluminium electrolytic capacitor. Designed specifically for applications requiring bulk capacitance and the 
...
Read more...
---
Robust DC link capacitors
25 November 2019, Electrocomp , Passive Components
TDK's new B2568* series of EPCOS MKP DC link power capacitors offer high robustness under harsh environmental conditions. The new capacitors are designed for voltages of between 900 and 3000 V d.c. and 
...
Read more...
---
AC film capacitors
25 November 2019, Electrocomp , Passive Components
The B3237x FilterCaps MKD range of EPCOS AC film capacitors from TDK offer a 200 to 1000 VRMS voltage range, a 2475 V d.c. maximum voltage rating, and a ±5% tolerance. The B3237x series is available in 
...
Read more...
---