printer friendly version
18-bit SAR ADC
16 May 2012
Analogue, Mixed Signal, LSI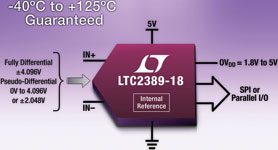 New from Linear Technology is the LTC2389-18, a fast 18-bit, no cycle latency SAR ADC (successive approximation register analog-to-digital converter).
The LTC2389-18 achieves 99,8 dB SNR and -116 dB THD at sample rates up to 2,5 MSps. Operating from a single 5 V supply, it supports three pin-configurable analog input ranges, easily interfacing to multiple signal chains with a single device.
For the highest SNR performance, the IC can be configured for fully differential (±4,096 V) inputs. The pseudo-differential unipolar (0 V to 4,096 V) and bipolar (±2,048 V) analog input ranges enable lower-power single-ended drive and benefit from the reduction of unwanted signals common to both inputs. The LTC2389-18 is well suited for demanding designs that require maximum signal swings at low power levels in noisy industrial environments.
The device features ±3 LSB INL (max), ±10 LSB offset error and 18 bits, no missing codes resolution. It also has a 4,096 V precision internal reference with a 20 ppm/°C temperature coefficient, providing space savings for high-density designs. The IC dissipates 162,5 mW at 2,5 MSps and features a shutdown mode that reduces power dissipation to 75 μW when not converting.
The true no-latency operation enables accurate one shot measurements even after lengthy idle periods with no minimum sample rate requirement. The LTC2389-18 provides a flexible digital interface supporting 2,5 MSps throughput with parallel interface and 1,9 MSps throughput with serial SPI interface at I/O voltages from 1,8 V to 5 V.
Credit(s)
Further reading:
AI-powered computer for autonomous machines
Altron Arrow Computer/Embedded Technology
Nvidia recently premiered Jetson AGX Orin, the world's smallest, most powerful and energy-efficient AI supercomputer for robotics, autonomous machines, medical devices and other forms of embedded computing 
...
Read more...
---
maXTouch touchscreen controller for various aspect ratios
EBV Electrolink Analogue, Mixed Signal, LSI
As the automotive market continues to demand larger touchscreens with more flexibility in size and shape, Microchip Technology is announcing a new maXTouch touchscreen controller that allows automotive 
...
Read more...
---
Step-down converter with nano quiescent current
Altron Arrow Power Electronics / Power Management
The ST1PS03 is a nano-quiescent miniaturised synchronous step-down converter which is able to provide up to 400 mA output current with an input voltage ranging from 1,8 V to 5,5 V. This STMicroelectronics 
...
Read more...
---
LED driver expansion board for STM32 Nucleo
Altron Arrow Opto-Electronics
STMicroelectronics' X-NUCLEO-LED12A1 LED driver expansion board for STM32 Nucleo features four LED1202 devices that can drive up to 48 LEDs. The LED1202 is a 12-channel, low quiescent current LED driver 
...
Read more...
---
Precision wideband ADC advances data-acquisition performance
Analogue, Mixed Signal, LSI
Texas Instruments (TI) has introduced a very small 24-bit wideband analog-to-digital converter (ADC) that delivers tight signal-measurement precision. The ADS127L11 achieves ultra-precise data acquisition 
...
Read more...
---
K-band passivated VCO
RF Design Analogue, Mixed Signal, LSI
The K-VCO-2324 from Arralis is a GaAs PHEMT MMIC voltage-controlled oscillator (VCO) that operates from 23,25 to 24,25 GHz. It provides 15 dBm output power over tuning voltages between 0 V and 1 V and 
...
Read more...
---
QFN-packaged gain blocks covering various frequency ranges
RFiber Solutions Analogue, Mixed Signal, LSI
Four new gain blocks have been introduced by Atlanta Micro to serve the requirements of various applications, each covering a different range of frequencies. The AM1127 is a high dynamic range, cascadable 
...
Read more...
---
Improving power supply regulation accuracy with resistor divider tool
Altron Arrow Power Electronics / Power Management
Analog Devices' LTpowerCAD resistor divider toolbox can use component tolerances and estimate corresponding errors in output voltage, letting designers decide what tolerance is allowable for their application.
Read more...
---
Digital humidity sensor withstands harsh conditions
Electrocomp Analogue, Mixed Signal, LSI
Sensirion is expanding its series of fourth-generation humidity sensors to include the SHT4xI-Digital sensor platform, which has been designed specifically for challenging industrial applications. The 
...
Read more...
---
USB Type-C protocol decoder
Altron Arrow Power Electronics / Power Management
The AP43771V from Diodes Incorporated is a USB Type-C Power Delivery (PD) 3.0 PPS decoder dedicated to power source applications with legacy capabilities. It is compliant with USB Type-C specification 
...
Read more...
---