Since installation requires a unique protection solution, a user needs to be able to choose from a number of solutions in each case. Surge protection specialist Citel has developed the modular DS range of surge protection which covers all configurations in single and three-phase installation.
The DS line has been divided into primary and secondary protection levels based mainly on the level of exposure to lightning. This determines a main characteristic of surge protection, the maximum discharge current (Imax) which can be seen in Figure 1.

Figure 1. Rating for lightning exposure risk
The Citel system is modular and provides a set of solutions in terms of key protection parameters, network configuration and other characteristics such as remote signalling and withdrawability.
In regions where the likelihood of lightning is very high, the protector must cope with direct strikes and is normally installed before the main distribution board. Citel's DS 150 SPDs are suitable for this heavy duty level for zone OA/1 (Class 1). For installations after the main distribution board, for primary protection for zone OB/1 (Class 2) and before the main installation, Citel's DS40 is suitable. For protection of sensitive electronic equipment, after the primary protection, secondary protection modules DS210HF, DS210D, DS410D and DS10 are suitable.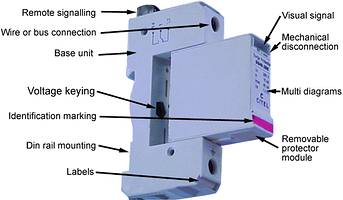 DS modular surge protector line
The modular solution has the following key features:
* Plug-in module - this allows easy and quick replacement of the units for maintenance and checking purposes. The design is based on one withdrawable module per pole which does not impair the protection function. This feature saves costs when maintaining multiple protection installations.
* Remote signalling function - remote signalling in the DS40S and DS10S versions allows remote checking of the condition of the surge protection - a particularly useful function in hard-to-reach or unsupervised areas. The auxiliary changeover contacts allow the user to monitor the operation, presence and disconnection of one or more modules in an installation. Indication can be by light, buzzer, automation or modern transmission. This is important when security is of concern.
* Visual identification - the withdrawable module has a coloured label for identification and a key to eliminate the risk of using an incorrectly rated module. The connection terminals have label holders for ease of marking.
* Thermal disconnection - in the event of abnormal operating conditions when the module overheats, an internal thermal safety mechanism will disconnect the network protection function and alert the user by an indicator on the front of the defective module turning red. The user can then replace the module.
Citel's high energy SPDs have a unique technology which can withstand the 'realistic destruction test' (controlled end of life behaviour).
Citel is represented locally by Epsilon Electronics, (011) 622 5055.